The Easiest, Simplest Vegan Bread Ever!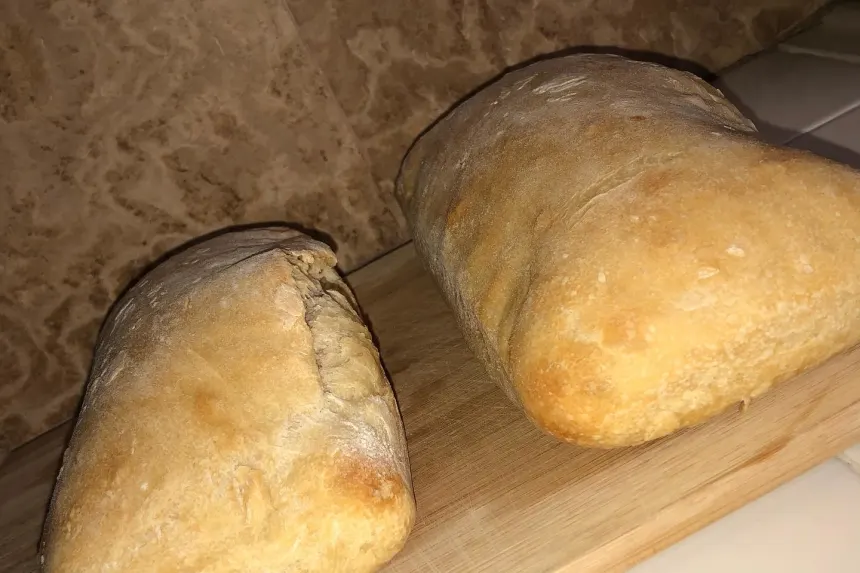 photo by Yahaira V.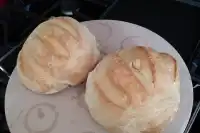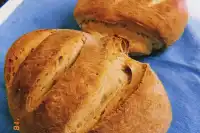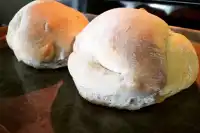 Ready In:

2hrs 50mins

Ingredients:

5

Serves:

20
directions
in a large bowl mix together flour, salt, and yeast, and form a well in the bottom.
pour in water and add the oil.
with a wooden spoon slowly pull the flour into the liquid until it's fully adsorbed.
work it into a ball with your hands and place on a floured work surface.
the dough should be tacky but not hopelessly sticky. sprinkle flour on the work surface and hands if needed; continue to knead the dough for 5-10 minutes or until the dough becomes elastic.
rinse and grease the large bowl, then place the dough back in it. cover lightly with damp cloth or plastic wrap. let rise in warm place (i usually turn on my oven and place the dough on the stove above it) until double in size (about 1 to 1-1/2 hours).
turn dough back out onto floured surface. punch down and kneed slightly to work out air bubbles.
divide the dough in half, form round loaves and place on lightly oiled pans. preheat oven to 375F and let dough rise 20 more minutes.
bake 30-40 min until crusts golden. you can also throw 1/2 C of water on the bottom coils 10 minutes in for "crustier" bread.
Questions & Replies

Thank you for the great recipes and ideas you give all of us! A few month ago, I was diagnosed with Alpha Gal Syndrome. Now all mammalian meats and meat products are absolutely forbidden, even microscopic amounts. Most vegan recipes are safe. Today, I baked a loaf of bread using no milk or butter, but water and coconut oil, and the packet of yeast. The recipe I used is very similar to the recipe above. After the bread was baked and hot, I enjoyed a few delicious bites before the realization there might be a problem with the yeast, and there is. It contains sorbitan monostearate, which contains meat by-products.. Is there a plant substitute for the yeast we are accustomed to using in baking? I am now waiting to learn if those few bites of yeast bread will cause an allergic reaction. Bedtime will be delayed several hours tonight, perhaps skipped altogether. It's easier to deal with an emergency when one is awake! Thank you for any assistance you may be able to give me. Ii is my sincere wish not to remove all yeast breads from my recipe box.

 
Reviews
This bread turned out perfect! I added Sicilian seasoning, yum :) Has anyone ever tried making just 1 loaf instead of dividing it? My bread came out like 2.5 inches tall, but I was hoping for more like 4in tall for making sandwiches with. Any recommendations for changing oven temp or duration if only making 1 loaf?

 

Not only is this bread delicious and simple to make, but it has also helped me with my insomnia. Perhaps it's because of the simpler carbs - I don't usually eat white bread. Whatever the case, a slice of this with vegan butter and a cup of soy milk knocks me out for a full 8 hours. It's better than a sleeping pill for me! :-D

 

I just made this bread today - the first time I have ever baked anything in my life - and it came out so well <3 It was crunchy outside, soft and dense in the middle, just the way I like it. I ended up with two gigantic loaves, but I'm sharing a Thank you for sharing this. I think you just changed my life in a very very positive way :D