The Easiest, Bestest Focaccia Bread Ever!!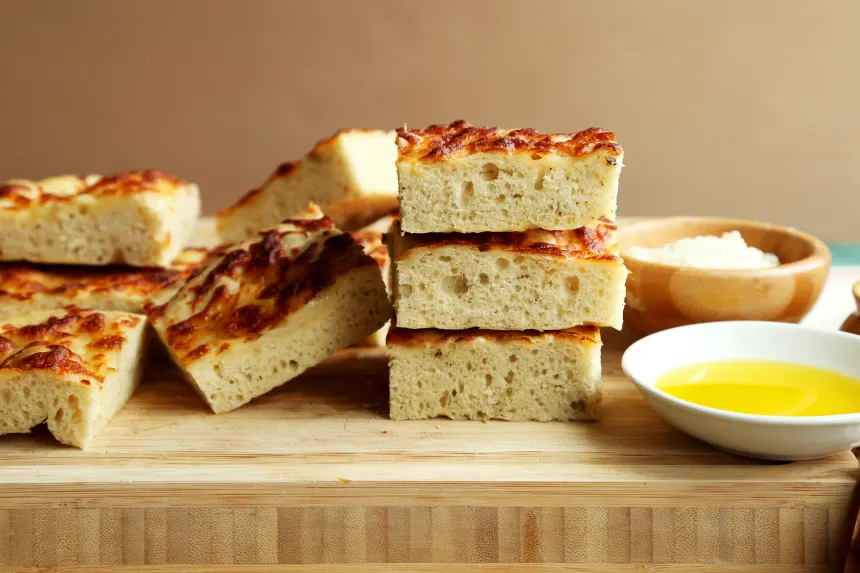 photo by Jonathan Melendez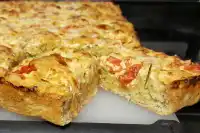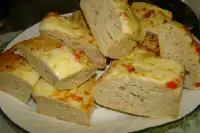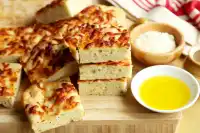 Ready In:

1hr

Ingredients:

14
directions
Mix the yeast and water in a small bowl. Let proof for 10 minutes (until bubbles begin to form).
In large bowl, stir together flour, salt, sugar, garlic powder, oregano, thyme, basil, and black pepper.
Add the yeast mix and vegetable oil to the dry ingredients and combine.
When dough has pulled together, turn out onto lightly floured surface and knead until smooth and elastic.
Lightly oil a large bowl, place dough in bowl, and turn to coat with oil.
Cover with damp cloth and let rise in warm place 25 minutes.
Preheat oven to 425 degrees.
Punch dough down, place on greased baking sheet.
Pat dough into 1/2-inch thick rectangle (doesn't have to be perfect).
Using your knuckle, make indentations in the dough about 1/2-inch apart, then prick dough with fork.
Brush top with olive oil, then sprinkle with Parmesan and mozzarella cheese.
Bake for 13-15 minutes until golden brown.
Reviews
Wow. This is incredibly easy to make and tastes delicious. It really took me just one hour to make the bread and it rose and browned beautifully. I topped my bread with the olive oil, parmesan, a bit of sea salt, a light layer of an artichoke & caper tapenade I had in the frige, and then some sliced fresh tomatoes. Really, you could go nuts with toppings on the bread and try a lot of different combinations. It's a versatile recipe that I know I'll be making again, even during the week (did I mention it only takes one hour for this bread, start to finish?!?). Thanks for posting such an easy, excellent recipe.

 

This was VERY VERY VERY disappointing. Since typically, everything from this site that has a good rating is always great, I made this for my FIL's birthday dinner. It didn't look good and tasted a bit like a soft pretzel--NOT like foccacia. I wonder if the chef has had real foccacia before? I made 2 batches, one following directions exactly and then a second that would be a rosemary focaccia. It was easy, (used my Kitchen Aid mixer to mix up the dough) but just wasn't foccacia. I WOULD NOT make it again and will be looking for a more authenic recipe.

 

I thought this recipe was surprisingly good! Instead of garlic powder, I used rosemary (because I didn't have any garlic powder) and I thought that that was something that it definitely needed anyway. Really yummy foccacia always has rosemary in it! Instead of mozzarella, I used chedder which turned out really good. I personally think it would have been nasty with mozzarella. The only thing that I was kind of disappointed about was that the outside was kind of hard and the bread was a little bit dense. But it was still really, really good!

 
Tweaks
First off, we looove this recipe so much I started using this as my go-to for pizza crust! I know I know, it's not traditional, but it's freaking delicious. Anyway, I usually use a tbsp of honey in my warm water instead of sugar for the yeast, and I use only olive oil, instead of part veg and part olive. I also add fresh chopped rosemary from the garden, makes the smell heavenly! Thanks for an excellent recipe my family has enjoyed over & over!

 

this was amazing! I loved it. however, I did add a few things of my own to it. I added a bunch more olive oil, I let the bread rise much longer than the recipe called for, about 45 mi in total, and I probably would have cooked it longer. I added rosemary instead of oregano, and I added a bunch more garlic than called for.

 

Add about 50% more on the herbs and add 1/2 tsp of rosemary. Also good with fresh herbs. Dissolve sugar in the warm water yeast mixture. I also make this with and without the cheese. Both versions are popular with family. I also give it about 15 more minutes to rise again once I put it in the pan. Makes it a little lighter bread.

 
RECIPE SUBMITTED BY
I am a single gal, living on my own; currently working as an Occupational Therapist & living in Cumberland, MD. (It is "God's Country" out here...beautiful!) I LOVE to cook and bake, and love anything that looks, tastes, smells, or even closely resembles a veggie. I LOVE moo-cows, and therefore, cannot bring myself to eat any part of the adorable critters (i.e. NO RED MEAT!!) I love the outdoors, and pride myself on being the master griller on the fire pit. My mother's side of the family is 100% Polish, so I have an inborn passion for cooking...unfortunately, along with that comes a love of eating, too!! But, hey..u only live once, so I say "EAT, DRINK, and BE MERRY!!!"
View Full Profile