The British Bulldog! Traditional Layered Beef Steak Suet Pudding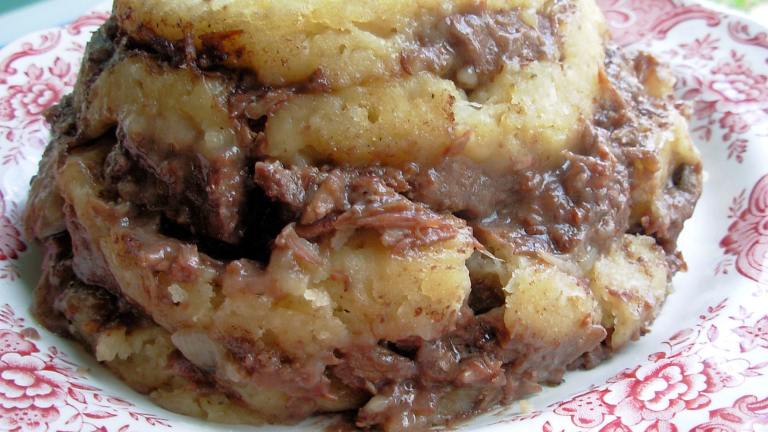 A traditional British steamed savoury pudding - fluffy dumping style suet pastry layered with tender and succulent braised beef steak - pure comfort food. Once you have prepared this, just let it steam quietly away in the background, whilst you get on with other things. Unmould this pudding at the table and serve it immediately with extra gravy, steamed seasonal greens and mounds of fluffy mashed potatoes. There is an urban myth in the UK, that men ask woman who can cook this delicious savoury pudding to marry them........be warned.......be careful! Preparation time includes the cooking of the beef steak before the pudding is made and steamed. (This recipe comes from my family's recipe collection - it was cooked regularly by my grandmother and my mum; the original recipe is written in pencil on a scrap of paper.........it was like finding real treasure!)
Ready In:

4hrs

Serves:

Yields:

Units:
directions
(Cook the meat 2 hours prior to steaming the assembled pudding.).
Filling: Dip meat in seasoned flour and fry lightly. Add onions and fry until golden. Place in casserole with stock, tomato puree and herbs and cook for 2 hours. Cool.
Pastry: Put flour, suet and seasoning in a bowl. Add sufficient water to form a firm but soft dough.
Pudding: Roll out the suet pastry and using assorted sizes of saucers, cut out rounds to fit the pudding bowl diameter, starting off small and getting bigger!
In a well buttered pudding basin, start with a small round of suet pastry and then add some stewed beef, then a layer of suet pastry and then the beef -- carry on in this way until all the pastry and beef is used up - the last layer should be suet pastry. Cover with buttered greasproof paper and then aluminium foil.
Steam for 2 hours, making sure there is always plenty of water. (Always top up the steamer with BOILING water - adding cold water will make the pudding heavy.).
Serve with fresh seasonal greens and vegetables and mashed or steamed potatoes.
Submit a Recipe Correction
RECIPE MADE WITH LOVE BY
"A traditional British steamed savoury pudding - fluffy dumping style suet pastry layered with tender and succulent braised beef steak - pure comfort food. Once you have prepared this, just let it steam quietly away in the background, whilst you get on with other things. Unmould this pudding at the table and serve it immediately with extra gravy, steamed seasonal greens and mounds of fluffy mashed potatoes. There is an urban myth in the UK, that men ask woman who can cook this delicious savoury pudding to marry them........be warned.......be careful! Preparation time includes the cooking of the beef steak before the pudding is made and steamed. (This recipe comes from my family's recipe collection - it was cooked regularly by my grandmother and my mum; the original recipe is written in pencil on a scrap of paper.........it was like finding real treasure!)"
A traditional British steamed savoury pudding - fluffy dumping style suet pastry layered with tender and succulent braised beef steak - pure comfort food. Once you have prepared this, just let it steam quietly away in the background, whilst you get on with other things. Unmould this pudding at the table and serve it immediately with extra gravy, steamed seasonal greens and mounds of fluffy mashed potatoes. There is an urban myth in the UK, that men ask woman who can cook this delicious savoury pudding to marry them........be warned.......be careful! Preparation time includes the cooking of the beef steak before the pudding is made and steamed. (This recipe comes from my family's recipe collection - it was cooked regularly by my grandmother and my mum; the original recipe is written in pencil on a scrap of paper.........it was like finding real treasure!)