The Blue Mill Tavern Loosemeat Sandwich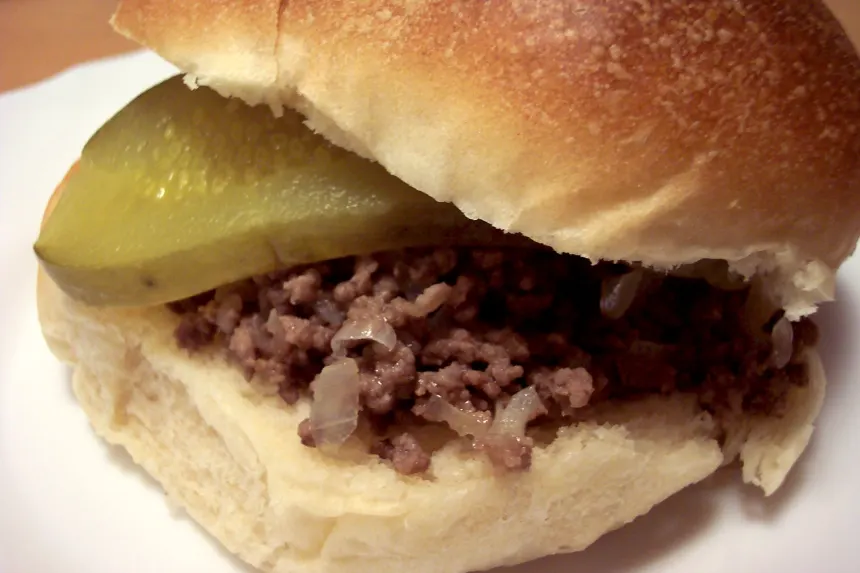 photo by HeatherFeather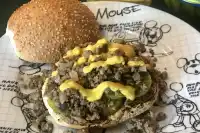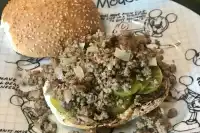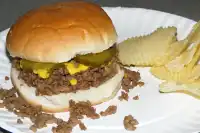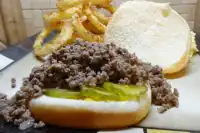 Ready In:

30mins

Ingredients:

9
ingredients
1

1 lb ground beef round or 1 lb ground sirloin

1

tablespoon fat like lard (if meat is round or sirloin) or 1 tablespoon Crisco (if meat is round or sirloin)

2

teaspoons salt, just enough to lightly cover bottom of your skillet

1

onion, chopped fine

1

tablespoon prepared yellow mustard

1

tablespoon vinegar

1

tablespoon sugar
water, to cover

salt and pepper, to taste
directions
Get out a cast iron skillet-they are the best for loosemeats-or other kind if you have no iron skillet.
Melt fat over medium heat and lightly salt bottom of skillet.
Break ground beef up in skillet and start crumbling it with the back of a wooden spoon-this is very important-the meat must end up being cooked up into small crumbles.
Add chopped onion while browning meat.
Keep working with the back of spoon to break up meat.
When meat is browned, drain off any fat and return meat to skillet.
Add mustard, vinegar, sugar, and just enough water to barely cover meat in the pan.
Cook, at a simmer, till water is all cooked out-between 15-20 minutes.
Adjust salt and pepper to taste.
Heat your hamburger buns-they're traditionally steamed for loosemeats-I like mine toasted lightly-do it the way you like it.
When buns are warm, put yellow mustard on them and add some dill pickle slices-I put on lots!
*If you start changing this recipe and using things like olive oil for the fat and Dijon or honey mustard for the yellow mustard, you will not get the traditional yummy taste of a loosemeat sandwich.
Likewise, don't add any liquid smoke or Worcestershire sauce.
Make them just like this the first time so you can sample the simplicity of this famous Midwestern treat.
If you want to start making changes after that by all means do so but I'd like you to taste the original recipe at least once.
Serve with homemade potato salad and chips or with my Easy Cheesy Potato recipe.
Questions & Replies

Got a question?
Share it with the community!
Reviews
YUMMM!! I don't remember how I came across this recipe but I am SO glad I did! Made as directed, including using the cast iron skillet, but didn't have any hamburger buns so I toasted some bread. I learned a little trick from Zaar Chef Evelyn/Athens about browning ground meat and it's the only way I do it now. When you think it's brown enough, cook another 5 minutes. When you think that's done, brown another 1-2 minutes. It gets the meat so carmelized and tastey, just like the crispy edges of a real diner burger. The combination of carmelized meat and the sauce was excellent topped with mustard and pickle. Can't wait to get some hamburger buns and do it again!!

 

I've made this recipe several times over the years, and just wanted to say thanks!! I grew up in LeMars, the home of Bob's Drive Inn, where you can still get a tavern (as well as a cheese tavern with American cheese (yum!!) and hot dogs with tavern meat on them), and this recipe hits the mark. Good advice on breaking up the hamburger into really small pieces, which is absolutely key. And they taste the best when served with potato chips, no kidding! I've changed a couple of things on the recipe (don't drain the meat, as I use ground sirloin, don't use as much salt, and put in about a half tablespoon of Worcestershire sauce), but you should try the original recipe first and try not to add things that really change the taste, like garlic or liquid fire. Then you're turning a great American classic into something else! If you ever happen through LeMars, I would recommend stopping by at Bob's for a cheese tavern and hot dog "with and pickles". Hard to duplicate the magic they work there! :)

 

This is great! I am so over regular sloppy joe's and this is a totally new flavor for a change! I tasted this one from the time I added the water until it was simmered out and if you have a problem with your meat coming out flavorless it is because you need to simmer, simmer, then simmer some more until ALL of the water is gone and turned into a nice thick syrup coating over the meat. This is an "UN-sloppy joe" you should have NO water/liquid left! this is also the only way to make the meat soft and moist. The flavor truly does not show until the very last few minutes of simmering so keep going, it is worth the wait! sooooo goood!

 

Oh sweet mercy...DELICIOUS!!!!! I wonder if those that thought it just tasted like browned hamburger didn't use a cast iron skillet? I got rid of all my non-stick pans and use cast iron for practically everything, it really does make a difference in how food tastes! I tasted the meat before adding the vinegar, mustard and sugar, and it already had a delicious flavor that was beyond just browned ground beef. Really glad I found this recipe, I had found a few recipes for the loosemeat sandwiches referenced on the Roseanne show, but they just had meat, onions and salt. This turned out way better...my mouth was watering the whole time I was cooking them and my taste buds nearly leaped off my tongue in anticipation! They were not a bit disappointed, either. Every bit as delicious as I'd hoped they'd be...definitely worth the effort. Also, I agree with other reviewers - crisp up that ground beef, and simmer, simmer, simmer. I kept nibbling on the meat as it cooked and the flavor truly does not come into its own until the last few minutes. I've never been to the Blue Mill Tavern or anywhere in Iowa for that matter, but if I ever find myself there, I will make a point to seek out these delicious loosemeats! My husband said we could move to Iowa after I told him if we ever find ourselves there, I want to eat at the Blue Mill Tavern (:

 
Tweaks
Could be 4 stars, could be 5, all I know was this was a BIG HIT! I think I added garlic since anytime I use onion, I figure garlic goes with it. I am going to make this tonight and I think I'll use beef broth instead of water just to add to the beefy richness, but the water was certainly good. I took a tip from Chef John at foodwishes.com and his Sloppy Joe recipe, and I started with the meat and onions in a cold pan. As he put it, we want 'maximum crumbliness' and presumably the cold ban and all the breaking up of the meat and the simmering of the water will give you that.

 

Wow! I'm from Mississippi and have never had the pleasure to taste a loosemeat sandwich. I do remember seeing it on TV, more than likely from Roseanne. I returned the meat to the skillet after I drained the fat and browned it a little longer before adding the water, vinegar, sugar, and mustard. I used an onion roll instead of a hamburger. I buttered the sliced sides and toasted it on a griddle like a grilled cheese. It was awesome, and I will definitely be making this more often. Thank you for posting this recipe and allowing a sweet southern gal like me enjoy a taste of the Midwest!

 

We were not "bowled over" like so many reviewers. Followed the recipe pretty exactly (using what was on hand or likely to be used again); so made the following changes: Vegetable oil instead of lard or Crisco Dill pickle relish instead of pickles Added the option of a slice of American cheese on top Even using the recipe amount of salt; and with the other flavoring during cooking and as topping, it wasn't all that savory; and was more than a bit "dry". If I were to try it again I might consider upping the mustard/vinegar/sugar in the cooking - and maybe give it some garlic as well. On breaking up ground beef during cooking - I've found that mashing with the back of a spoon just flattens it out into little burger patties, especially if the "grind" is in long stringy pieces. I always apply a chopping motion with the end of a non-stick plastic spoon as I turn and stir the meat until it is in "kibbles" of the size I want.

 
RECIPE SUBMITTED BY
Hello fellow gourmands and fellow foodies:-) I'm presently living in Bloomington, IN home of Indiana University of which I, my DH and one of my daughters are all alums. I also have twin girls who are second semester juniors at IU who will be graduating next year. I'm originally from Sioux City, Iowa but my family moved to northern Minnesota when I was about 7. I've always wanted to return to MN because I really detest the heat and humidity of this area but that's just not in the cards for me. At some point my husband and I hope to have a small cabin in the woods up there so we can go up in the summers and fish fish fish. In the winter we hope to retire to the west coast of southern Florida. My family has a home down there and I try to spend as much time there as I possibly can, usually with a fishing line in the water out on our dock:-) To say I like to fish is an understatement! LOL. I am addicted to it and I'd rather be fishing if I can't be in the kitchen cooking and baking!!! The fishing in Minnesota is excellent as well as in Florida whereas here in Indiana I am hard pressed to find a decent lake let alone catch any fish in one of them. I grew up in the restaurant business learning at a very early age that dirty dishes have to be washed by someone:-) All kidding aside, spending that time in the kitchen alongside my Grandmother Ang in her diner/cafe/tavern taught me what hard work is all about and it is there that I began to develop a good work ethic as well as a deep and abiding love for all things having to do with the preparation and presentation of food. I've also had some professional training as well and spent many years cooking in some fairly good restaurant kitchens. My DH and I grow all of our own fruit, vegetables and herbs and I put up somewhere between 500-800 jars of jam, jellies, salsas, sauces, vinegars, chutneys, vegetables, juices, pie fillings, fruit etc to help us eat really well thru every winter. I also give a lot of what I preserve away to family and friends. I am blessed to have a very generous brother who bags us a nice sized deer every fall and has it processed and my Mom, bless her heart, pays for it to be shipped to us here from MN. Now that's a really nice gift isn't it? We make venison and sausage from the deer meat as well as all kinds of marinated meat dishes, grill it, and we especially love to make venison stroganoff, stews and chili. It's wonderful to not have to buy so much at the grocery store too!! And the quality of fresh preserved foods can't be beat!
View Full Profile