The Best (Do-Ahead) Turkey Gravy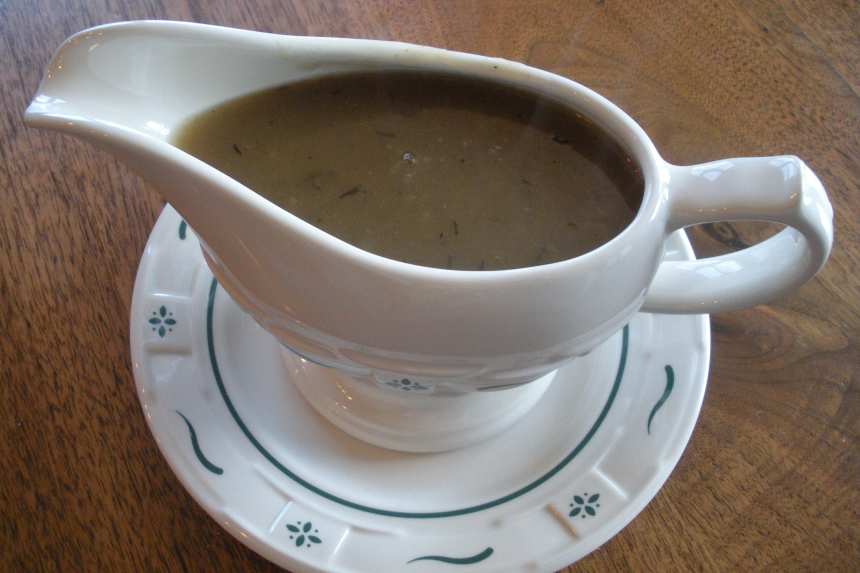 photo by Marianne5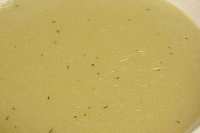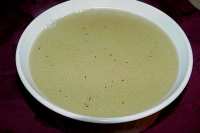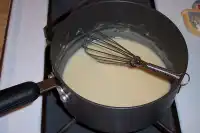 Ready In:

1hr 40mins

Ingredients:

11
directions
In deep 12 inch skillet, heat oil over medium-high heat until hot.
Add turkey wings and cook 10 to 15 minutes or until golden on all sides.
Add onions, carrots, celery and garlic, and cook 8-10 minutes or until turkey wings and vegetables are browned, stirring frequently.
Transfer turkey and vegetables to a large bowl.
Add wine to skillet, and stir until browned bits are loosened.
Return turkey and veggies to skillet.
Stir in broth, thyme and 3 cups water, heat to boiling over high heat.
Reduce heat to medium-low; simmer, uncovered, 45 minutes.
Strain into an 8-cup measure or a large bowl; discard solids.
Let broth stand a few seconds until fat separates from meat juice.
Spoon 1/4 cup fat from broth into 2-quart saucepan; skim and discard any remaining fat.
Add flour to fat in saucepan; cook, stirring over medium heat until flour turns golden brown.
Gradually whisk in reserved broth and cook until gravy boils and thickens slightly, stirring constantly.
Pour gravy into a 2-quart container or medium bowl, cover and refrigerate.
At serving time, reheat gravy and add pan drippings (and/or cooked diced giblets) from the roast turkey if you like.
Gravy can be reheated in microwave prior to serving.
Questions & Replies

Got a question?
Share it with the community!
Reviews
I printed this recipe at Thanskgiving time and misplaced it, so I came back to Zarr today just to get it again, so I can make it again for Christmas dinner. Since deep frying turkey at Thanksgiving has become a rather new tradition in our home, making a good gravy without the drippings from a roast turkey had become a challenge. Until I found this recipe!! Thank you, thank you, thank you Dee!!! It's simply delicious! I didn't change a thing and it's great to be able to make this the day before! This gravy will become a tradition along with the deep fried turkey. And Dee514 will forever be known as my gravy HERO!

 

This was so good! My SIL especially couldn't stop raving about it and asked for some of the leftovers! (We had 15 for dinner and had plenty left!) This was easy to make though definitely time consuming. The only thing I did different was use a sweet wine and it didn't seem to cause any problems. I'll be making a double batch next time just to freeze and have on hand! Thanks for sharing!

 

I'll be honest - I'm 57 and am gravy-making impared - jarred gravy was better than mine. ;) Gave this a whirl & my husband said it was the best ever (great compliment as both our late mothers were fabulous cooks). I also had the problem of reduction after simmering, but supplemented it with some commercial roasted chicken broth while whisking into the desired consistancy. As we brine & rotissiere our turkey, removing the (usually) unwanted wings ahead of time worked well. Froze a small portion of leftover gravy - will be interested to see how it thaws/reheats. THANK YOU, DEE!

 

This recipe makes a delicious gravy with the convenience of being able to make gravy ahead of time. I added the neck and giblets to the broth and simmered everything for about an hour. The gravy was frozen until the day of the dinner. Update Dec/09: This year I made this using 2 lbs of neck pieces. The resulting gravy was wonderful.

 
Tweaks
I read all of the reviews of this recipe and decided to use it for a Birthday Turkey dinner that I am making this weekend for my husband's birthday. I usually have homemade turkey stock in the freezer, but found that I was running low (that's another reason to have a turkey dinner..to make more stock!) Anyway, I usually make stock with the whole carcass, but went with the turkey wings. I threw the 4 wings, 2 carrots unpeeled but with the tops trimmed off, the 2 celery, the 2 onions cut in wedges with the skins on, and several cloves of garlic. I put everything in a roaster with enough water to generously cover. Then I roasted it at 300 degrees all day. I took it out broke up the veggies and meat alittle. Allowed it to cool then put it in the fridge, roaster and all. I had things to do the next day so I just let it sit in the fridge "coolin' its wings." The following day, I returned it to the oven at 300 degrees added water as needed and cooked all day again. I then removed the veggies, meat, bones and bay leaves. I found that they didn't have much flavor left and I was too afraid of giving the dog the scraps because of the shards of bones, so I just threw the "Remains" out. I allowed it to cool and skim the top of some (not all) the fat. then ran it through a fine strainer ( you could use a cheesecloth, but I didn't have one). I then laddled it into plastic tubs to make 2 cup servings each. Into the freezer they went. I ended up with 14 cups of stock. When I made this recipe, I used 4 cups stock, 1/2 cup dry Sherry (didn't have Chardonney), 1/4 tsp. of Thyme, cracked pepper, and a little grey sea salt. Instead of flour, I used 4 TBSP of corn starch shaken in a jelly jar with 4 TBSP of cold water. Cooked until thicken. I estimate that it made 3 cups of gravy.I will have to post how it tasted after our dinner (I am alittle bias, so I will let you know what my picky in-laws think), but for now here's a picture. My gravy appears darker than the other pictures. That may be due to the fact that I roasted the stock longer.

 

Everyone loved this! I substituted water for more chicken broth (didn't want it to blane), and added a little cornstarch to make the gravy thicker. It is important that you add the turkey drippings/juice when you reheat for a more flavorful gravy (or you can just add more turkey wings/thighs, etc. when you first cook this).

 

What a great idea! I made the gravy while the turkey was roasting in the oven, before the guests were due to arrive. I used two wings and two drumsticks bcs that's what was on hand at the store. Instead of using a whole clove of garlic I used a frozen crushed clove and doubled the amount bcs we love garlic. I let the whole thing simmer for close to an hour, removed the solids and brought the broth to a boil. I then added my cornstarch mixture while whisking continuously(1-2 Tbsp cornstarch mixed with 2-3 Tbsp cold water) and thickened it that way - should it not be thick enough try and add a little more of the cornstarch and water mix. The gravy was fantastic! I didn't have the extra worry of wondering whether or not the gravy would turn out! Thanks very much, I've passed this along to some friends already!

 
RECIPE SUBMITTED BY
I'm married (46 years to the same lucky guy) and have 2 kids, a daughter 41, a son 36, and 2 beautiful grand daughters (8 yrs and 6 yrs). I have always enjoyed cooking and baking, especially breads :) One of my favorite quotes:?? Computers are like air conditioners; they stop working when you open Windows.
View Full Profile