The Bergy Burger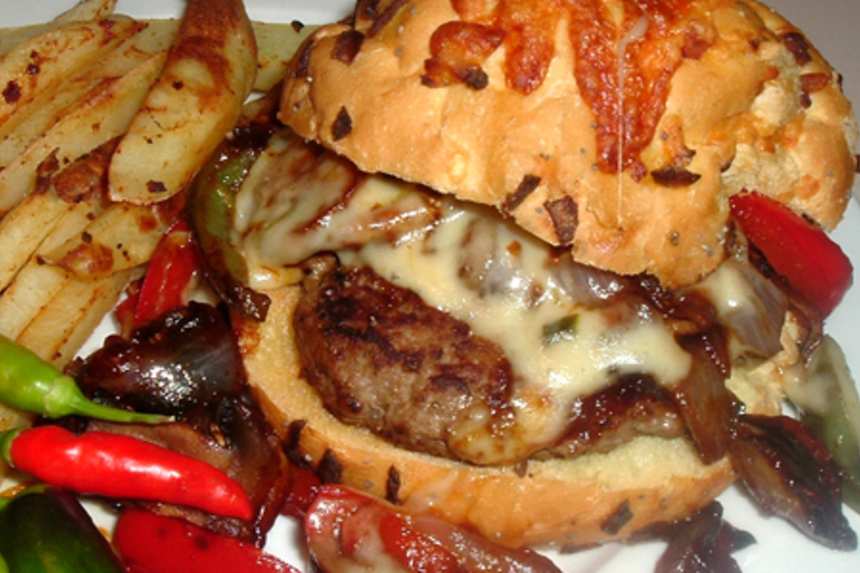 photo by Bergy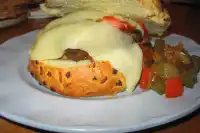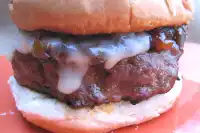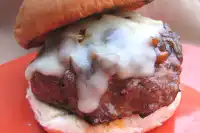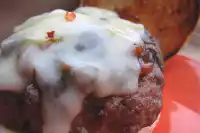 Ready In:

35mins

Ingredients:

8

Serves:

3
directions
Season meat your favorite way and form three patties. Do not over work meat and make too compact or you will have meatloaf burgers. I think 1 pound of meat makes three perfect burgers.
Lightly butter split hamburger/onion rolls and pan fry until toasted. Or you may just dry toast them if you wish without butter. (I get a wonderful jalapeño/cheddar bun from my grocery bakery).
Chop onion and bell pepper coarsely and fry in a little oil until the onions are caramelized nicely and the bell pepper is wilted.
Pour off excess oil and add the steak sauce and heat through and set aside in a bowl.
Grill or pan fry hamburger patties (like Queen Bergy does!) until done to your liking.
Heat broiler. Yes--you are reading this right-- heat your broiler!
---------------------------------------.
Assemble your Bergy Burger.
Spread mustard (if using it)on toasted buns. Place a hamburger patty on bottom bun and top with bell pepper/onion/steak sauce mixture. Add pickled jalapeño slices. (if you are using them) Lay a thick slice or two of pepper jack or Monterey jack cheese on top.
Guess what? Put it under your broiler. After having made this a couple of times I find that doing this keeps the onion/pepper mixture in place while eating it and the melted cheese has a better flavor. Only broil for a minute or so. You just want the cheese to melt well and drape over the ingredients to hold them in place.
Remove from broiler and add the top bun and serve with your favorite oven fries recipe. That's what Queen Bergy would do.
Questions & Replies

Got a question?
Share it with the community!
Reviews
I am honored that this fabulous burger is dedicated to me - I made it tonight and said this is a combo of so many flavors I love! One thing not in the recipe is mushrooms - I must have mushrooms! I used a local Jalapeno- Habenaro Gouda cheese - Lots of "hot" in this cheese and found a great Onion Cheese bun to serve it on. For the steak sauce I used Bulls Eye Steak sauce. I liked the idea of putting the cheese on the peppers etc but I did it on the skillet and put a lid over it til it melted. The burger was still sitting on one side of the pan. Thanks Potsie for honoring me in this way! I love it!

 

I thought the combination was pretty good. I made the pepper, onion and steak sauce into a relish instead and added some ketchup for some sweetness. I also wanted it separate since others didn't like this combination. Good thing I did because my husband hated it, he actually spit it out! Oh well, can't win them all. I even used the relish to dip some french fries in. It was pretty good. I roasted the pepper first and used a red one. I didn't use the peppers or mustard, though. I used pork burgers instead and seasoned them with steak seasoning, garlic salt and minced onion. I also topped the burgers with american cheese in addition to the pepper jack.