Taqueria Style Tacos - Carne Asada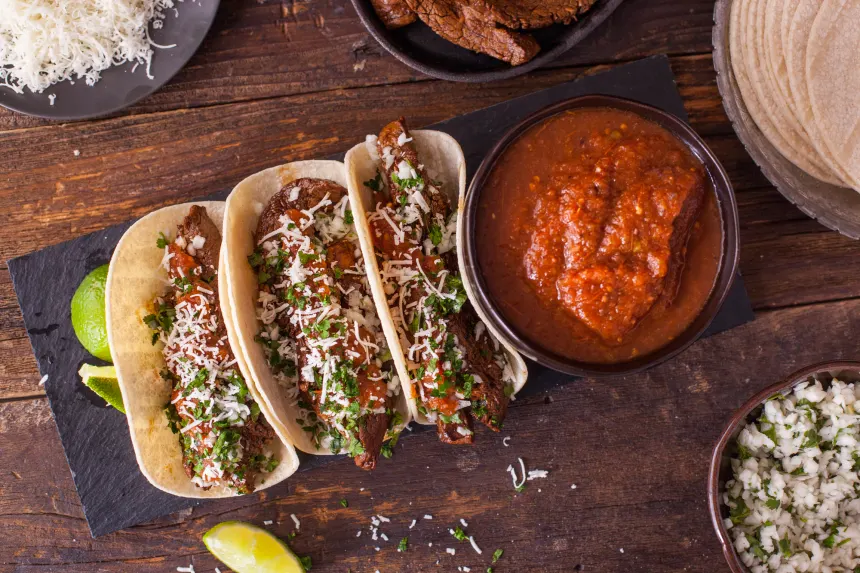 photo by DianaEatingRichly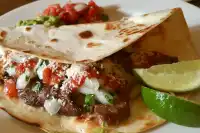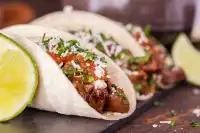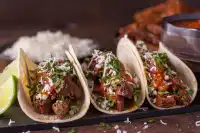 Ready In:

8hrs 25mins

Ingredients:

26

Serves:

8
directions
Lay the flank steak in a large glass baking dish. In a medium bowl, whisk together the vinegar, soy sauce, 4 cloves of garlic, juice of two limes and olive oil. Season with salt, black pepper, white pepper, garlic powder, chili powder, oregano, cumin and paprika. Whisk until well blended, then pour over the steak in the dish. Turn over once to coat both sides. Cover with plastic wrap, and marinate for 1 to 8 hours.
NOW THE ONION RELISH: In a small bowl, stir together 1 chopped white onion, cilantro and the juice of 1 lime. Set aside to use as a relish for the tacos.
FOR THE PUREED CHILE SALSA: Heat a skillet over medium-high heat. Toast chile pods in the skillet for a few minutes, and then remove to a bowl of water to soak for about 30 minutes. Preheat the oven to 450 degrees F (230 degrees C).
Place the tomatoes, 1 onion, jalapenos and 4 cloves of garlic onto a baking sheet. Roast in the oven for about 20 minutes, until toasted but not burnt. Place the roasted vegetables and soaked chile pods into a blender or food processor, along with salt and pepper. Puree until smooth.
Heat vegetable oil in a large skillet over medium-high heat. Cut the marinated flank steak into cubes or strips. Cook, stirring constantly, until the meat is cooked through and most of the liquid has evaporated.
Warm the tortillas in a skillet for about a minute on each side to make them pliable. Tortillas may also be warmed in a microwave oven. Arrange two or three tortillas on a plate and lay a generous amount of beef over them. Top with a sprinkle of the onion relish and a large spoonful of the pureed salsa. Add as much cheese as you like. Garnish with lime wedges and serve.
Reviews
July 2022. Here we are nearly 10 years later and still making this marinade for steak and people still asking for the recipe. Mix up marinade in zip lock and marinade overnight. Make salsa or buy it, misc other toppings everyone is always happy. Update: We REALLY make this all the time. Every time we make it for company they ask for the recipe. I make it as posted. Seriously - only 13 reviews?! This recipe should be an all time favorite!!! Original review: I can't believe I haven't reviewed this. We make this frequently. I generally marinade this overnight in a ziploc bag. We then grill quickly, let it rest and eat it up with corn tortillas and a variety of toppings. Always incl onions and cilantro! thanks!

 

I live in the San Francisco Bay Area where food trucks are more like gourmet restaurants! We call these street tacos! I've indulged in many street tacos so when I ran across this recipe I knew I had to whip it up! One word. Sensational. I didn't have the cheese the recipe calls for so I used Monterey Jack cheese and they turned out wonderful. My family literally thought I had stopped at one of our favorite taco trucks! I revealed the truth and several fam members demanded the recipe! I'll definitely make this time and time again!

 

I can't believe how many people thought this was easy. I started prep at 1:15 and served at 6:15. Probably took an hour worth of breaks so a total of 4 hours to make. I followed the directions for the salsa exactly but found it to be one note bland. I added a can of diced tomatoes to beef up the tomato flavor as I had used all my fresh tomatoes and the salsa had zero tomato flavor. I added more salt (more than a pinch) and I added cilantro. Better but still not right. I pulled up an easy, tasty salsa recipe I have and it uses just a small amount of cumin, garlic salt and sugar so I am going to try to rescue the leftovers with those additions. Not worth all the effort.