Tamales With Turkey in Black Chile Sauce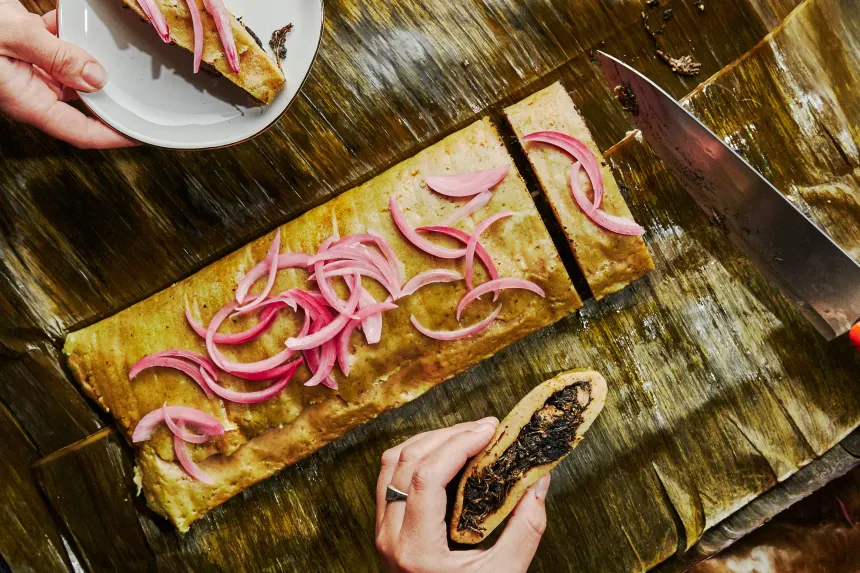 photo by Rick M.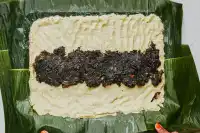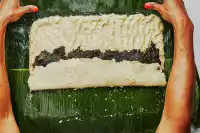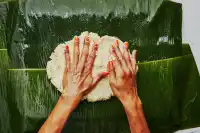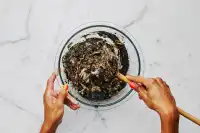 Ready In:

8hrs 30mins

Ingredients:

23
ingredients
Filling

4

ounces chilies, ancho stemmed and seeded

2

ounces chilies, guajillo stemmed and seeded

15

arbol chiles, stemmed

4

roma tomatoes, cored

3

fresno chilies, stemmed
1⁄2

white onion, peeled, halved

1

head garlic, cloves separated and peeled

1

tablespoon black peppercorns

1

tablespoon Mexican oregano
1⁄2 teaspoon cumin seed

2

tablespoons achiote paste

2

tablespoons white vinegar

1

tablespoon kosher salt

1

tablespoon schmaltz or 1 tablespoon lard

2

bone-in skin-on turkey thighs

Masa and assembly

3

lbs unprepared fresh corn masa for tamales

1 1⁄2

cups schmaltz or 1 1/2 cups lard, melted, plus more if needed

1⁄2 1/2 cup turkey stock or 1/2 cup low sodium chicken broth
4 1⁄2 teaspoons kosher salt

5

lbs fresh banana leaves (thawed, rinsed and drained, cut into 2-foot pieces) or 5 lbs frozen banana leaves (thawed, rinsed and drained, cut into 2-foot pieces)

pickled red onion (for serving)
directions
For the Filling:

Place a rack in middle of oven; preheat to 475°. Roast chiles on a rimmed baking sheet until completely black, slightly puffed and charcoal like in texture, 1 hour. Your kitchen will get very smoky so keep the vent on and windows open. The smoke will subside after the first 15 minutes. Let cool. Transfer to a large pot, lightly crush will a potato masher. Fill pot with cold water, stir vigorously strain through a fine mesh sieve and discard water. Transfer chiles back to pot and fill with cold water cover and let sit at room temperature for at least 8 hours and up to 48.
Meanwhile, spread tomatoes, fresnos, onion and garlic on a rimmed baking sheet; season with salt. Roast until vegetables are soft and black in spots, 30–40 minutes. Let cool slightly. Peel garlic cloves. Cover and chill until ready to use.
Toast peppercorn, cloves and allspice in a dry small skillet over medium heat, swirling often and adding oregano and cumin seeds during the last 30 seconds, until fragrant, about 2 minutes. Cover and let sit at room temperature until ready to use.
Strain blackened chiles through a fine mesh sieve and discard water. Transfer chiles, tomatoes, fresnos, onion, garlic, peppercorn, cloves, allspice, oregano, cumin, achiote paste, vinegar, and 1 tablespoon kosher salt to a blender. Purée until completely smooth.
Preheat oven to 250°. Heat 1 tablespoon schmaltz in a large heavy pot over medium-high and cook turkey thighs, starting skin-side down, turning once, until deep golden browned, 4-5 minutes per side. Carefully transfer chile purée to pot; bring to a boil, cover and transfer to oven. Braise turkey until very tender and shreds easily, 2–2½ hours. Let cool. Transfer turkey to a cutting board and shred meat and skin; reserve chile sauce and discard bones. Roughly chop into bite-sized pieces. Transfer to a medium bowl and toss 2 ½ cups of reserved sauce until completely combined; season with salt. Transfer filling to an airtight container and chill until turkey is cold and firm, at least 3 hours.
Do Ahead: Filling can be made 3 days ahead. Keep chilled.

For the Masa and Assembly:

Mix masa, schmaltz, stock and salt in a large bowl with your hands until well incorporated and mixture looks shiny and smooth, about 4 minutes. (Alternatively, you can also do this in a stand mixer) Masa will seem wet but should not stick to your hands. Slap the top of masa with the palm of your hand, immediately pulling your hand back. If masa doesn't stick and your hand looks shiny, the dough is ready. If masa sticks, add another 2 tablespoons schmaltz and knead until incorporated; repeat slap test. If masa still sticks to your hand, repeat process until you get there (another 2 tablespoons schmaltz should do it).
Bring a large pot of water to boil over high heat and preheat oven to 350°. Set a rack inside a rimmed baking sheet and position it so that one of the long sides is facing you. Cover the sheet tray with two leaves, lengthwise from top to bottom, slightly overlapped, with ribs in the center. Repeat with another two leaves covering the first two. Brush banana leaves with schmaltz and top with half of the masa. Press into the banana leaves in an even layer covering most of the leaves, leaving a 1" border around the rim of the baking sheet. Gently spread the filling, lengthwise down the center, making a 6" wide strip across the masa.
Using overhanging leaves to help you, fold the side closest to you over the filling, carefully separating the leaf from the masa so that it rests over the filling. Pull back the leaf completely so that it is resting on the sheet tray. Fold the second side over so that the masa and leaf completely covers the filling and slightly overlaps the other masa flap. Fold the first leaf over and tuck under the tamal on the other side. Tuck the leaves on the two ends under the tamal. Cover the tamal in wet, clean kitchen towels. Place baking sheet in oven and pour very hot water into pan until it just below the level of the rack and cover with heavy duty foil. Bake until set, 60–75 minutes. Let sit covered for 30 minutes. Carefully unwrap and slice and serve with reserved sauce and pickled red onions.
Reviews
Have any thoughts about this recipe?
Share it with the community!
RECIPE SUBMITTED BY
Food editor, food stylist. I cook, I write and I eat. I have the best job ever. Surrounded by people who love food as much as i do, who are incredible cooks and teach me something every day. Not to mention the fact that I get to graze on amazing food and get paid for it, like that chocolate cherry shortcake I just ate for breakfast. Yeah, it doesn't suck.
View Full Profile