Tahcheen (Tah-Chin)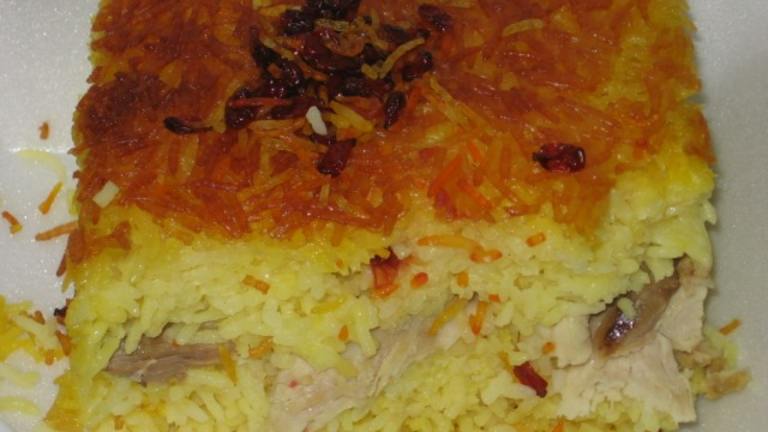 Found at an Iranian site. Although this takes time, it looks delicious!
Ready In:

2hrs 20mins

Serves:

Units:
directions
Chop onions and fry in oil until slightly golden then add the turmeric to it. Fry chicken in onions until color changes. Add 1/2 - 1c water and bring to boil. Turn heat down and let boil slowly until chicken is cooked.
While chicken is cooking, beat the yogurt until it is smooth. Dissolve saffron in half a cup of hot water. Add saffron, salt, pepper and optional eggs to the yogurt and mix very well.
Wash rice and pour 3c water in a large pot and bring to boil. Pour in rice and cook while stirring occasionally until rice is al dente. Drain. (Basmati will cook a lot quicker than regular rice).
Pour several spoons of oil and several spoons of the yogurt mix into a non-stick pot. Add a thin layer of rice and flatten using the back of a spoon. Add a layer of chicken on top followed by another layer of rice. Again flatten the rice. Spread several more spoons of the yogurt mix on the rice. Continue in this fashion until chicken, rice and the yogurt mix have been used up. Add some more oil on top.
Put the lid on and cook for about 1.5 hours on medium low heat. Note that the longer Tah-Chin is cooked, the thicker the TahDig (delicious crispy layer of rice at the bottom) will be. When cooked, remove the lid and let cool for a few minutes. Place an inverted large dish over the pot and turn it over. Tap the pot in order to loosen the contents inside. The contents should fall on the dish in one piece with the Tah-Dig on the outside.
Submit a Recipe Correction
RECIPE MADE WITH LOVE BY
"Found at an Iranian site. Although this takes time, it looks delicious!"
As a chef and Persian woman I love cooking and seeing recipes from my country. With that said the reason this might seem bland is that the recipe calls for way too much yogurt. First you only need about 1 to 1 and a 1/2 cups of yogurt. 1 pound is way too much! And it should ideally be whole fat yogurt if you use low fat it will be too dry so add more oil or in my case for enhanced flavor 3 or 4 tablespoons of butter. Also you never put the egg whites in the mixture! Has to be egg yolks! The white make the mixture too stiff. If things taste bland then salt and pepper might be needed. Taste the mixture before you cook it then adjust as you need. Lastly Tumeric has No taste! It makes things yellow and helps remove the gaminess of chicken which is why it is used in the recipe. We use saffron to make this flavor and color which has to be a bright yellow, not turmeric. Hope this helps. When using saffron you only need a small about that is been crushed and reconstituted with a small amount of hot water. About 1/8 of a teaspoon