Sweet Sauteed Beets With an Orange, Onion & Fennel Relish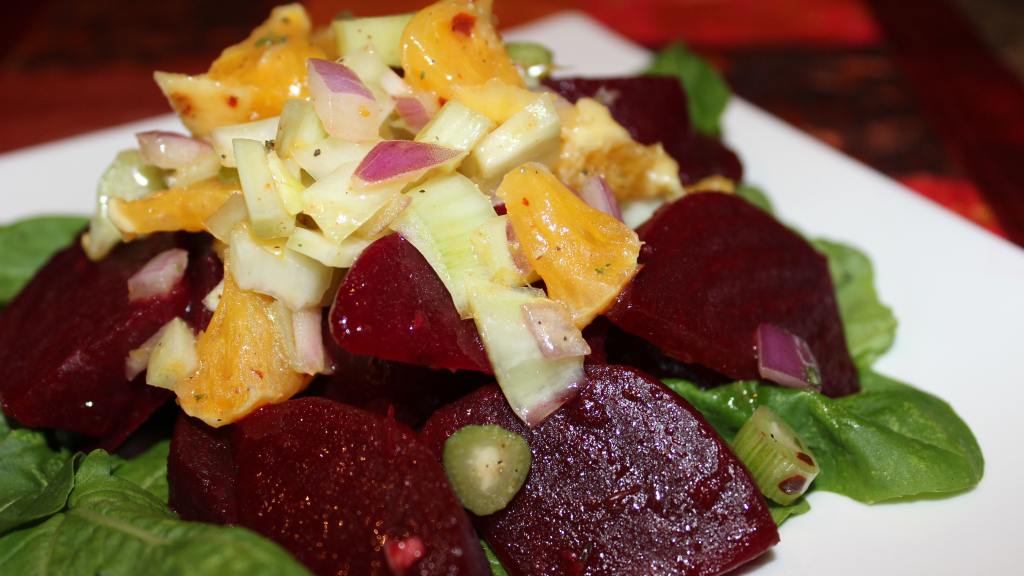 Ready In:

55mins

Serves:

Units:
Nutrition Information
directions
Vinaigrette -- Make this first and then just refrigerate until ready to use. In a small mixing bowl, or personally -- I like a small tupperware container, just add everything and shake, but a mixing bowl works good. Add the marmalade, vinegar, garlic, olive oil, chives, thyme, salt and pepper. Mix well and set to the side. It is even better made a few hours ahead, but it isn't necessary.
Beets -- I make the beets all in one pan, but if you prefer to roast them in the oven first and then saute, that will work fine. I find it just as easy to fill a small sauce pan with water and add the beets. Make sure the water covers the beets. Cover and cook on medium low heat for approximately 20-30 minutes until tender but still firm. Remember, these will be peeled, diced and finished in a saute pan, so make sure they are tender, but a bit underdone - you don't want them falling apart.
Relish -- As the beets cook, make the relish. To a small bowl, add the chopped oranges, fennel, onion, mandarin orange juice, olive oil, red pepper flakes, thyme, salt and pepper. Slightly chill before serving.
Beets -- Once the beets are done, remove from the pan and let cool until you can handle them. The peel will slide right off. Don't run them under water, just slide the peel off with your hands. I do use gloves as your hands will turn red. You can also put the beet in a small baggie and rub the outside of the baggie and that also works pretty good or use the back of a spoon, that is another trick. Then cut the beets in bite size wedges, not too small.
Saute -- In the same pan, dump out any remaining water, add the olive oil and butter and bring to medium high heat. Add the beets and saute, 3-5 minutes until fork tender. That is why you didn't cook them all the way in the water. You don't want them falling apart. The last minute add in the vinaigrette and heat until warm. I usually use about 1/2 of the vinaigrette, but use as much as you want too. I start slow as the beets will absorb some of the sauce. The leftover vinaigrette is great on other salads or vegetables.
Serve -- Serve over a bed of your favorite greens, or you can just serve as is. Top with the onion, fennel and orange relish. Garnish with some of the orange segments if you want and ENJOY!
The vinaigrette is great with roasted chicken, fish, pork or vegetables so make sure you save the leftovers. ENJOY !
Submit a Recipe Correction
Join The Conversation
Sarasota, this salad is MAGNIFICENT!!! Like you, I'm a beet lover. Now granted, here in Costa Rica all we can get is the red beets, but they are really flavorful. So this was made with red beets and served over a bed of arugula, which added the perfect pungency to the sweet tastes in the salad. You're right, the vinaigrette is wonderful - I could eat it with a spoon! As a matter of fact, I served this with boneless skinless chicken thighs topped with a cornflake, garlic & parmesan crumb - as an afterthought we added a drizzle of the vinaigrette to the last few bites of chicken and WOW - very, very good! This is a keeper of a recipe and worth more than five stars. Thanks for posting! Made for My 3 Chefs 2013.

I'm a beet lover ... and if you are, you will love this too. This is a great salad or a simple side dish which I have served it both ways. A mix of red and golden beets, pan sauteed and topped with an onion, fennel and orange relish. Serve this over a bed of spinach or other greens for a wonderful salad, or serve this as is - for a perfect side dish - sweet and tangy all in one. If you can only get red beets, that's fine. My local market and my farmers markets usually carry both red and golden and you can use one or the other, or a combination. Mandarin oranges are perfect for this, sweet, pre-segmented and ready to use, I actually prefer them over fresh in this dish. The beets are steamed and then sauteed, tossed with the vinaigrette and topped with the fresh relish. Note: This vinaigrette is great ... not only in this dish, but also over fish, scallops, green beans, asparagus, roasted cauliflower, chicken, pork or any of your favorite greens.