Swedish Meatballs in Sour Cream Sauce over Buttered Egg Noodles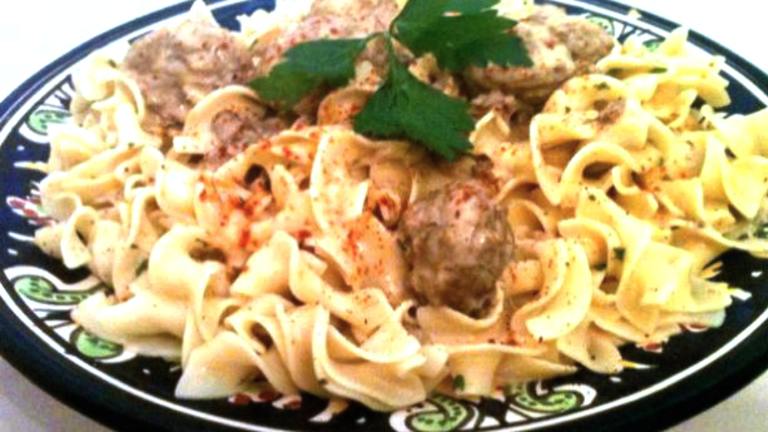 My recipe for Swedish-style meatballs in sour cream sauce with buttered noodles is a bit of work to prepare... but so worth it.
Ready In:

1hr

Serves:

Units:
Nutrition Information
directions
WHISK 1 large egg in a large mixing bowl (or standing mixer bowl) with 3 tablespoons sour cream, 2 teaspoons flour and 1 teaspoon baking powder; ADD the following meatball ingredients and whisk again: 2 teaspoons instant beef bouillon powder, 2 teaspoons minced onion flakes, 1 teaspoon baking powder, 1 1/2 teaspoons dried parsley flakes, 1 teaspoon lemon pepper, 1/2 teaspoon dried dill, 1/2 teaspoon paprika, 1/4 teaspoon ground allspice, 1/4 teaspoon ground ginger, 1/4 teaspoon ground nutmeg, 1/4 teaspoon fresh ground pepper and 1/4 teaspoon sea salt; PLACE 1 lb. of ground beef or pork or veal or turkey (or a combination of any) into bowl with mixture; ADD 1/3 cup unseasoned breadcrumbs; MIX well using hands, or using a large fork.
ADD 1/4 cup flour DREDGE to a large mixing bowl and place into working area; ROLL meat mixture with hands into 1-inch balls; GENTLY place formed meatballs into the flour DREDGE; REPEAT with remaining meatballs; SWIRL meatballs in bowl of flour until coated.
MELT a few tablespoons butter in a large non-stick skillet or saucepan over medium heat to brown meatballs in; GENTLY place dredged meatballs into buttered skillet, reserving dredge bowl and setting aside; BROWN meatballs, scraping and turning gently with a spatula.
POUR one (14.5 ounce) can beef broth over browned meatballs; BRING to a gentle boil; COVER to steam meatballs for 5 minutes; WIPE the previous dredge bowl clean; PLACE a large fine mesh strainer over bowl; CAREFULLY pour broth and meatballs into strainer; STIR in the remaining can broth; RESERVE broth mixture until needed.
WIPE browning skillet and place over medium-low heat; MELT 1/3 cup butter; ADD 4 ounces thinly sliced mushrooms if using and saute until golden; SPRINKLE in 1/3 cup flour; COOK mixture, stirring, just until bubbly and light golden.
ADD the seasonings for the SAUCE into reserved broth mixture in bowl: 1/2 tablespoon lemon juice, 1/2 tablespoon of the fresh minced parsley, 1/2 tablespoon Worcestershire sauce, 1 teaspoon onion flakes (or 3/4 teaspoon onion powder), 1/2 teaspoon sugar, 1 1/4 teaspoons paprika, 1/2 teaspoon dill weed, 1/4 teaspoon ground ginger, 1/4 teaspoon ground nutmeg, 1/4 teaspoon fresh ground black or white pepper, and 1/8 teaspoon ground allspice,.
WHISK seasoned broth into roux skillet until smooth; BRING to a boil while whisking constantly, until fully thickened; REDUCE heat to low to keep warm.
COOK 8-12 ounces wide egg noodles according to package directions; DRAIN; RETURN cooked noodles to same pot over low heat; ADD 1 - 2 tablespoons salted butter, 1 1/2 tablespoons water (to refresh noodle consistency) and the remaining minced fresh parsley; TOSS noodles gently until butter melts; COVER and keep warm on lowest heat, re-moistening with water if needed.
WHISK in 1 cup sour cream into warm sauce mixture (NOTE: DO NOT RAISE HEAT ABOVE MEDIUM LOW, OR SOUR CREAM WILL CURDLE); SEASON the sauce to taste if desired; ADD meatballs and heat gently uncovered, stirring occasionally; COVER and reduce heat to lowest setting (sauce will thin to proper consistency from heat condensation); STIR just before serving.
ARRANGE warm buttered egg noodles on serving plates; LADLE warm meatballs and sauce over noodles; GARNISH each serving with a light dusting of paprika (or a pinch of dried dill), and a fresh parsley sprig; SERVE and enjoy!
Submit a Recipe Correction
RECIPE MADE WITH LOVE BY
"My recipe for Swedish-style meatballs in sour cream sauce with buttered noodles is a bit of work to prepare... but so worth it."
Join The Conversation
I really love the way that this recipe is written so meticulously, repeating the ingredient measurements in the instructions. I wish everyone did that! I already had Swedish meatballs in my freezer from IKEA, so please understand that this is mainly a review of the sauce. I cooked the noodles ahead, and transferred them to a bowl with a spider. I let them sit in the butter and parsley, reserving some pasta water for their revival just prior to serving. I then measured out 3.5 cups of the remaining pasta water to mix up my concentrated beef broth with all the spices before starting the roux in the pan (butter/flour mixture). This worked fabulously. I added canned mushrooms after the sauce was completely combined. I was a little concerned when I tasted the finished sauce. It's too salty before you combine it with the noodles, but when it's all put together, it's perfect. We did have quite a bit of leftover sauce. I may add more meatballs next time (we used 1 lb of the pre-made meatballs) so we'll have them in the leftovers later.