Surprise! Cream-Filled Cupcakes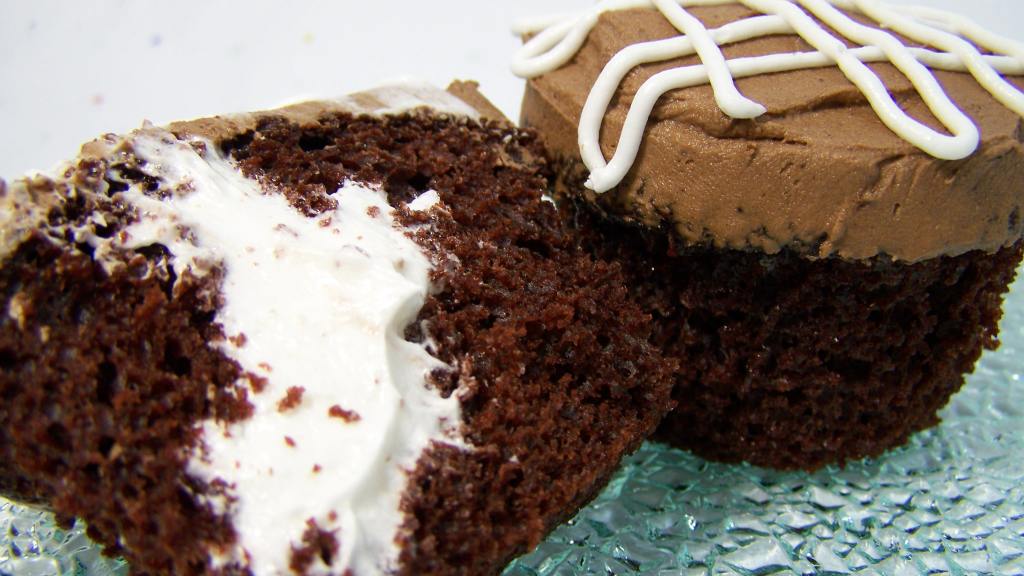 Ready In:

1hr 20mins

Ingredients:

17

Serves:

12
directions
Prepare cake mix according to the package directions, substituting coffee for the water called for on the box, if desired. A slightly richer chocolate flavor will result, but no detectable coffee flavor. Beat with mixer on low until all flour is moistened, then beat for 2 minute on medium speed, as directed on the box. Really, any kind of cake mix you desire can be used, just follow the box's directions.
Divide into 24 paper muffin liners that have been sprayed with non-stick spray for easy removal from cakes. Bake at 325 degrees (25 less than the box calls for) for 18 to 22 minutes, or until toothpick comes out clean. The lower temperature helps the cakes to remain moist and even topped--a trick I learned from my Wilton class instructor! Remove cakes to a rack to cool.
In a small saucepan, whisk flour into milk until there are no lumps. Heat milk and flour on Medium Low heat, stirring constantly until mixture thickens to a gravy consistency. Remove from hot pan into a cool bowl and cover with saran. Allow to cool to room temperature. A cool water bath or refrigeration will speed up this process.
In a mixing bowl, cream shortening and granulated sugar about 5 minutes. Add cooled milk-flour gravy and beat until fluffy and granulated sugar is dissolved completely, about another 5 minutes. Be sure to scrape your bowl and beater so that the grains of sugar at the top will be beaten in and dissolved. If in doubt, whip more. Now add vanilla and powdered sugar and whip well.
Once cakes are fully cooled, place filling in a frosting bag with a star tip (I use size 18 or so) and press the tip down into the middle of each cake, about ¾ of an inch deep. Give a good squeeze to the bag, enough to cause the top of the cupcake to rise, but not enough to cause it to crack. If it does crack, don't worry. The buttercream will cover it! Lift out the tip and repeat with each cake. Freshly baked and cooled cupcakes, or cupcakes stored in an airtight container until you are ready to frost them, are less likely to crack.
Make the buttercream frosting for the cupcake tops by creaming margarine, shortening, flavorings and water until fluffy. Add powdered sugar and meringue powder and beat until combined. Avoid over-beating to retain a smoother frosting.
Frost tops of cupcakes with buttercream and enjoy! Store them in a sealed container in the refrigerator or freezer if you plan on keeping them around for a while. Store any leftover frosting and filling in airtight containers in the refrigerator or freezer as well. Both will keep great for months in the freezer, if they can last that long! Blessings!
Join The Conversation
These were great! I did try the coffee but only half the amount as I was reluctant of how it might taste. Next time I will try the entire amount as it did enhance the flavor. I went by the recipe but I think I will try a ganache icing, that will look more like the bought ones. Great and I think much less expensive than the 40 cents each you pay