Amazing Stuffed Cabbage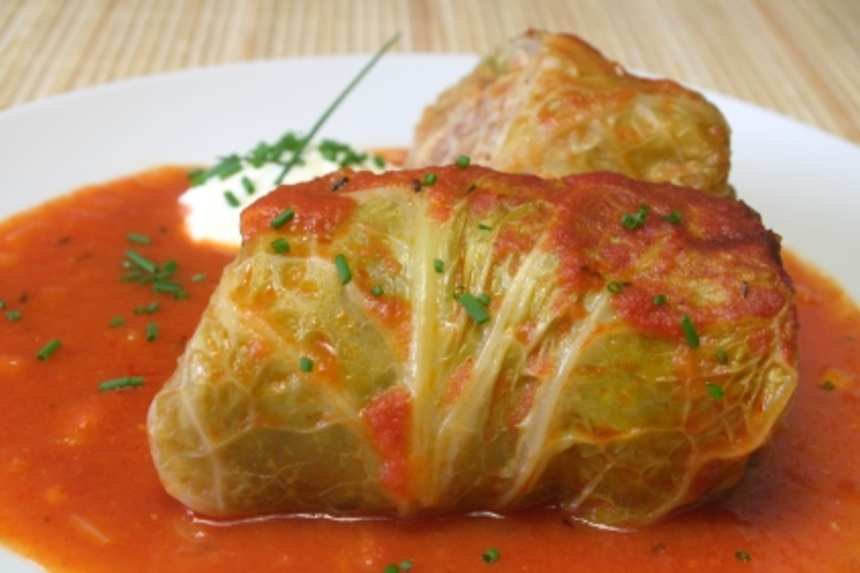 photo by jellygirl
Ready In:

1hr 15mins

Ingredients:

15
directions
There are many ways that you can skin a cat, so let's tackle this cabbage.
You can either pain stakingly score the head of cabbage around the root and try and free up some leaves (careful not to tear them), and then put them in a pot of boiling water for about 5 minutes to soften them up, carefully removing from pot and placing on a paper towel to cool --
Or you can remove the root if any from the head, score the leaves around the root and drop the whole head into the boiling water for about 5-10 minutes and the leaves will come off more easily. If you use this method, remove the whole head of cabbage after you get your leaves off and place aside to cool, cuz you're gonna need it in a bit --
You will need about 10 cabbage leaves to make 10 rolls --
After the head of cabbage cools, shred it and discard any large pieces --
In a large frying pan over med high heat, saute the onion and garlic for 5 minutes, add the tomato (with juice) the shredded cabbage, salt and pepper and the red pepper flakes. Cook and stir until the liquid almost all gone and the vegetables are soft -- about 10 minutes. Remove from heat and let it cool.
In another large bowl, combine the ground beef, rice, cooled tomato mixture and bread crumbs. Mix well, but don't over mix the meat. The more you handle ground beef the tougher it will become -- It should be able to form into a little "meatloafs" if not, then add a little more bread crumbs.
Preheat oven to 375. Spray a 9 x 13 pan with cooking spray. Working one at a time, take a small handful of the meat mixture and place towards the bottom (where the root is) of a cabbage leaf, now your gonna want to channel your Latino and roll those polish babies like a burrito. Tuck the bottom over a little and then bring in both sides, and then roll! Place seam side down in the baking dish. Repeat until your dish is full. They can be touching, and you're gonna want them to.
Wisk the soup, water and honey together and pour evenly over cabbage rolls. Cover the baking dish tightly with foil and bake for 1 hour. Remove the foil and then top with a little of your mozzarella cheese and bake for another 20 minutes.
Notes.
Here are some tidbits and thoughts.
1.Some people don't like the vein of the cabbage so after you have cooked the leaves you can run your knife down the sides of the vein and discard. Or if you are like me and are an equal opportunity cabbage lover, you will keep it. It will get soft during cooking --
2.Some of you Polacks (and I say that lovingly, because I am part Litvak (Lithuanian)) out there are scoffing at the fact that it has cooked cabbage in the center and cheese on top -- But hey, it works. The cheese gets nice and golden brown and lovely and the cabbage in the meat mixture is just sublime.
3.I have made the meat mixture by making instant rice. 1 cup of uncooked instant rice is far more than 1 cup after you cook it. If you do this, it just makes more of the mixture and after 10 rolls I had enough mixture to set aside and freeze for another glorious Polish day in my household.
Questions & Replies

Got a question?
Share it with the community!
Reviews
Have any thoughts about this recipe?
Share it with the community!