Strawberry Pudding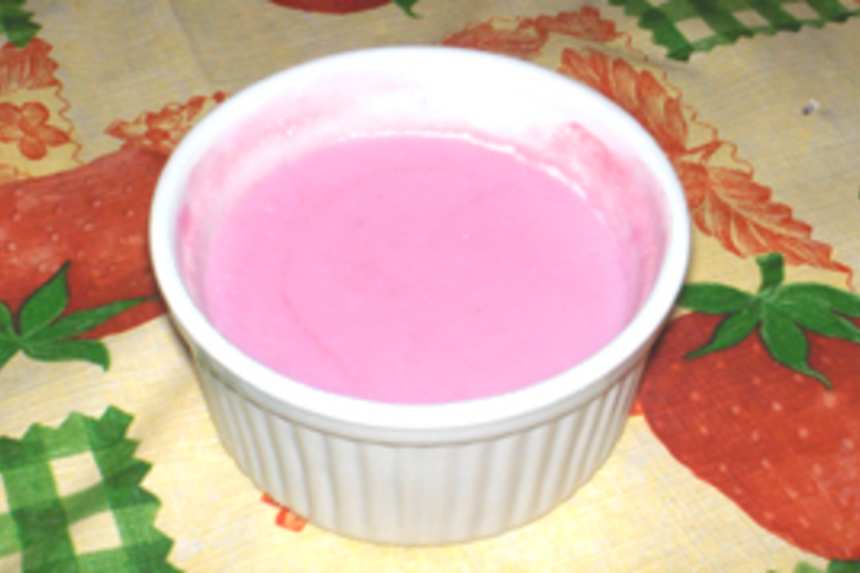 photo by the80srule

Ready In:

30mins

Ingredients:

7

Serves:

4
directions
In a medium saucepan, mix the milk together first with all the ingredients EXCEPT the egg whites and vanilla, with a wooden spoon or whisk. Don't turn on the heat yet.
Whisk in the egg whites to the mixture, make sure there's no lumps.
3Carefully fold in the vanilla, making sure there's no lumpiness once again.
Now turn on the heat to medium-high and whisk while it's heating, uncovered.
Let stand for about a minute until it starts to boil. Keep mixing, and let the heat continue until the mixture thickens.
When it thickens to a good pudding-like consistency, turn the heat off, and keep beating it with the wooden spoon or whisk to beat any lumps out and disperse the flavors properly.
Pour into individual serving cups/ramekins/giant serving bowl whatever your choice is.
Make sure you wrap the entire open area(s) with clingwrap! This is important to make sure an icky skin or gelatin-like consistency doesn't happen. (Props to Molly from Cooking Q&A for this tip, it really worked! :) ).
Let set for at least 3 hours in the fridge prior to eating.
Top with some whipped cream and enjoy! (Especially that Reddi Whip strawberry stuff for an intense berry overload.).
Questions & Replies

Got a question?
Share it with the community!
Reviews
Have any thoughts about this recipe?
Share it with the community!
RECIPE SUBMITTED BY
In advance, I'd like to thank everyone who reviews my recipes and leaves positive feedback! I know that I usually don't email anyone after getting a review, so I'd just like to thank everyone who reviews and submits pictures of my recipes in advance. It's much appreciated! I'm an accounting student who likes to believe it's still 1987. I'm trying to cook at home more so I joined up on here to swap recipes and get ideas, namely for someone with a limited budget and a ridiculously tiny cramped kitchenette. It gets hard for me to keep fresh ingredients around due to cost and spoilage, so most of my recipes call for canned stuff, but feel free to "upgrade" them with fresh ingredients! :) To update this a bit, I went from someone who was totally inept in the kitchen to a self-taught gourmet chef almost overnight. I'm quite proud of this feat and now look forward to things like grocery shopping and doing most of my cooking one day of the week to freeze and refridgerate stuff for future use, and keeping track of dates and perishability helped with my organizational skills. Cooking lingo looked like a foreign language to me, now I know it just as well as I know EPS and price-to-book ratios! I started out following other 'zaar users' recipes and from cookbooks, other cooking websites, etc. then started building on those to the point where I know enough about food structure and flavors to develop my own recipes. The dishes I'm now famous for are homestyle mac n cheese, mango shrimp, cheesecakes, and lots of pumpkin goodies with luscious buttercream frosting. There's some certain recipes that I'll probably stay away from for time, complexity, and budget limitations but I still didn't think I'd ever be able to make my own frosting or burritos. I like watching the Food Network to get ideas although god I wish I had one of those real kitchens heh. My favorite celebrity chefs are Paula Deen, Guy Fieri, and the Barefoot Contessa. I have a madcap and sarcastic sense of humor, which is evident in some of my postings. Not everyone gets it or just thinks I'm being mean or self-deprecating but I'm really not. I like to take things as they come in life and not take myself too seriously because life's just way too short. I live for the company of my friends, who are basically my family, and other warm, funny, and down-to-earth people. Two-faced people and people who act like they're better than me are unwelcome. <b>Other things about me:</b> I've been in college for almost an entire decade, I'm an old school gaming dork, and I clip coupons and look for savings religiously and however money I save on my purchases, gets contributed to my IRA. Don't think it's an effective strategy? I put $1,042 in there to date if that tells you anything! Ha my friends always tell me how much my accountant super-powers keep coming out off the clock. Although I like to view coupon clipping as more of a game rather than the headaches involved with at-risk rules and limit losses. I love cheese. Cheese is the word. I'm a pesco-vegetarian, so that means I'm always looking for innovative ways to use tofu-- baked, mashed, fried, stir-fried, you name it. I like some vegan foods but could never go vegan because of my love of cheese and I also use milk, butter, and the like frequently in my recipes...but as much as I love things like tofu, tempeh, soymilk, and ricemilk I just do not dig Soy butter and soy cheese. Totally not the same!! I don't eat poultry or red meat not because of moral objections for the way they're obtained, but for health reasons as well as I've just never been a meat eater. (Ever see the nasty conditions chickens are kept in? Yeah...makes me prefer tofu.) Don't like it, and cooking vegetables, cheeses, and vegan-friendly stuff is just far easier. At least if I don't fully cook tofu all the way, it won't make me sick. I'd rather get my proteins through tofu, nuts, legumes, and sometimes shellfish and use the calorie allowance on decandent desserts. (Which I've also gotten really good at making!) I love classic comfort foods like mac n cheese, grilled cheese with tomato soup, and chili cheese fries. I'm a big connoisseur of Mexican and Indian food, and I like to try cuisine from other cultures too. I'm always willing to try new things! <b>My weird food quirks: </b>Tomatoes. I LOVE tomato-based foods like pizza, pasta sauces, ketchup, tomato soup, etc. but will only eat raw tomatoes if sliced paper-thin on some sandwiches or finely, finely diced with Mexican food preferably with some cilantro. I hate them in chunks on salads and can't stand chunky tomato soups and sauces. Same with tomato peels! :: Salad dressings- except for some raspberry vinaigrettes, I totally despise packaged salad dressings. I thought Bolthouse Farms 1000 Island dressing was good at first until it gets that chemical taste a few days after opening. I think almost every store-bought salad dressing has this disgusting chemical or overprocessed taste to it whether it's Kraft or that $8/bottle stuff they sell at Whole Foods. But most salad dressings at restaurants, especially French, 1000 island, and buttermilk? I usually can't get enough! :: I hate, hate, hate mayonnaise but don't mind using it in my cooking and love mayo-based sauces and salad dressings. But plain? Ick. I also use Nasoya soy-based Nayonnaise to cut on fat, calories, and perishability and find that it works just as great if not better. If I could buy Nayonnaise by the crate or economy-size jug that would rule. <b>BEST RESTAURANTS EVER:</b> <b>Jackson Diner, Queens NY:</b> Best Indian food EVER. Menu prices are good considering the huge sharable portions and I get enough for 3 dinners out of the leftovers, but the lunch buffet is an AWESOME deal. <b>Blockheads, various points of NYC:</b> Great low-price Mexican restaurant that has healthier eats than other Mexican places, good drink specials, and just a fun place to be. I've got a lot of good memories of getting drunk with my girlfriends over foot-long burritos at this place. <b>Caliente Cab Co, Murry Hill NYC:</b> It's right next to Blockheads and it's a little more expensive but their margaritas are out of this world and you get heaping portions of awesome food. I highly recommend the bean tostadas and shrimp quesadilla. <b>Kate's Joint, Lower East Side NYC:</b> I've been going to this great vegetarian/vegan restaurant since 2003, I usually always get the Super Veggie Burger, McKate, or the Mock Popcorn Shrimp. I don't know what Abijah's Secret Sauce but it sure is delicious. A particularly funny memory I have of taking one of my friends to Kate's with me is when got inside and she asked the waitress, "Dude, will Kate share her joints?" <b>Shady Maple Smorgasbord, East Earl PA</b>: I've been going to PA Dutch Country with my family for vacations for 20 years, maybe farther back if my memory serves me well. Shady Maple's always been there. This place is just awesome. If you go during lunch hours, the buffet is about half the price as dinner and you get the same food. The new building it's in is just amazing-- there's the pizza bar, the steak bar, catch of the day bar, salad bar, 2 dessert bars, classic comfort foods, garden fresh greens, and don't forget their classic whole-wheat rolls with fresh creamery butter! There's something for everyone and even your pickiest kids will find something they love. And you can never go wrong with their shoo-fly pie and red velvet cake, which you can purchase in the Farmer's Market next door to take home. Also, you eat free on your birthday! <b>La Barca, San Francisco CA:</b> My family and I discovered this restaurant by accident in 2001 on a family vacation. At the time, none of us were really into Mexican food but were willing to give it a try because the place looked warm and welcoming and we saw everyone's plates had heaps of food. Well, that turned me on to Mexican food for good! I think La Barca is one of THE best Mexican restaurants in the freakin world. If I'm ever in SF for fun or business again, it's well worth the trip! The prices are unbelievable for the food you get-- and I never saw potato enchiladas anywhere else! The green enchilada is good too. <img src="http://i335.photobucket.com/albums/m445/mliss29/vegn%20swap/vegnswap.jpg">
View Full Profile