Strawberry Peach Jam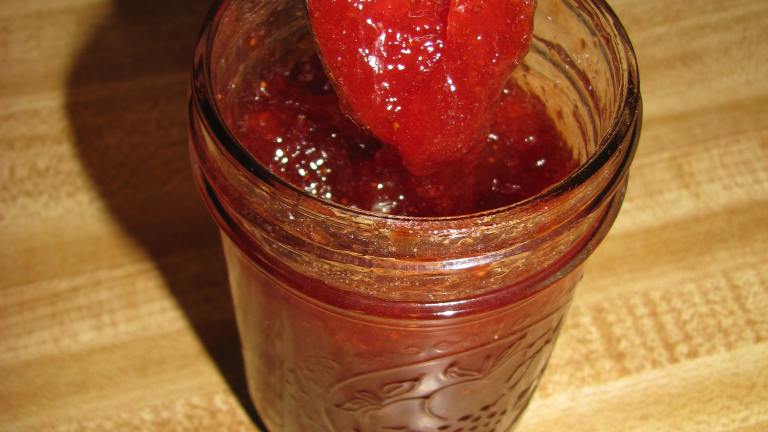 This is a recipe that I found in a library book and plan to try soon. From "Perfect Preserves" by M. Dalton King.
Ready In:

1hr 30mins

Yields:

Units:
Nutrition Information
directions
Wash and hull the strawberries, then cut each in quarters.
Wash peaches. To peel, dunk them into boiling water, leave for 30 seconds to one minute, then immediately plunge into ice water.
When peaches are cool enough to handle, remove the skin.
Cut peaches in half and remove pit, then slice the fruit.
Place the strawberries and peaches into a large pot.
Stir in the lemon juice.
Heat the fruit over medium heat until it begins to soften (about 10 minutes).
Mash the softened fruit and add the sugars. (if using cinn stick, add now).
Bring the mixture to a boil and let it continue to cook until thick (about 25-30 minutes) or until it reaches 221F on a candy thermometer.
Watch your jam carefully to prevent scorching, stirring often.
If you're worried or think you can smell the mixture starting to burn, turn the heat down and cook slowly until the jam tests done.
Testing can be done by dipping a spoonful of the hot jam onto a china or glass plate that has been kept in the freezer.
Give the jam on the plate a moment or so to cool and then see if it's gelling to your satisfaction.
When the jam is ready, stir in the cinnamon and remove the pot from the heat.
Let sit for 5 minutes, then skim off all the foam.
Ladle the jam into hot sterilized jars, leaving 1/2 inch headroom.
Wipe the rims clean, place lids and adjust the rings fingertip tight.
Process in a hot water bath for 5 minutes.
Cool completely, check seals and label.
Store in a cool, dry, dark place for up to 1 year.
Submit a Recipe Correction
RECIPE MADE WITH LOVE BY
"This is a recipe that I found in a library book and plan to try soon. From "Perfect Preserves" by M. Dalton King."
Join The Conversation
Just finished my first batch of this. I am new to canning (this is my third type of jam/preserves) and I am in LOOOOOOOOVE with this recipe. I reversed the quantity of peaches vs. strawberries, added the zest of the lemon and then a dash of vanilla. Topped a piece of my aunt's homemade French bread with it and it is heavenly! YUMMO! It made (8) 4 oz. jars and (5) 8 oz. jars.

My friend gave this recipe to me, and when I was looking to see if it was posted, this is the exact same one! This is the best jam you have ever had in your life! It is so good! The cinnamon just adds this whole blow your mind effect! The only thing I do differently, is to add one packet of sure-gel just before the sugars. This makes 8 half pints for me and I had to process mine for 15 minutes for them the seal. I tried five and no dice so I precessed for an additional 10 and it worked fine. This is divine! Give it a try!

I boiled mine for 50 minutes instead of 25 due to the reviews of thin jam. I like mine thick and more like preserves. Due to reducing the fruit this much I only got 3.5 half pint jars. The cinnamon is a nice touch but next time I will reduce it a bit due to the fact I end up with less jam with the long boil, it was just a wee tad too much cinnamon for 3.5 jars worth but I bet perfect when you get 6 jars.