Steel Cut Oats Ala Alton Brown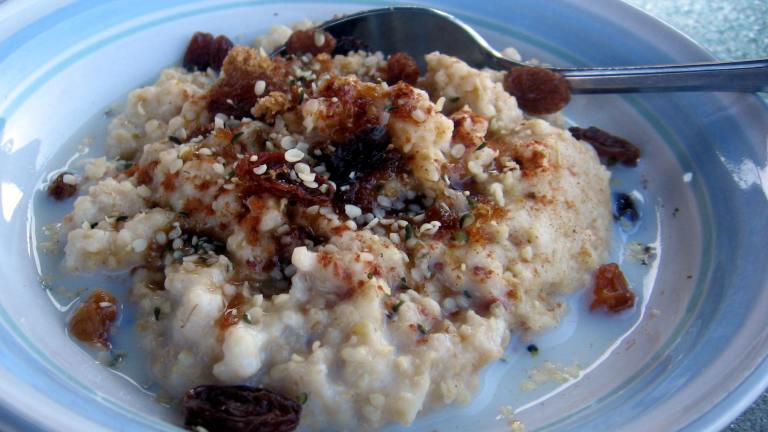 a twist on the alton brown steel cut oats.
Ready In:

37mins

Serves:

Units:
Nutrition Information
directions
melt butter in pan and add 1 cup steel cut oats of your choice.
toast for 2 minute.
add the 3 cups boiling water. turn to simmer and stir to combine for 25 minute.
add the 1 cup of 2% milk and let cook for 10 minute.
remove from heat separate into 1/4 for a full serving and heat in microwave with a splash of milk brown sugar cinnamon some nuts or what ever you like.
Submit a Recipe Correction
Join The Conversation
I finally decided to give Steel Cut Oats a try. Don't ask me why I was Leary in doing so (?). Made the oats as per your recipe, using Real Butter though. I just like the taste better. They took a bit longer than you stated, who knows why? For the topping I just threw together ... Some saluted Granny Smith Apples (2), in couple Tblsp. Butter, a large handful raisins, Brown Sugar Truvia (hubby is diabetic), a large splosh of Real maple syrup, tsp.cinnamon, 1/4 tsp. Ginger, 1/4 tsp. Cardamom, 1/4 tsp. Fresh grated Nutmeg, pinch of sea salt. Boy!!, did the house smell Yummy?? After simmering the Oats. Few minutes longer, cut off the heat, lid on, let sit for 15 min. Well, let me say, they were just Wonderful ?? And, I have enuf for some tomorrow! They were creamy, chewy, toasty tasting, & with my apple topping, I am impressed!

I halved everything in this recipe to make enough for one person. This was so good and creamy. I did not cook it the full 25 minutes in step 3 because it started sticking to the bottom of the pan about 4-5 minutes before the time was up. At that point, I went ahead and added the milk and cooked for the 10 minutes. Topped mine with brown sugar. This is my favorite way to make steel cut oats so far.

Love to make oatmeal like this, though I use real butter and whole milk! If you like some chew to your oatmeal then definitely give this method a try. I make a big batch and then just reheat with a little extra milk whenever I want a serving for the week. My favorite is just some brown sugar, but I'll eat them with all sorts of fruits too, frozen blueberries are a favorite!