Steamed Pork & Scallion Dumplings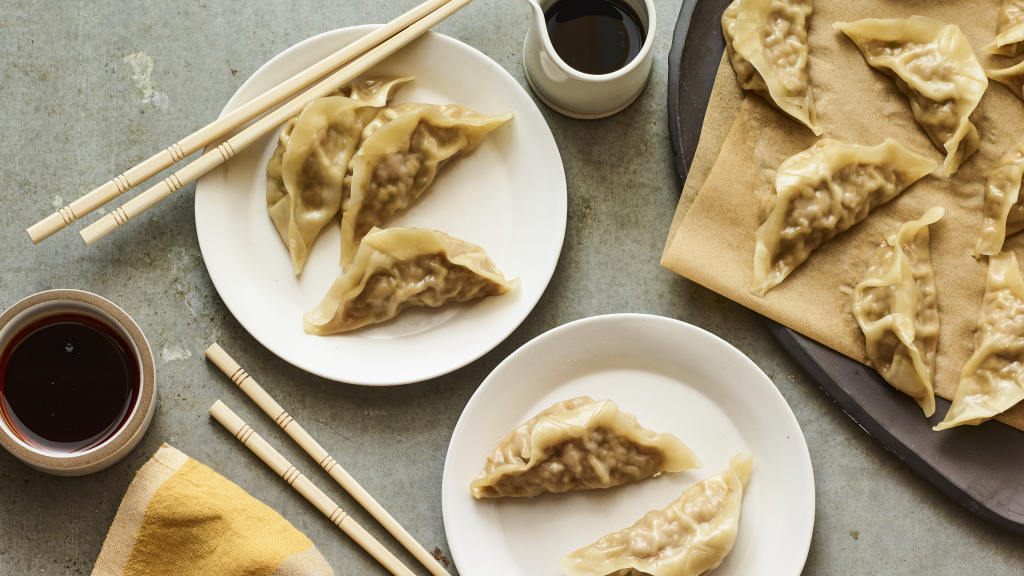 Ready In:

1hr 10mins

Ingredients:

14
directions
Whisk together the ingredients for the dipping sauce, making sure the sugar dissolves. Set aside.
Add the scallions, garlic, ginger, hoisin, soy sauce and sesame oil to a small food processor. Pulse until finely chopped. Transfer the mixture to a large bowl.
Add the beaten egg and mix to combine.
Add the pork and mix to combine.
Fill a small bowl with water and lightly flour a parchment-lined baking sheet.
Place about 1 tablespoon of filling in the center of a wrapper. Dip your finger in the water and use it to moisten the edge of the wrapper.
Pinch one end tightly to seal and then make several pleats to close up the filling entirely. Flatten out the bottom. If not pleating, simply fold one half of the wrapper over the filling and press together to seal.
Set the dumpling on the prepared baking sheet and cover with a damp towel while you continue filling the rest.
Heat a large nonstick skillet over medium heat. Add 1 cup of water to the pan, then place 6-7 dumplings in the water. Cover with a clear lid and let steam for 10 minutes, without lifting the lid.
Continue with the remaining dumplings. Serve with the dipping sauce.
You can freeze any uncooked dumplings and cook them later using the same method, but steaming for an additional 1 – 2 minutes longer.
Join The Conversation
Basically all ingredients I use, except for egg. Just one pound of pork should never have all of that garlic! I love garlic but that's too, too much! A couple of tbsp would be about another 3-4 cloves added to the five. Might as well call them "garlic dumplings". One bunch of scallions is sufficient.