Steamed Eggplant With Garlic and Chilli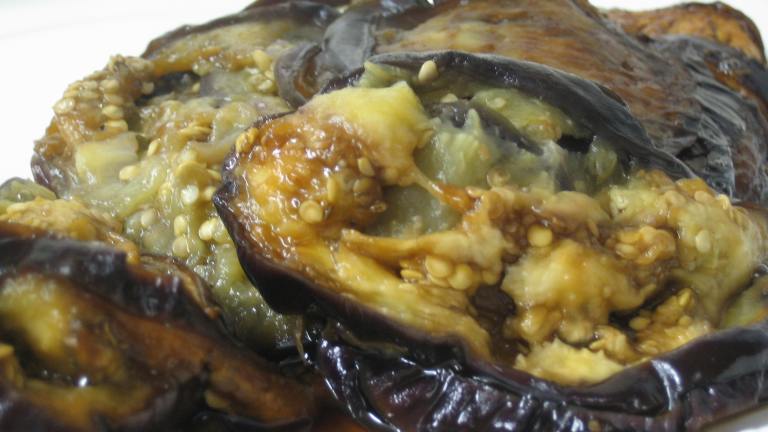 Ready In:

25mins

Serves:

Units:
directions
Combine soy sauce, vinegar, garlic and sugar in a bowl. Set aside.
Slice eggplant into thin slices and place on a heatproof plate. Place plate in a steamer, cover with lid and steam for 15 minutes.
Pour over sauce and steam for another 5 minutes.
Serve sprinkled with 1 finely sliced small red chilli and 1 small handful chopped coriander.
Submit a Recipe Correction
This is one of those dishes that you try in a traditional Szechuan Chinese restaurant. It's perfect when they make it. I don't know how many different batches I have gone through trying to figure out what exactly they do but I did discover one thing. I think they use pickled ground red chili with garlic. It sounds kind of crazy but one of the ways I found this out is by looking at other Sauce ingredients. The sauce they toss the egg plant in tastes kind of like the dipping sauce he would use for spring rolls. It's really sweet. So I was reading a couple different ingredient lists on the back of spring rolls dipping sauce recipes and that's where I started noticing the pickled chili garlic mixture. I added it along with a couple tablespoons of sugar, light soy sauce, a lot of garlic cloves, and every day chicken stock. These aren't the exact proportions but you get the idea.

I've never steamed eggplant before, but I definitely will be doing it again! I used a microwave steamer basket. Since I used lite soy sauce, I was surprised at how salty I found this -- maybe TOO salty, and I rarely say that!! But then I thought it might be because I salted the slices and let them sweat before I steamed them, so maybe I just didn't do a good job of washing off the salt. I used brown rice vinegar and Splenda in place of the sugar. It was a delightful recipe. Thanks for posting!