St. Louis Style Toasted Ravioli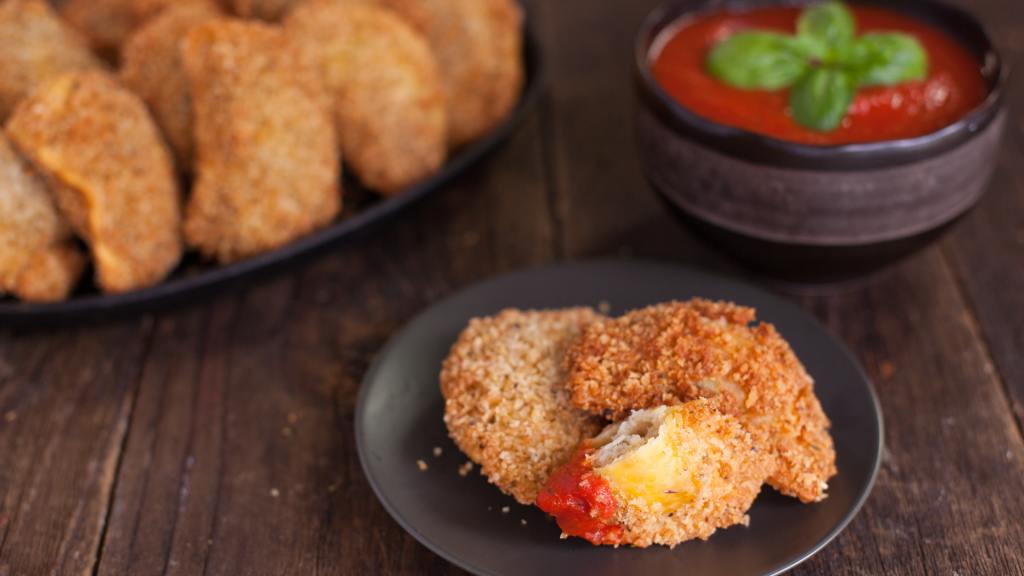 Ready In:

50mins

Ingredients:

10
ingredients
1

(16 ounce) package beef ravioli (fresh or frozen -thaw if frozen)

2

large eggs, beaten
1⁄4 cup water

1

teaspoon garlic salt (optional)

2

cups flour

2

cups Italian breadcrumbs

fryer

vegetable oil (See your Deep Fryer or Fry Daddy Instructions on proper amount needed)

aluminum foil

paper towels
directions
Prep:

Heat vegetable oil in deep fryer or skillet to 350 degrees for deep frying. It is ready when a tiny splash of water makes the oil sizzle. (CAREFUL WITH THIS METHOD, IT SOMETIMES MAKES THE OIL POP. DON'T LEAN OVER THE FRYER, AND USE AN OVEN MIT(S) TO PROTECT YOUR HANDS AND ARMS!)
Mix water with eggs and beat well, set aside. Pour Italian bread crumbs and garlic salt(optional) in a bowl, set aside. Pour flour in a separate bowl, set aside. I have found that lining the ingredients up in this order makes things more efficient and less messy; Flour, egg mix, and bread crumbs.
Roll out a 13-15in section of aluminum foil. This is where the breaded ravioli can set until you are ready to fry them.
Roll out a 13-15in section of paper towels, 3-4 layers thick. If you have one, place a cooling rack on top of the paper towels. This is where the fried ravioli will drain.
Cook:.
Dip ravioli in flour, then in the egg mixture, and then roll ravioli in the bread crumbs. Ravioli should be completely and thickly covered in bread crumbs. If you are having a hard time making the bread crumbs stay on thick, re-dip in egg mix and roll in bread crumbs again. Set breaded ravioli on the aluminum foil until you are ready to fry them.
Depending on the size of your fryer, place 2-5 raviolis in the fryer at a time. USE A METAL SPOON TO TRANSPORT RAVIOLIS TO THE FRYER, AND USE AN OVEN MIT ON THE HAND YOU ARE HOLDING THE SPOON. NEVER USE YOUR BARE HANDS! Stir occasionally to make sure raviolis aren't sticking together. It should take about 1 minute to cook, or until the raviolis are crispy and golden brown. Remove from the fryer and spread out on the paper towels/draining rack.
Serve HOT with you favorite marinara or spaghetti sauce!
Note* - After they are fried, Raviolis can be frozen until you are ready to eat them. To heat frozen Raviolis, heat oven to 375 degrees and cook 10-15 minutes, or until sizzling hot. Monitor carefully, you don't want them to burn!
RECIPE SUBMITTED BY
Born in Raised (and rediculously proud) in the wonderful town of St. Louis, Missouri (Fenton area), now living in Las Vegas with my fiance and dogs Nelly and Niña, who love to watch me cook and happily gobble up any fallen food! **Update** Thanks for all the reviews on my take on these tried and true recipes. I really enjoy reading them! Happy cooking!!
View Full Profile