Spicy Pork Ribs With Garlic and Tomatoes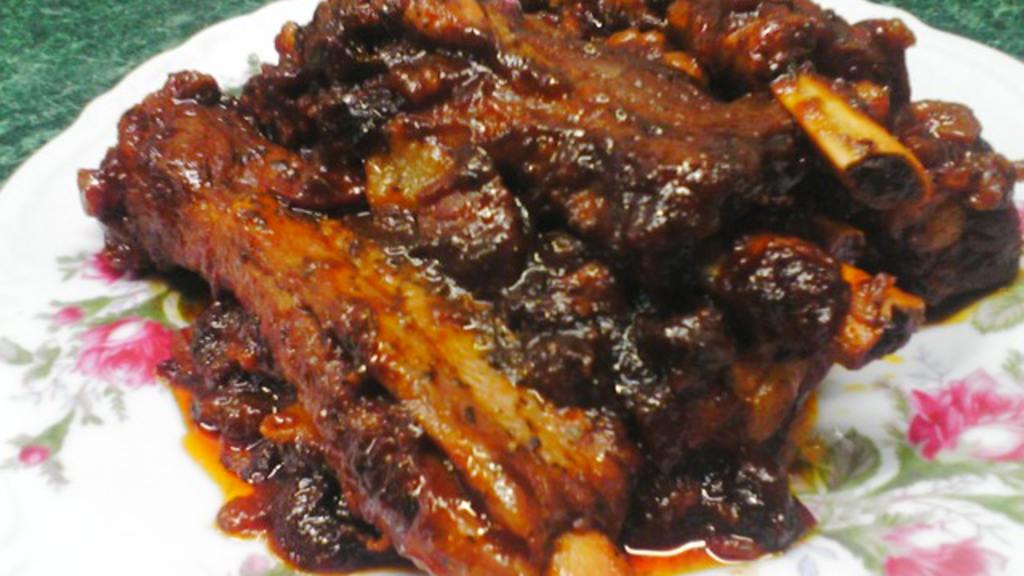 Ready In:

3hrs 25mins

Ingredients:

12
directions
Preheat oven to 350 degrees.
Season ribs with salt and pepper and place in large, flame-proof roasting pan. Pour tomatoes over ribs and scatter basil on top.
In skillet over medium-high heat, saute bacon until slightly crisp, about 4 minutes.
Add half the garlic and all the onions and cook until browned, about 7 minutes.
Pour in wine and let mixture simmer until reduced by half, about 10 minutes.
Pour onion mixture over ribs, cover pan tightly with foil, and bake until meat is literally falling off the bone, 2 1/2 to 3 hours. Transfer ribs but not sauce to a plate.
Just before serving, in skillet over high heat, warm oil. Add remaining garlic and saute until fragrant and lightly golden, about 2 minutes.
Add vinegar and red pepper flakes and bring back to simmer. Pour garlic mixture into pan with sauce from the ribs, place it over high heat, and let it reduce by about a third, about 10 minutes.
Add ribs to pan and toss them around to coat them in sauce and reheat them. Serve them hot, garnished with more basil, if desired.
Join The Conversation
This recipe made it into our Book #231450. 3/13/08 - We used regular spare ribs and added a can of tomato sauce for added saucy flavor. Very simple to put together. We used all the ingredients prior to baking the ribs so all the flavors would meld, including the vinegar and crushed red pepper and therefore omitting steps 7, 8, and 9. While this dish braises in the oven, the wonderful aroma emitting from it arouses the senses with a delightful smell tempting our palates of the good things to come. This dish is very flavorful, and the sauce that collects at the bottom is a chutney of sorts full of bacon and onion that we put into a jar for later use on pork chops.

Boy do we love ribs!! This recipe is one of my favorites. Tons of flavor and sure to please everyone! Note: St. Louis-style ribs, cut from the spare rib and trimmed so there is less waste, are particularly meaty and succulent. The racks are pretty large, so you'll need a big roasting pan for this recipe.