Spelt Bread (Bread Machine)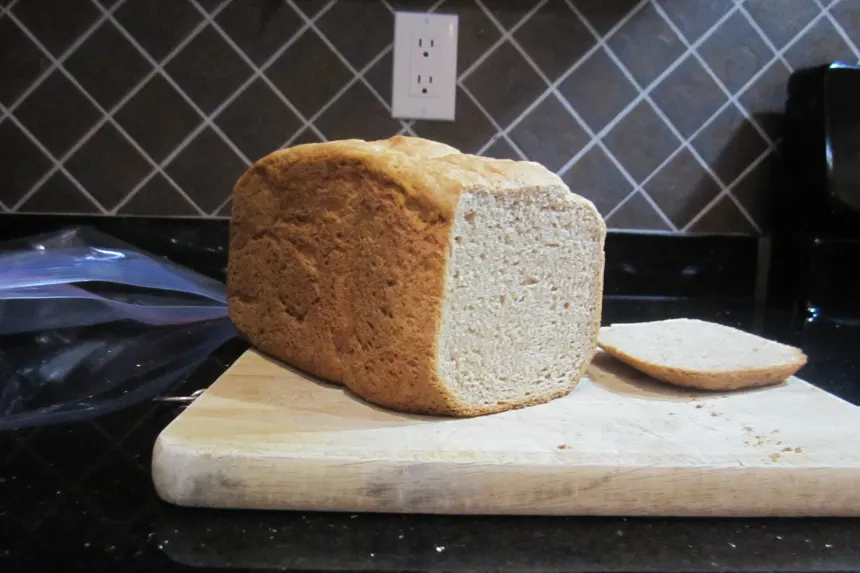 photo by Farzana

Ready In:

2hrs 15mins

Ingredients:

6
directions
Place ingredients in pan of bread machine in order recommended by manufacturer.
I used the cycle for white bread,Quick or Rapid,& light crust. My bread Machine is a Breadman, so I used Rapid cycle (time 2 hours).
Note: I did have to add a little more milk when it was mixing.
Questions & Replies

Got a question?
Share it with the community!
Reviews
I tried this recipe, its great! I have allergy to soy so I used rice milk instead, and olive oil instead of canola. i added flaxseeds and pepitas to the recipe and cooked it on rapid cycle (3 hours for my panasonic). The texture was soft and moist and the flavour was nutty and a little bit sweet. Have the second loaf mixing right now as my sister likes it too. Parents were harder to convince as they are used to the supermarket bread that is loaded with salt and arent sure about the sweetness of the spelt loaf, although I spotted mum eating it this morning instead of the "Helga's" bread she normally eats!

 

Sometimes recipes work for me, and gosh, sometimes they just don't. I just made this recipe, and well, this one is a keeper. I have 3 really pretty loaves here, and my family and I have tasted...delicious! I followed the recipe exactly. I used Hodgson Mill active Dry Yeast. I used One Degree Organic Sprouted Spelt Flour. I used Spectrum Canola & Coconut Oil Blend. I was very careful to precisely measure. I would suggest the following: 1) Select your bowl for the rising of the yeast in the oven, and set it aside, buttered and floured and ready to go. My dough was really sticky and stuck to everything. Use a different bowl as your "working" bowl for mixing and kneading. I kneaded for 8 minutes. 2) When your dough is in the oven, place a damp, thin kitchen towel over the top of the bowl to enhance and expedite the rising process. My dough took about 35 minutes to rise to the top of the bowl. 3) I made sure my pans were well greased AND floured. I used butter and spelt flour. 4) After I separated my dough into the three pans for baking, I placed them back into the still warm oven one more time and covered again with the damp, kitchen towel for about 30 more minutes. The dough in each pan rose to the top. 5) I removed the pans, set them on the counter, and then set the oven to 425 degrees. 6) Once the oven set to 425, my loaves went back in and were ready in 20 minutes. 6) Upon first inspection, the top crust felt really hard, and I initially thought, "Oh, no!" No worries, though. This bread is delicious! The top has a nice, crusty texture while the bread is moist, soft, and full of flavor. I will make this again! It tastes amazing with ghee clarified butter! :)

 

This is my favorite spelt bread recipe and definitely a keeper for me. I followed the recipe EXACTLY EXCEPT I put in 2 tsp of xanthum gum and 1 tsp soy lechin granules. It stayed soft for over four days ! I also proofed my yeast (instant yeast) for 10 minutes first. You dont have to but I always get a softer loaf doing this. I put in my liquids first as per my bread machine. THANKS SO MUCH for posting this recipe. I am trying to avoid too much gluten and wheat as I have sensitivity. I wish I could kiss you LOL !!

 
Tweaks
Great recipe! I'll be using this as a base for my spelt bread machine breads! I made a couple of substitutions because I didn't have the precise ingredients. I used honey instead of sugar and grapeseed oil instead of canola. I also added 1 tbs ground flax seeds and a hearty dash of cinnamon to enhance the sweetness. The bread has a wonderful texture - it's dense, like most spelt bread, but not overly so. Makes a nice hearty bread and I look forward to experimenting from here. One suggestion: It would be good to know what type of soymilk was used in the original recipe. Sweetened or unsweetened, plain or vanilla?

 

This bread was delicious. I did used some different ingredients; instead of soymilk, I used unsweetened almond milk and instead of canola, I used safflower oil. I also added 2 tbsp ground flaxseed and 3 tbsp sunflower seeds. Most of the ingredients I used were organic! Far cheaper than buying organic wheat free bread!! Super easy recipe and I imagine you could change/add ingredients for different flavors. Very yummy and moist bread :)

 

Awesome base recipe -- can't wait to use it as a starter for other recipes. I substituted skim milk for the soy, honey for the sugar and corn oil for the canola. Added 2 tsp each of dry dill and onion to made onion dill bread for my wheat-allergic friend. I do recommend adjusting your machine settings if you have a programmable machine. I've got a very old Breadman Ultimate and have it set for first knead at 3 minutes, 2nd knead at 4 minutes (ideally spelt flour shouldn't be kneaded for more than 4 minutes), first rise at 40 minutes, skip the first punchdown and second rising, and go to a 15 second shaping followed by a 50 minute 3rd rise and 40 minutes for baking for a 2 lb loaf. Almost as perfect looking as my regular wheat flour recipe.