Spanish Tortilla (Lighter Version)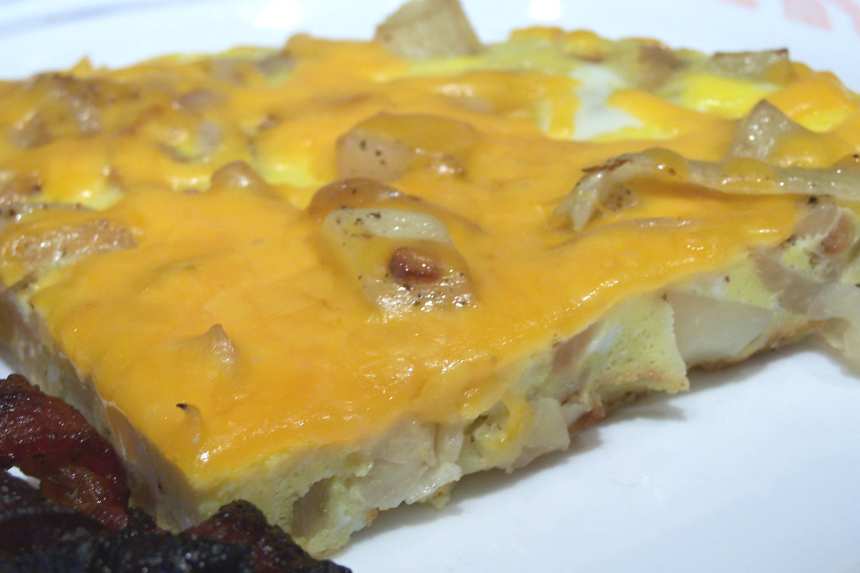 photo by Rita1652

Ready In:

35mins

Ingredients:

7

Serves:

4
directions
Heat the olive oil in a large skillet over medium heat.
Fry the two cloves of garlic in oil until the oil is nice and fragrant (about 3 minutes). Remove garlic from oil and discard the garlic.
Add onion to the skillet. Season with a little salt and pepper. Cook onion about 5 minutes, or until translucent and soft, stirring occasionally.
Add diced, cooked potatoes to skillet. (This is an ideal use for leftover potatoes, if you have them, or you can boil some taters up just for this occasion.)
Stir to combine potatoes and onion, and then let cook 5 to 10 minutes. Stir occasionally to prevent browning. At some point in the cooking process, you will want to help yourself to little potato to test your seasonings, and then add more salt and pepper to taste.
Pour beaten eggs over potato mixture. Shake the pan to distribute the eggs nice and evenly. Reduce heat to medium-low and cook for about 6 minutes on one side, or until the sides of the tortilla come away cleanly and are a little brown. NOTE: if you like yours really brown and slightly more authentic, cook it on medium.
And now, the flip! Invert a plate on top of the skillet and carefully turn your tortilla out. Then VERY CAREFULLY slide the tortilla back into the pan uncooked side down and cook for another 6 minutes.
Turn out tortilla onto another plate and cut into wedges. It can be served hot or cold, and makes great leftovers.
Questions & Replies

Got a question?
Share it with the community!
Reviews
We have made traditional tortilla de patata for years, but it is nice to be able to make a quicker, easier, healthier version too. Even a quarter cup of oil is a lot for us, but you need it when making this dish, and it does serve 4 as a meal (or 8, if you are making it as part of a tapas menu). I opted to use half of the oil in the pan for cooking (we do like onion in it, but this time made it without it, since we didn't have any - so we didn't need any oil for that) and the other half for topping the finished wedges of tortilla. That gives it a great flavor, especially if you use a really good olive oil. Make sure to leave even spaces between your chopped potatoes in the pan so the egg can distribute nicely. I like to cook this close to medium, so you get nice brown crusts on both sides of your potato-y goodness. We love how the simple flavors of this dish shine, and would not cover that with cheese, which would make it taste more like an omelette (and is also not traditional).

 

We enjoy garlic so I kept it in the dish by adding it minced after the onions were translucent. I used 1 potato that equaled 2 cups diced. After putting in the eggs I paced the pan in a 350 degree oven for 15 minutes which I didn`t have to flip. Then topped with shredded cheese and enjoyed. I served 4 even with 3 less potatoes called for. Thanks!

 
RECIPE SUBMITTED BY
My name is Stephanie, and I'm keenly interested in food and the science (yes, science!) of cooking. I'm an avid Alton Brown fan, and I take a similar scientific approach to the food I eat. I'm a former successful Atkins dieter who just recently went vegetarian and I'm having to relearn how to cook. My passion for cooking is second only to my passion for music in any and most forms. Some examples: Arcade Fire, Bright Eyes, Cat Power, Death Cab for Cutie, Elliott Smith, Franz Ferdinand, Gnarls Barkley (just A-G, to name a few). Favorite cookbook of the moment: "I Like Food, Food Tastes Good: In the Kitchen with Your Favorite Bands" by Kara Zuaro. All-time favorite: Better Homes and Gardens New Cookbook. My grandma had one, my mom has one (and grandma's copy!), and I have one. Great format, simplicity, ease of use, can't beat it. Next cookbook acquisition will be a good metric cookbook. I already convert to metric in my head as I cook, but you lose something in the translation.
View Full Profile