Spam Cupcakes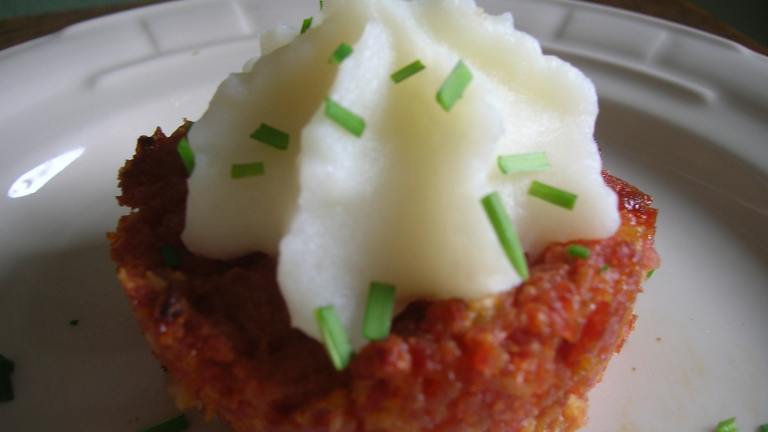 SPAAAAAAAAAAAAAAM, wonderful SPAM!! Just weird enough to be good.
Ready In:

1hr

Serves:

Units:
directions
Preheat oven to 350.
In a large bowl, grate the SPAM.
Add eggs, oats and milk, and mix well.
Lightly spray a 12- cup muffin tin with cooking spray.
Fill each cup 2/3 full with SPAM mixture.
Using back of spoon, press mixture into tins.
In a small bowl, whisk together the brown sugar, mustard, vinegar and water.
Lightly spoon glaze mixture over SPAM mixture.
Bake for 35 to 30 minutes or until set.
Remove cupcakes from oven.
Place oven rack 2-3 inches from top heat element (broil).
Top each cupcake with potatoes.
Broil cupcakes until lightly browned, 2-3 minutes.
Let cool in tin for 5 minutes before serving.
Submit a Recipe Correction
RECIPE MADE WITH LOVE BY
"SPAAAAAAAAAAAAAAM, wonderful SPAM!! Just weird enough to be good."
Spam-tastic!! Even if I did make the mistake of adding all the glaze ingredients into the meat mixture. I also cut the milk back to 1/2 cup as the others thought the cupcakes were hard to get out of the pan. They did come out easy with the help of a little fork. I think I needed more butter in my mashed potatoes to help the top brown as I broiled them.

Made these for last night's early supper because the name intrigued me. I liked the taste but the glaze burned black and the muffins were impossible to lift; finally ended up spooning them out so couldn't top them with the mashed. I'll try again because the taste was good and I just might have overcooked them. Thanks for sharing, BigFatMomma, I bought my first can of Spam in over twenty years! LOL

Thanks to the History Channel, I ventured into Spam territory! This was easy enough to make (I cut it in half, since there are only 2 of us). I used paper cupcake cups in the cupcake tin and it made it very easy to take them out. Did not spray with Pam. I'm lazy, so served the mashed pots (with chive tops added in) on the side along with boiled cabbage. We loved it, but... may want to make it as a "meatloaf" - make it 1¼ C. quick oats to keep it from flaking apart. This would be wonderful cooked, cooled and then sliced for sandwiches. I'm going to add about ¼ C. chopped, sauteed onions next time! BigfatMomma, thanks for my introduction to Spam!!

I saw this recipe on the a Spam website as the 2000 National winning recipe. I remembered seeing it on here and thought I'd try it for fun. Well - for creativity, I'd give it 5 stars, for taste and other reasons, I'd subtract 2 stars. The spam cupcakes/muffins were very difficult to get out of the tin whole...they kept fallin g apart and would not keep the shape. The one in the photo, I really had to work at. (I sprayed them with Pam too) Also, the sugar topping ran down the sides on some and burned. The taste was ok, but not fantastic. My family did not care for them at all. Thanks for the adventure and sharing anyways, fatmomma! The name alone was good for a chuckle at dinner time.