Southern Style Chocolate Gravy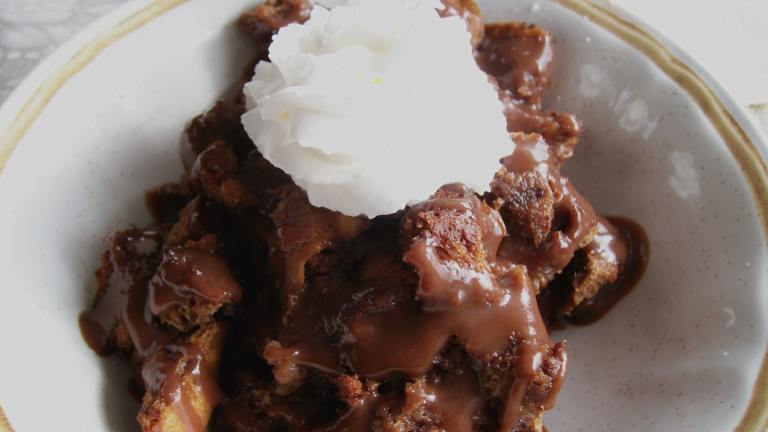 Yes, you can have chocolate for breakfast! Served on warm flaky biscuits or homemade drop biscuits, this is sure to be a special treat.
Ready In:

15mins

Serves:

Units:
directions
Whisk together the cocoa, flour, and sugar until there are no lumps.
Add the milk and whisk until well incorporated.
Add mixture to saucepan and cook over medium heat stirring frequently until mixture is a thick gravy like consistency.
Take off heat and add vanilla and butter and stir until incorporated.
Serve immediately over hot steaming biscuits!
Submit a Recipe Correction
I have been looking at several different recipes for chocolate gravy. I remember going to my grandmothers house and she would make chocolate gravy and drop bisuits for us grandkids. We thought that was a treat. After my grandmother passed I can remember my<br/>Mom made it a few times. Then my mom passed. I never knew how to make it but I never forgot. Some people that I have asked look at me like I'm crazy for asking about chocolate gravy. They don't know what they are missing. Thank you for the memory

This is my second attempt to replicate my mom's chocolate and biscuits. She never uses a recipe and never makes it the same way twice. So, I came here so I could make it for my children since grandma isn't up to it anymore... I doubled the recipe for my family of six because I knew it wouldn't be enough. I also mixed up the dry ingredients directly in my pan, then added the milk to the pan. (That way there's not an extra dish.) When it came time to add the butter and vanilla, I only added 2 tsp of vanilla because I thought the full 4 tsp would be too strong. I also added roughly double the amount of butter. The 2 tsp was too much vanilla even in a double recipe for my family. (I use real vanilla, the fake stuff might not be too strong- I don't know). The next time I make it, I will start with 1 tsp and add from there. Also, my mom actually makes hers with water instead of milk. I think I will try it with water next time, because I was overly concerned about it coming to a boil because I didn't want to scald the milk. Because of that, it took me roughly 50 minutes for it to come to a good consistency. Thanks for giving me the ability to continue the chocolate tradition! :)

This is my second attempt to replicate my mom's chocolate and biscuits. She never uses a recipe and never makes it the same way twice. So, I came here so I could make it for my children since grandma isn't up to it anymore... I doubled the recipe for my family of six because I knew it wouldn't be enough. I also mixed up the dry ingredients directly in my pan, then added the milk to the pan. (That way there's not an extra dish.) When it came time to add the butter and vanilla, I only added 2 tsp of vanilla because I thought the full 4 tsp would be too strong. I also added roughly double the amount of butter. The 2 tsp was too much vanilla even in a double recipe for my family. (I use real vanilla, the fake stuff might not be too strong- I don't know). The next time I make it, I will start with 1 tsp and add from there. Also, my mom actually makes hers with water instead of milk. I think I will try it with water next time, because I was overly concerned about it coming to a boil because I didn't want to scald the milk. Because of that, it took me roughly 50 minutes for it to come to a good consistency. Thanks for giving me the ability to continue the chocolate tradition! :)