Southern Chicken and Dumplings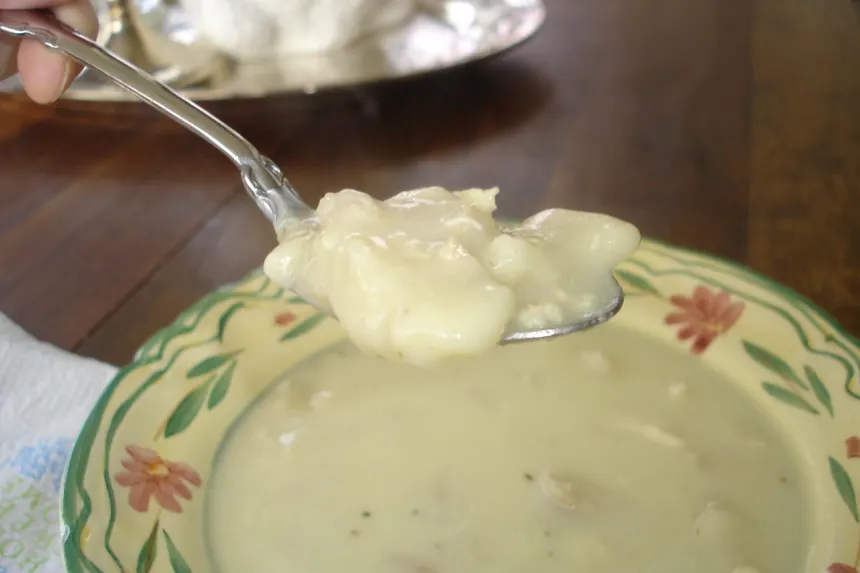 photo by pixiegal_jess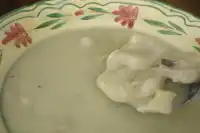 Ready In:

2hrs 15mins

Ingredients:

10
directions
Combine chicken, salt and pepper in a large pot and cover with water. Cook until chicken is tender.
Remove chicken from water.
Remove bone and skin.
Set chicken aside (while chicken is cooking, prepare dumplings.).
Dumplings: In a large bowl, mix flour, salt, baking powder and shortening with a fork.
Add egg and 1/2 cup milk; mix to form dough.
Roll dough to 1/4-inch thickness on floured surface.
Cut into four-inch strips with sharp knife.
Drop dumplings into simmering chicken broth.
Cover and simmer until dumplings are done.
Add chicken to dumplings and 1 cup milk.
Cook slowly for 10 minutes.
Reviews
This is the real thing! Thanks for bringing back memories. I've looked quite a while for a chicken 'n' dumplings recipe that doesn't use a can of cream soup. I'm not sure if it is a myth or not, but according to my grandma you should never open the lid of the pot until the dumplings are done because or the won't be fluffy. I think this is because the steam cooks them (if it is true at all...) You never know!

 

I only needed a recipe for the dumplings. So far, these are better than all the others I have tried ... and I've tried a lot. I liked that they were light and fluffy, not chewy, even though they were rolled out. Took about 15 minutes in simmering broth for them to be cooked to our tastes. When I make them again, I will add a pinch more salt and some poultry seasoning, just because that's the way I like them! Thanks for sharing your recipe.

 

These are fantastic. Much like my southern mother used to make and I loved as a kid. I've made it 3 times now and my family loves it too. The only changes were I don't add milk to the broth because I don't remember my mother doing that. Also, as I'm allergic to soy, I used a palm oil shortening from Spectrum. Highly recommend this recipe.

 
Tweaks
Because I was pressed for time, I used cut-up boneless, skinless chicken thighs. After boiling the meat long enough to create a broth, I removed 1/2 cup and set aside. I added carrots, peas, onions, and garlic. While the veggies cooked, I made the dumplings and substituted the broth for the milk. They turned out wonderful! It was a great Sunday dinner. Thanks for sharing!

 

So I did make a few adjustments on my end because I'm lazy and instead of doing the whole chicken, I simply used two pounds of chicken thighs and two cans of chicken broth and water to make up the soup. I added onions and garlic because I LOVE onions and garlic, but the dumplings were AMAZING! I have never made chicken and dumplings before, but the recipe for the dumplings is definitely a keeper! Thanks for posting this recipe Tonkcats!

 

Wow, these were delicious! I used butter in place of the shortening, just my preference. I boiled the chicke in 2 cans of chicken broth and a little water, with some minced onion as well as the salt and pepper. The house smelled great and they were a hit!!! Served with corn muffins and green beans, it was a great comfort food meal. Thanks for posting. I added the baking powder to the dry ingredients and the egg with the milk. Worked for me!