Sourdough Pizza Crust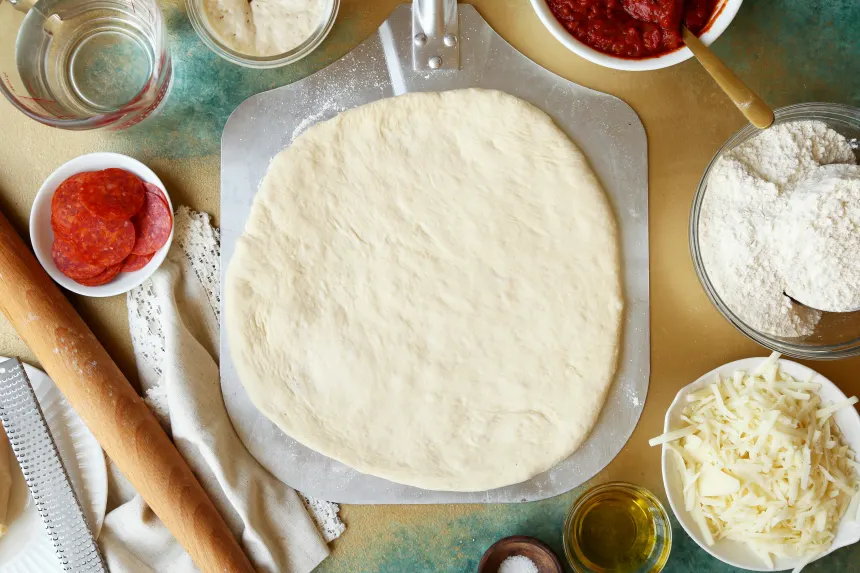 photo by Jonathan Melendez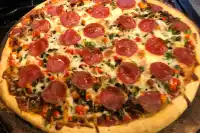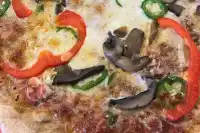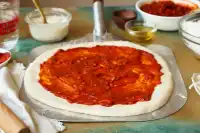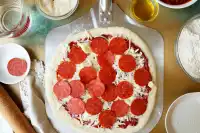 Ready In:

42mins

Ingredients:

4

Serves:

3-4
directions
Preheat oven to 500°F.
Mix starter, 1 tbsp olive oil, salt, and flour together in a mixing bowl until it blends and forms a ball (add more or less flour to adjust consistency; if you get it too dry just add a little more starter).
Allow dough to rest for about 30 minutes (don't look for it to rise, just to get the dough where it is easier to roll).
Roll out mixture on parchment paper or a lightly floured surface until it fits the size of your pan, turning the dough as you roll (if you want a more even circle).
Par-bake the crust on a pizza stone or pizza sheet for about 7 minutes, then remove from oven.
Before topping your pizza with any sauce, cheese, or toppings, brush the top of the crust all over with remaining olive oil (as needed), using a pastry brush (this helps keep soggy moisture out of the crust as it bakes).
Top as desired and cook until browned and cheese is melted.
If you use certain vegetables as a topping (onions are the first thing that comes to mind) you might want to cook those about halfway before topping the pizza with them (or they will be too crunchy).
Questions & Replies

Reviews
I love this recipe both for its simplicity but also because it's pretty easy to make a paper thin crust--my favorite! I'd like to make a suggestion though. Since olive oil has a low smoke point and this recipe bakes at 500 degrees it's healthier to use a high heat oil that doesn't break down. That's why I like and suggest avocado oil. Thanks!

 

I really enjoyed this dough and had great luck with it. I received a few cups of a sourdough starter from a friend today and used it tonight in a thin crust pizza and it was wonderful. After letting the dough rest over a warm oven about 25 minutes I stretched it over a parchment paper lined half sheet tray (appx 15x18 inches) by hand. The finished result was thin, crisp, and flavorful. Even though fairly thin, the crust held up nicely without breaking under the toppings I chose. I am even more motivated now to hold to keeping up with caring for the starter since I can use the portion you would toss out after feeding each week to make pizza on the weekends.

 

I made this with a VERY young starter. I used 100% whole wheat bread flour - it took less than 1 cup. I kneaded it to a window pane stretch because I prefer a chewy crust. I skipped the pre-bake for the same reason. Stretched it by hand, brushed it with oil (I didn't measure it), added sauce and toppings. Turned out fabulous!

 
RECIPE SUBMITTED BY
You know me as Sue L or Sue Lau. I write a food blog at palatablepastime.com which specializes in Midwestern, Amish, Southern, and Ethnic recipes. Most of which are my own recipes. There are a few there that aren't, but not many. And really, since the best of my recipes here are my recipes, it tells me you guys like me just a teensy bit. ;) I post all my latest stuff on my blog including new recipes, updates to older recipes and (hopefully) much better photos. So don't be shy in dropping by. If you like my stuff here you will LOVE my stuff there. Seriously.
View Full Profile