Sourdough Pita Bread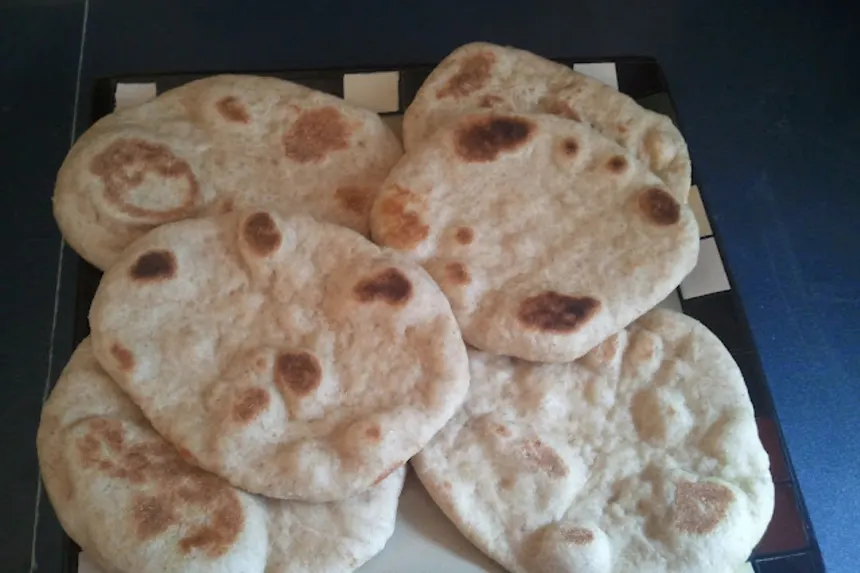 photo by The_MamaBird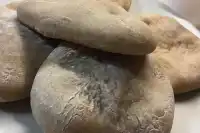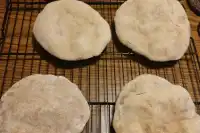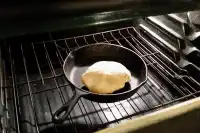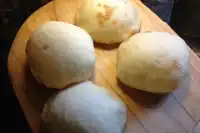 Ready In:

4hrs 5mins

Ingredients:

6
directions
In a large bowl combine the flour, sugar and salt. Mix in oil and starter adding water 2 to 3 tablespoons at a time kneading until dough is soft and elastic.
Grease a large bowl, place the dough in the bowl turning to coat. Cover with a towel and allow to doublein volume. Punch down and take a lemon sized ball of dough and roll into a 6 inch circle the thickens of 2 tortillas.
Cover with a damp cloth and allow to rest for 15 minutes. Heat a cast iron griddle and place a formed pita on the hot griddle. Cook on one side until dough puffs. Enjoy.
Reviews
great recipe! these came out so fluffy and they puffed up with great pockets. i did a series of stretch and folds in lieu of kneading. maybe 5 of them and let the dough bulk proof at 67 degrees F for about 5 hours. preheated oven and a dark cookie sheet to 500 degrees F, rolled them out into 9 small pitas which i put on a parchment paper. slid the parchment onto the cookie sheet and baked exactly 5 minutes at 500. perfect. the pockets are great. mine were a bit on the sour side as i proofed at a cool temp but if you proof warmer the results will be milder i think. i might try bulk fermenting overnite in the fridge and see how that affects dough quality and taste. i used 60 g whole wheat flour, 60 grams AP and 60 grams bread flour, 3 grams salt, 15 grams olive oil, 3 grams salt. perfect. i did not need to add the yeast as my starter was freshly fed the night before. i may include a bit of semolina flour and rye flour next time for added interest and textures

 

I've made pitas before in the oven that involved lots of spraying water into the oven, and I never thought they could be made with straight whole wheat flour. Even as I was kneading together this tough mass, I thought, 'this will never work'. I was wrong. This recipe made some really decent pocket pita with all whole wheat and a skillet. I will be making this again and sharing with others. Thank you!

 

I chose to use half whole wheat flour and half all-purpose flour for the pitas, as my starter is half and half as well. These came out so much better than I expected! My first time making pitas, and my four-year-old helped. Only a few actually puffed up, creating their own filling space in the middle, but they are easily cut with a bread knife. I'll do this recipe again!

 
Tweaks
They turned out so awesome when I used all-purpose and bread flour (what I had already). I made a recipe-and-a-half, so I used 2 cups AP and 1 cup bread flour. I also accidentally put in too much salt (I put in 2 tsp when I should have put in 1+1/2 tsp for the amount I was making). So they were a bit too salty, but still very good. The recipe amount of salt should be perfect! Mine also didn't make pockets very well. A few did poof up (on the stove, in a Pampered Chef RockCrok, lidded), but the pockets were not substantial enough to fill. Still made a killer flatbread. Next time I will try stretching the insides thinner, or maybe stretching the outsides thinner. The poofing has to do with the thickness.