Soup Mix in a Jar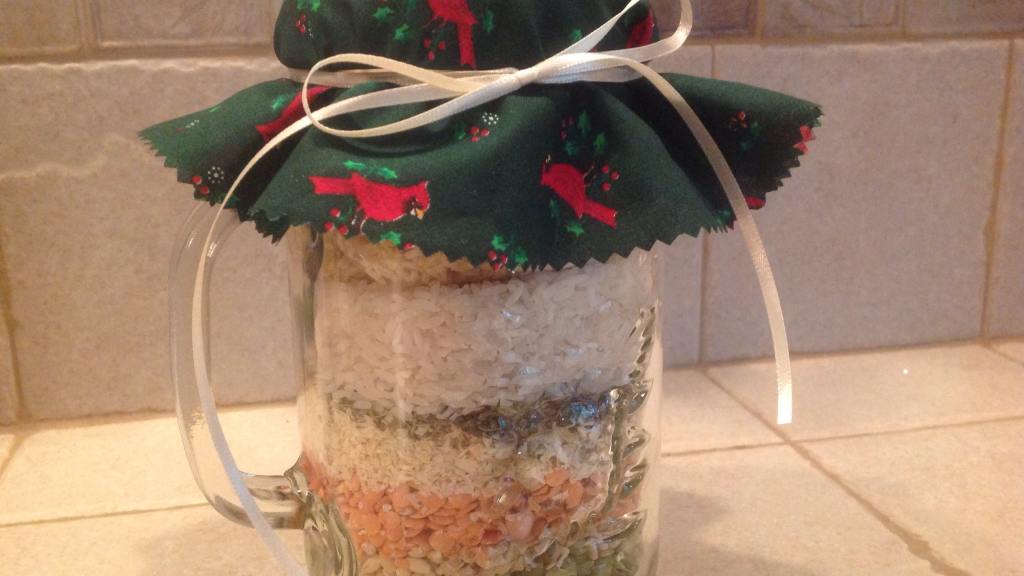 Ready In:

10mins

Ingredients:

14
directions
Place the alphabet macaroni in a sealed plastic sandwich bag.
In a 1 1/2 pint jar, layer the ingredients in the order given.
Attach the following recipe to the jar.
Ingredients.
1 jar soup mix.
1 pound ground beef.
2 garlic cloves, minced.
1 (28 oz) can diced tomatoes.
3 quarts water.
Fresh ground black pepper to taste.
Directions.
Remove macaroni and set aside.
In a large pot, brown ground beef with the garlic and drain excess fat.
Add tomatoes, water and soup mix.
Bring to a boil, reduce heat to low, cover and simmer 45 minutes.
Add macaroni, cover and simmer 15-20 minutes.
Join The Conversation
I helped with a Vacation Bible School and a lesson about generosity suggested that the kids give away jars of bean soup mix. I looked for a recipe and kept finding ones that seemed more like giving people a job rather than a gift! This was the first recipe for soup in a jar that I found that was simple and the ingredients didn't take very long to cook. We used empty small peanut butter jars and put half of the recipe in each jar. (I had set up a station for each ingredient with a funnel and the proper size of dry measuring cup.) There was enough room for the baggy of pasta to be put in the jar. The kids put the dried onions, Italian seasoning, and 3 bouillon cubes in the baggy with with the pasta.

I've never tasted this myself, but I gave them as gifts and everyone LOVED them! I layered just as written, and gave a can of nice imported tomatoes with it - it looked very cute. To simplify a little, I added garlic powder to the mix and left the garlic out of the instructions. If I do it again, I'd try to scale it down a bit, since not everyone I know has a pot big enough to hold 16+ cups of stuff. =]

These are SO cute put together!!! I couldn't find any barley at my store, which is weird b/c I have bought it before so they must have been out. So I got red kidney beans instead so it was a pretty color! I cut the recipe in half like Mrs. Emily said and tried going a tad heavier on the onion. I did add a tad bit more rice and pasta to each to fill up some of the space. I'm getting ready to make a pot of this soup for lunch, but wanted to review it at least to this point before I forgot! Also, one bag of each dried item, 1 lb. each, and a 1 lb box of pasta, 2, 2 oz. containers of onion flakes, and 1 jar of beef bouillon were enough to fill 9 pint jars. And maybe half a container of Italian seasoning. Thanks for a great recipe :) UPDATE: This was so tasty! I am so very glad I made it! I actually used beef stock instead of water and added some Tastefully Simple Onion Onion to the beef while it was cooking. I definitely won't use kidney beans again...they were just too big compared to everything else and didn't cook the whole way through by the time everything else was done cooking. I actually think I'll make this recipe again, not only for gift giving! Thanks again :)