Sommer's Loaded Potato Soup (Dairy-Free)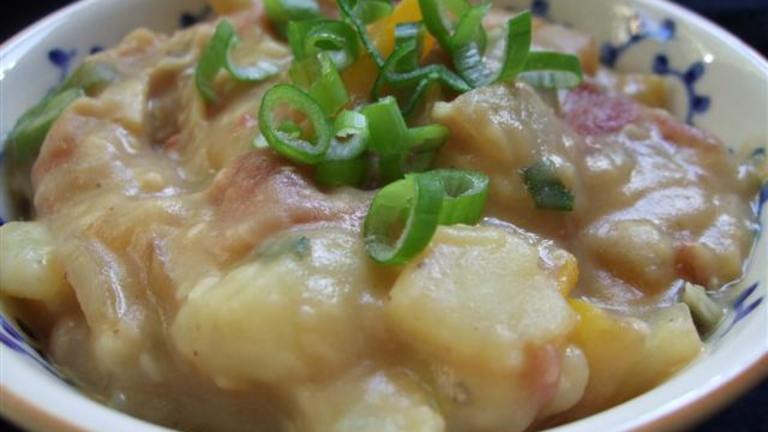 I was inspired by another potato soup recipe that I recently made in a tag game I was participating in and that recipe became a huge favorite for me, so I decided I wanted to create a potato soup of my own. I had various ingredients hanging out in the pantry and fridge that needed serious rescue from the trash, so I started inventing this soup and imho it turned out absolutely excellent; rich, creamy, flavorful, simple, and comforting. The dairy-free part is due to my dietary needs. I have IBS and dairy products are very unfriendly to my GI tract. If you do substitute with the real McCoy on the non-dairy items, it may or may not affect the final product. Please add any additional seasonings you feel are necessary. I am posting this recipe exactly as I created it with the precise ingredients I used and measurements, too. I did have to approximate the serving size, because I ate this on its own and all by myself. I'm very proud of my creation and would appreciate any feedback if you decide to try it, whether you make it as directed or with substitutions. Enjoy! :)
Ready In:

45mins

Serves:

Units:
ingredients
4

medium potatoes, peeled diced (I used Russets)

2

cups water
1⁄2

medium white onion, chopped

3 -4

slices bacon, roughly chopped
1⁄3

cup yellow pepper, chopped

1⁄3

cup non-dairy cheddar cheese, shredded (see NOTE)

1⁄3

cup potato water (potato cooking water)

1⁄3

cup Almond Breeze non-dairy beverage

2

tablespoons green onions, sliced

1

tablespoon tofutti sour cream

salt and pepper
directions
NOTE: Regarding the non-dairy ingredients I used, the cheddar cheese I used was Kroger Value brand (a Fry's grocery store brand) Cheddar Melt Topping Shredded Imitation Cheddar Cheese, Almond Breeze (from Diamond brand) Original Almond Milk, and Tofutti brand Better Than Sour Cream. Regarding the cooking method of the white onions and yellow pepper; I purposely cooked them down, but if you would rather you can add the white onions and yellow pepper a bit later, but before the bacon is finished cooking. I wanted to infuse the flavors of the three in the skillet.
In a skillet fry up the chopped bacon, adding in the chopped white onion and chopped yellow pepper at the same time.
Add the chopped and peeled potatoes to 2 cups of water and bring to a boil; cover and turn heat to low and simmer for 20 minutes.
When bacon is crisp and onion and pepper are translucent, drain on paper towels.
When potatoes are tender, add 4 slotted spoonfuls of potatoes into a blender. Add 1/3 cup non-dairy milk and 1/3 cup of the potato water. Blend potatoes and liquid until smooth.
Drain potatoes left in the pan, but reserve the potato water and set aside. Add blended potatoes back into pan with remaining un-blended potatoes. Add to the pan 1/3 cup non-dairy shredded cheddar cheese, 1 tbsp non-dairy sour cream, the drained bacon, onion and pepper mixture, and another 1/3 cup of the reserved potato water. Stir to combine, heating on medium until cheese is melted.
Add 1 -2 tbsp of sliced green onion, and salt and pepper to taste. (I used about ¼ tsp pepper and no salt). Heat for an additional minute or less.
This should create a fairly thick soup, but if you want it thinner, add in more of the leftover reserved potato water a little at a time until desired consistency is reached.
Serves approximately 3.
Enjoy!
Submit a Recipe Correction
RECIPE MADE WITH LOVE BY
"I was inspired by another potato soup recipe that I recently made in a tag game I was participating in and that recipe became a huge favorite for me, so I decided I wanted to create a potato soup of my own. I had various ingredients hanging out in the pantry and fridge that needed serious rescue from the trash, so I started inventing this soup and imho it turned out absolutely excellent; rich, creamy, flavorful, simple, and comforting. The dairy-free part is due to my dietary needs. I have IBS and dairy products are very unfriendly to my GI tract. If you do substitute with the real McCoy on the non-dairy items, it may or may not affect the final product. Please add any additional seasonings you feel are necessary. I am posting this recipe exactly as I created it with the precise ingredients I used and measurements, too. I did have to approximate the serving size, because I ate this on its own and all by myself. I'm very proud of my creation and would appreciate any feedback if you decide to try it, whether you make it as directed or with substitutions. Enjoy! :)"
Excellent recipe, I realised right away that since potatoes don't have any flavour of their own to speak of, that the enhancement of the other ingredients to produce the flavour would be vital. To this end I doubled the onions, yellow pepper and bacon with excellent results. I used Soya Cusine instead of Almond Breeze and Sour Cream and only a tiny amount of potato water since I love thick soups. I also used Old Gouda cheese as I didn't need it to be totally dairy free. This turned out to be excellent, full of flavour, filling and the green onions mixed in near the end gave a burst of flavour as well. It's NOT a recipe that would work without the bacon IMHO because most of the flavour is coming from it and it balances out the rest very well indeed. I'm also impressed that with careful additions of extra potato and say leeks, that this recipe could be stretched to become a very filling budget family meal. Please see my rating system: 4 wonderful stars for a recipe that is mega filling and tasty. Thanks!

A deliciously flavousome soup, which we very much enjoyed. I love potato and leek soups, so I confess to having added 2 chopped leeks and 2 cloves of garlic in step two. And as always the blend of the regular onion, leeks and garlic was just fantastic. Apart from that and from using regular dairy products (low fat milk and sour cream but a regular tasty cheese), I pretty much followed the recipe exactly. I did add some thyme towards the end of the cooking time and, since I prefer thick soups, I didn't add any extra water. In fact, I used slightly less than specified so that I could sneak in a tiny bit of white wine. Thank you for sharing this recipe, blancpage.

I was inspired by another potato soup recipe that I recently made in a tag game I was participating in and that recipe became a huge favorite for me, so I decided I wanted to create a potato soup of my own. I had various ingredients hanging out in the pantry and fridge that needed serious rescue from the trash, so I started inventing this soup and imho it turned out absolutely excellent; rich, creamy, flavorful, simple, and comforting. The dairy-free part is due to my dietary needs. I have IBS and dairy products are very unfriendly to my GI tract. If you do substitute with the real McCoy on the non-dairy items, it may or may not affect the final product. Please add any additional seasonings you feel are necessary. I am posting this recipe exactly as I created it with the precise ingredients I used and measurements, too. I did have to approximate the serving size, because I ate this on its own and all by myself. I'm very proud of my creation and would appreciate any feedback if you decide to try it, whether you make it as directed or with substitutions. Enjoy! :)