Softest Ever Bread Machine Bread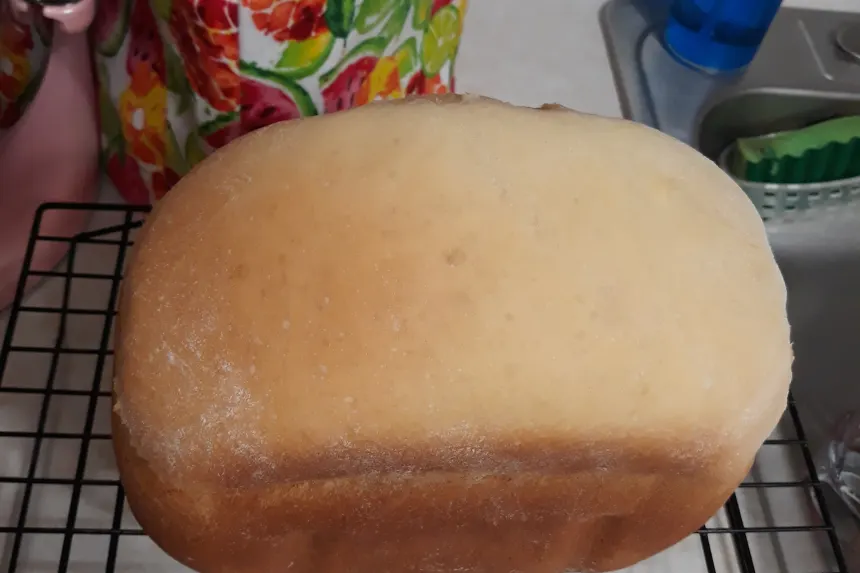 photo by Ellen J.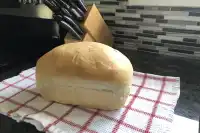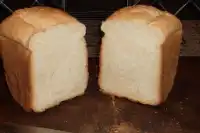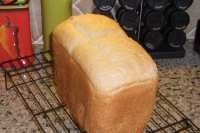 Ready In:

1hr 10mins

Ingredients:

6
directions
Place the water, sugar and yeast in the pan of the bread machine.
Let the yeast dissolve and foam for 10 minutes.
Add the oil, flour and salt to the yeast.
Select Basic or White Bread setting, and press Start.
You can also use the dough cycle of your bread maker and then place in a greased loaf pan; punch down and let rise again and then bake at 350 for 25-30 minutes or until done.
Questions & Replies

Tweaks
Thank you for sharing this. I bought my bread machine 2 years ago and have never made a decent loaf of bread until now. I gave up trying to make soft bread. All the recipes in the book end up being too dense and I just can't deal with it. All I wanted to do was save money on bread, you know? I couldn't believe how soft this loaf of bread was. I sliced it up and had a PBandJ and it was so good. A bit yeasty, but still good. I'd love to make this again, but as whole wheat. We stopped eating white bread years ago and switched to wheat, so this is the first loaf of white bread I've had in a very long time. Is it possible to replace the flour with wheat flour?

 

I have been making bread from scratch every day for 10 years. I tried this recipe with my bread machine that was collecting dust because I had been using my kitchenaide. I make the dough and then bake in a loaf pan for 30 mins. This bread is guaranteed perfect! My four kids love it for sandwiches, holds together while still being soft as air! I feel like I am cheating using the bread machine to make the dough, but I am happy to do so moving forward! Make bread dough every day. Then its ready when I want to bake it. I have been freezing this dough and have it on hand for bread, rolls whatever! I substitute organic coconut oil for the oil in the recipe, turns out beautiful and a feel good recipe with organic flour and sugar with sea salt! Thank you!

 
RECIPE SUBMITTED BY
<p style=color: #212121; font-family: alexandriaflfregular, AppleGothic, Arial, sans-serif; font-size: 14px; line-height: 22px; margin: 0px; padding: 0px 0px 15px;><span style=color: #000000;>Kristen Doyle is the creator of the award winning website, Dine &amp; Dish. Since early 2006, Kristen has been sharing her favorite recipes, photographs and life stories with an ever growing audience of engaged readers.</span></p> <p style=color: #212121; font-family: alexandriaflfregular, AppleGothic, Arial, sans-serif; font-size: 14px; line-height: 22px; margin: 0px; padding: 0px 0px 15px;><span style=color: #000000;>Kristen has expanded her reach to include working with major brands (<a style=color: #f5866c; text-decoration: none; href=http://dineanddish.net/?s=bushs beans target=_blank>Bush&rsquo;s Beans</a>,&nbsp;<a style=color: #f5866c; text-decoration: none; href=http://dineanddish.net/?s=Green Mountain Coffee target=_blank>Green Mountain Coffee</a>,&nbsp;<a style=color: #f5866c; text-decoration: none; href=http://dineanddish.net/?s=hallmark target=_blank>Hallmark</a>,<a style=color: #f5866c; text-decoration: none; href=http://dineanddish.net/?s=Zatarains target=_blank>Zatarain&rsquo;s</a>&hellip;just to name a few) as well as providing editorial content and direction for nationwide print publications and websites. Her freelance writing career spans working with magazines on a local and national level as well as creating valuable web content for a variety of sites across the web.</span></p> <p style=color: #212121; font-family: alexandriaflfregular, AppleGothic, Arial, sans-serif; font-size: 14px; line-height: 22px; margin: 0px; padding: 0px 0px 15px;><span style=color: #000000;>Kristen is a busy mom of 4 young kids, loves to entertain, has a passion for photography, and believes in keeping things simple. An avid reader, a kind of runner, a horrible gardener, and the wife of an outstanding man, Kristen&rsquo;s ultimate life goal is to connect and create meaningful relationships with others.</span></p> <p style=color: #212121; font-family: alexandriaflfregular, AppleGothic, Arial, sans-serif; font-size: 14px; line-height: 22px; margin: 0px; padding: 0px 0px 15px;><span style=color: #000000;>Kristen is available for editorial and photography projects, speaking engagements and ambassador partnerships with your brand. If you are local to Kansas City, give me a ring &amp; let&rsquo;s meet for coffee! I hope we get the chance to connect!</span></p>
View Full Profile