Soft & Chewy Vanilla Butter Cookies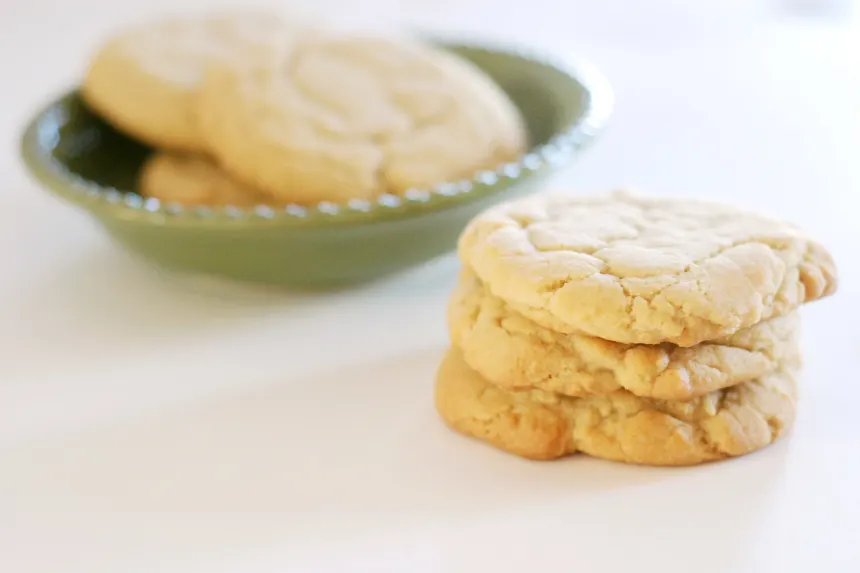 photo by Dine Dish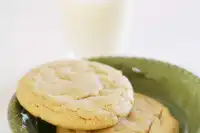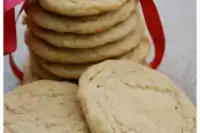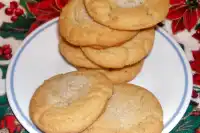 Ready In:

30mins

Ingredients:

10
directions
Preheat oven to 375°F.
In a large mixing bowl, beat together Crisco, sugar, brown sugar, eggs, water, vanilla and butter-flavored extract until well mixed.
Add the flour, baking soda and salt to the mixing bowl and mix well.
Cover and refrigerate dough for 30 minutes.
Roll dough into 1 inch balls; slightly flatten and place on ungreased cookie sheet.
Place in preheated oven and bake for 8-10 minutes or until light brown.
Reviews
A local bakery in my town makes the best sugar cookies and I have been trying to duplicate them. I found out that they use a butter cookie recipe. My search stops with this recipe. I just need to add a buttercream icing to these to duplicate those cookies. These are wonderful cookies. I followed the recipe exactly as written. Can't get any better than these cookies.

 
Tweaks
I live in Costa Rica, and stuff like Butter Flavored Crisco and Dark Brown Sugar either are non-existent, or very hard to find, usually at a hefty price. My first batch I used butter, and a local sugar :"azucar crudo", sort of like sugar in the raw, and milk instead of water, and another 1/2 tsp of Vanilla, wonderful cookie! We have something here called "lactocrema" which is sort of part real butter and part vegetable oil of some kind.My second batch I used the lactocrema , and as I was a tad short on Vanilla, I added 1 tso of Orange extract, the rest as above, then rolled them in powdered sugar...an even better cookie! I find the butter ones to be a bit heavier than with what would be something close to butter flavored Crisco, lactocrema. My latest batch is with the lactocrema, and 1/2 tsp Vanilla, and 1 tsp of Lemon extract. This time I made 1/2 of the batch rolled in powdered sugar, 1/4 plain, and 1/4 rolled in plain white sugar. The powdered sugar ones are delicious, have yet to sample the other 2 versions. Be careful, these cookies are somewhat addictive, I need to eat least 2 at a time. And then there are the grandkids....!

 

Thank you! Thank you! Thank you! Just brought the first batch of these cookies out of the oven and they are EXACTLY what I was hoping for. The only thing I did different from the recipe was to substitute lemon flavoring for the butter flavoring because my husband and I LOVE LEMON! This recipe was easy to put together and the dough is super easy to work with. I'm sooooo happy right now and can't wait to share them with family and friends!!

 

I didn't rate because I didn't follow the recipe. I substituted butter for the Crisco and the cookies turned out like a softer version of a Danish butter cookie (like the ones you get in a tin at Christmas). They tasted good, but were not what I was expecting or wanting. After a quick Internet search it seems like this is what should be expected if using butter in place of Crisco, so I thought I'd post this for others as baking ignorant as me. Made this way, the seem more like a cookie suitable for icing.

 
RECIPE SUBMITTED BY
<p style=color: #212121; font-family: alexandriaflfregular, AppleGothic, Arial, sans-serif; font-size: 14px; line-height: 22px; margin: 0px; padding: 0px 0px 15px;><span style=color: #000000;>Kristen Doyle is the creator of the award winning website, Dine &amp; Dish. Since early 2006, Kristen has been sharing her favorite recipes, photographs and life stories with an ever growing audience of engaged readers.</span></p> <p style=color: #212121; font-family: alexandriaflfregular, AppleGothic, Arial, sans-serif; font-size: 14px; line-height: 22px; margin: 0px; padding: 0px 0px 15px;><span style=color: #000000;>Kristen has expanded her reach to include working with major brands (<a style=color: #f5866c; text-decoration: none; href=http://dineanddish.net/?s=bushs beans target=_blank>Bush&rsquo;s Beans</a>,&nbsp;<a style=color: #f5866c; text-decoration: none; href=http://dineanddish.net/?s=Green Mountain Coffee target=_blank>Green Mountain Coffee</a>,&nbsp;<a style=color: #f5866c; text-decoration: none; href=http://dineanddish.net/?s=hallmark target=_blank>Hallmark</a>,<a style=color: #f5866c; text-decoration: none; href=http://dineanddish.net/?s=Zatarains target=_blank>Zatarain&rsquo;s</a>&hellip;just to name a few) as well as providing editorial content and direction for nationwide print publications and websites. Her freelance writing career spans working with magazines on a local and national level as well as creating valuable web content for a variety of sites across the web.</span></p> <p style=color: #212121; font-family: alexandriaflfregular, AppleGothic, Arial, sans-serif; font-size: 14px; line-height: 22px; margin: 0px; padding: 0px 0px 15px;><span style=color: #000000;>Kristen is a busy mom of 4 young kids, loves to entertain, has a passion for photography, and believes in keeping things simple. An avid reader, a kind of runner, a horrible gardener, and the wife of an outstanding man, Kristen&rsquo;s ultimate life goal is to connect and create meaningful relationships with others.</span></p> <p style=color: #212121; font-family: alexandriaflfregular, AppleGothic, Arial, sans-serif; font-size: 14px; line-height: 22px; margin: 0px; padding: 0px 0px 15px;><span style=color: #000000;>Kristen is available for editorial and photography projects, speaking engagements and ambassador partnerships with your brand. If you are local to Kansas City, give me a ring &amp; let&rsquo;s meet for coffee! I hope we get the chance to connect!</span></p>
View Full Profile