Snow Pudding With Grand Marnier Sauce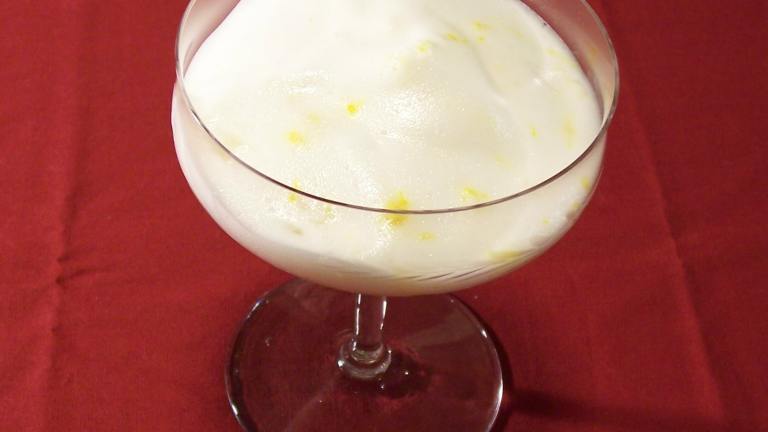 A simple desert which uses on-hand ingredients and makes good use of leftover egg yolks which looks fancy enough for company or for an everyday desert with family. For family, kids like this when orange juice/orange peel and orange juice is substituted for the lemon juice, lemon rind and Grand Marnier. Refrigeration time (minimum) is included in prep time (3 hours) but can be refrigerated up to two days ahead. Recipe source: Bon Appetit (June 1985)
Ready In:

4hrs 30mins

Serves:

Units:
directions
To make the pudding: combine sugar and gelatin in a bowl and add boiling water and lemon juice, stirring to dissolve sugar and gelatin. Refrigerate until mixture mounds when spooned, stirring frequently (1 hour).
Add egg white to gelatin mixture and beat wth an electric mixer until doubled in volume and mixture mounds when spooned (8-10 minutes). Fold in lemon peel. Spoon into goblets. Cover and refrigerate for 3 hours (or until firm). ***can be made up to 2 days ahead and stored in refrigerator.***.
To make the sauce: Whisk yolks, sugar and salt in a medium bowl to blend. In a small sauce pan bring the 1/2 cup cream and milk to a boil. Gradually whisk milk/cream into yolks and then return to saucepan. Stir over low heat until mixture coats spoon. Immediately stir in the Grand Marnier and vanilla. Strain into a bowl. Refrigerate until chilled. ****Sauce can be prepared one day ahead and refrigerated until ready to use****.
To serve: whip remaining cream (1/2 cup) to soft peaks and fold into the sauce. Spoon sauce on top of puddings and garnish with raspberries (or other small berries) and/or candied violets.
Submit a Recipe Correction
RECIPE MADE WITH LOVE BY
"A simple desert which uses on-hand ingredients and makes good use of leftover egg yolks which looks fancy enough for company or for an everyday desert with family. For family, kids like this when orange juice/orange peel and orange juice is substituted for the lemon juice, lemon rind and Grand Marnier. Refrigeration time (minimum) is included in prep time (3 hours) but can be refrigerated up to two days ahead. Recipe source: Bon Appetit (June 1985)"
This pudding is very light and fluffy, with a subtle taste of lemon. I was a little leary of the raw egg white in the pudding itself. I had trouble with the sauce, in that, when chilled, it came out more of a spread rather than a sauce. I don't know what I did wrong. If I made it again, I would try another sauce, maybe lemon this time. But all in all, it was a fun recipe to make and very tasty. Thanks, Ellie.

A simple desert which uses on-hand ingredients and makes good use of leftover egg yolks which looks fancy enough for company or for an everyday desert with family. For family, kids like this when orange juice/orange peel and orange juice is substituted for the lemon juice, lemon rind and Grand Marnier. Refrigeration time (minimum) is included in prep time (3 hours) but can be refrigerated up to two days ahead. Recipe source: Bon Appetit (June 1985)