Smokey Sweet Potato Soup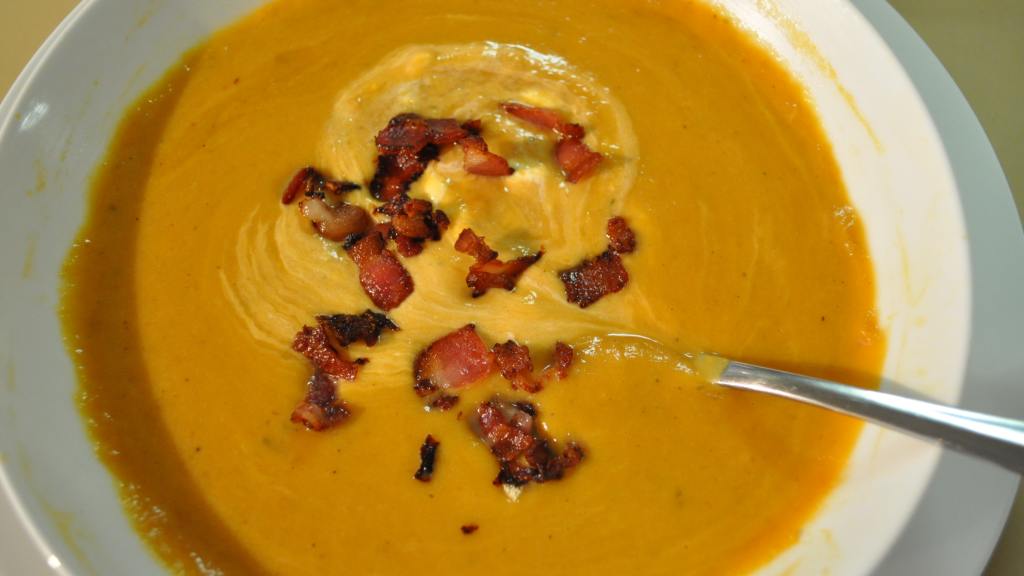 Ready In:

1hr

Ingredients:

12
directions
In heavy skillet cook the diced bacon until crisp, remove bacon from skillet and reserve for other uses.
To the same skillet with bacon drippings, add the chopped onion, leek and garlic; cook over low heat, stirring occasionally until vegetables are soft, approximately 10 to 15 minutes.
Add the cut sweet potatoes and stir for 5 minutes.
Stir in the chicken stock, thyme and nutmeg, bring to a boil.
Partially cover and simmer over low heat until the sweet potatoes are tender, about 2o to 30 minutes.
Transfer the potatoes, vegetables and most of the broth to the blender reserving remaining broth in a separate container.
Puree the potato mixture until smooth, return the puree to the soup pot, add cream and thin with remaining broth to desired consistency.
Season to taste with salt.
To serve, reheat soup stirring often, garnish with sour cream and pickled jalapenos.
The soup can be made ahead of time and reheated before serving.
Join The Conversation
I scaled this back to 1.5 serves for the DM (thinking I would get 2 out of it for her) and it is a lucky thing it is quick to make. Got to step 5 and set the timer for 15 minutes to check and in 10 it was simmered dry and burnt, start again though the second lot of bacon was a lot leaner than the first so I had to add a little oil to fry the vegies and this time I fully covered and set the timer for 5 minute intervals and was ready for step 6 in 15. Trasnferred the lot to a bowl and pureed the lot as the DM doesn't like lumpy bits in her soup and then stirred in some cream, a dollop of sour cream swirled in and decorated with some of the bacon. The DM thought it was so good she decided on seconds and ate the lot. Oh I didn't add the pepper (if for me I woulded have added some chilli but not for the DM). Thank you PaulaG, made for the January Event - Soup is On.