Smoked Whole Brisket With Burnt Ends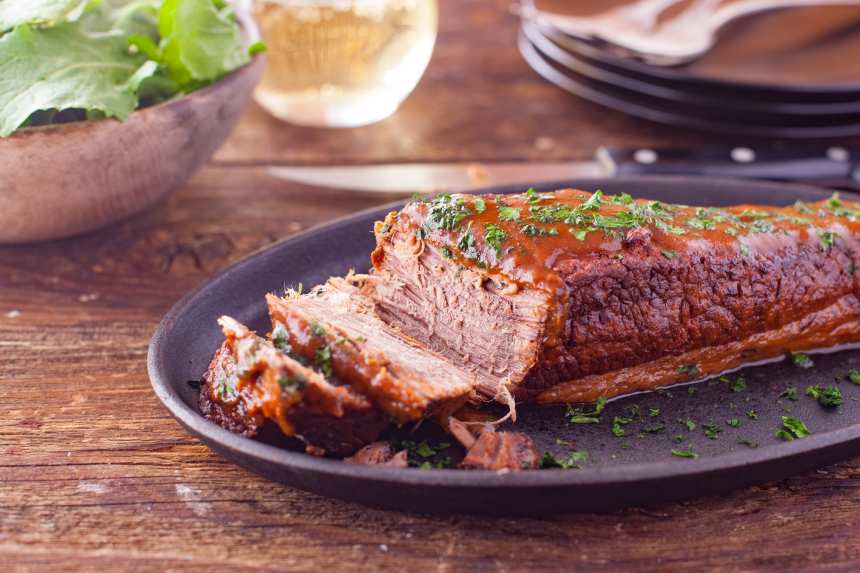 photo by DianaEatingRichly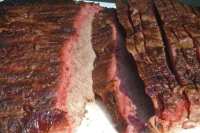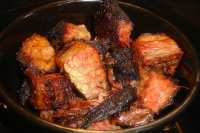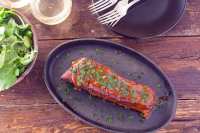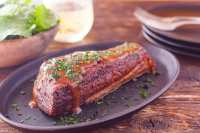 Ready In:

10hrs 30mins

Ingredients:

11
directions
Toast coriander seeds for 3 minutes in an iron skillet over medium heat.
Grind the seeds in a spice grinder or mortar and pestle.
Add the rest of the spices and sugar and blend.
Rinse the brisket and dry.
Cover lightly with Worcestershire sauce.
Sprinkle and rub the dry rub onto all sides.
Use about 1/3 cup of pecan pellets or chips and encase in heavy duty aluminum foil. Punch one small hole in the packet and toss onto the coals. If using chunks of pecan, add 4 pieces (3x3x3 inches) to the coals at the start of the cook.
Cook at 250°F to 300°F indirectly over charcoal. The cook time will be about 3/4 to 1 hour per lb at 250°F to 200°F smoker temperatures. A flat by itself cooks for a little over an hour a pound.
When internal temperature reaches 170°F, Wrap in two layers of heavy duty foil and return to the smoker.
Remove the brisket when internal temperature is 195°F to 200°F taking care not to spill the hot juices on you or others.
Let it rest for at least 45 minutes.
Carefully drain the juices into a container and refrigerate to remove fat.
After it cools a bit, use heavy rubber gloves or a knife to remove loose fat and separate the brisket flat from the point. There is a layer of fat that separates the two and the meat grains of the point and flat run perpendicular to each other.
Place the point back on the smoker for an additional hour.
Meanwhile, use a sharp, long knife or electric knife to slice the flat, cutting across the grain with the knife blade perpendicular to the direction of the grain of the meat.
After an hour, remove the point and cut into 1 inch cubes to make burnt ends.
Place the cubes in an aluminum pan and return to the smoker for another hour.
Defat the juices and either add to the sliced brisket or use in a sauce recipe.
Use your favorite sauce and place or buns or serve directly with barbecue sides.
Questions & Replies

Got a question?
Share it with the community!
Reviews
Cooking brisket can be fairly easy ... or not. This brisket just doesn't look like most briskets I've smoked. It does not appear to be cut against the grain, either. Cover the whole brisket with dry rub - I make my own - and put it in the smoker at 225 degrees F. Come back tomorrow, or at least 14 hours later. My briskets finish with a dark, mahogany brown glow. NO sauce is ever appropriate, or desired. If the brisket doesn't cut with a fork, keep smoking until it does.

 

When I saw the photo of this brisket, I almost choked...I'm a certified BBQ judge, and I know good brisket. This is not good brisket. It looks very dry, overcooked and the cook didn't even know how to slice it against the grain. The whole thing, apparently, was to be pulled into strands....very long, dry strands. I hate to rain on anyone's parade, but PLEASE read further before investing the time and money into cooking a brisket. Honestly, in competition, most teams invest in prime or better quality to ensure a good, tender meat. Brisket is the most difficult meat to cook. I did a quick search of the KCBS (Kansas City BBQ Society) site for brisket recipes and methods. There are abundant sources, but I grabbed one that looked very thorough that might be of help to a novice, or even experienced, brisket cook. Give this site a read or hunt for others: http://www.bbqsuperstars.com/bbq-brisket/ Good luck and enjoy your efforts. Remember, it takes 12-14 hours to cook a good brisket, so plan ahead and be patient. Start with the best product you can afford. Just as an aside, if any of you out there are ever considering competition BBQ, before you invest the money on your first contest (at least $1,000), take a judging contest. That way you can get an idea of what a contest is all about, what a box should look like, what the pitfalls might be, how not to turn in the wrong product, how not to be late...all the "little" problems that could disqualify you...a DQ in one area will keep you out of the money, and you don't want that. It pays to know the rules first.

 

Take a look here for more information on my experience of making this yummy recipe!http://www.recipezaar.com/bb/viewtopic.zsp?p=3311602#3311602 Well enjoyed. made with a 3-4 pound piece of brisket not the whole brisket so I didn`t do the burnt ends. Which I know would be a real treat! Love this rub!

 
RECIPE SUBMITTED BY
My wife and I live just outside of Atlanta, GA. Two daughters live in town, one with my two grandsons. My son is living in California. I'm a retired environmental manager at a manufacturing facility. My Mom and Dad would have loved this site. Dad was a huge collector of recipes and was in the food industry. Mom was a terrific cook as well. Another influence was a roommate at the Universtiy of Arkansas that was an excellent cook. Today I enjoy barbecuing and grilling year round and cooking in general. My latest adventure is in bread baking. I'm loving it and going to school on it right here on the bread forum. I'm active in a terrific church and also love fly fishing and fly tying.
View Full Profile