Slow Roasted Smoked Pork Shoulder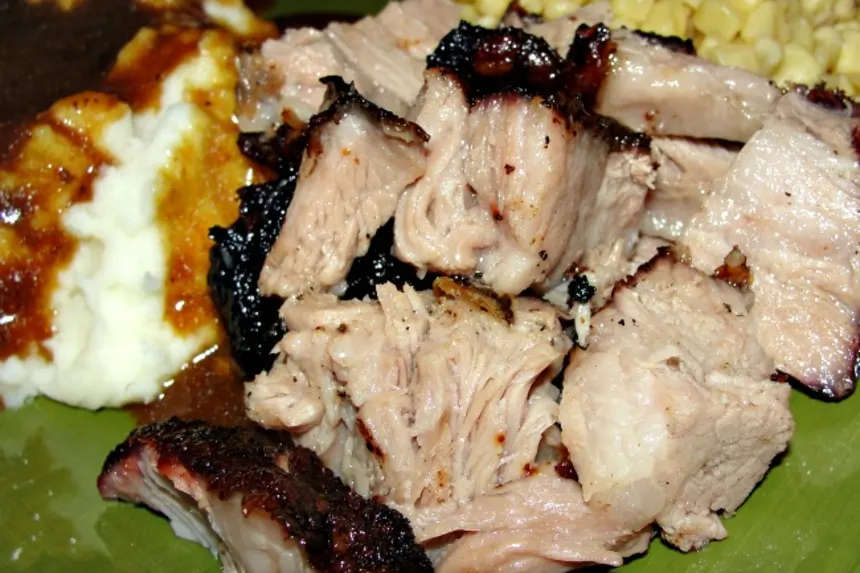 photo by diner524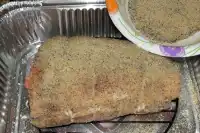 Ready In:

7hrs 2mins

Ingredients:

4

Serves:

6
directions
Turn oven on to 300.
Place pork in lasagne pan fat side up. (can be placed on a rack,optional).
Score fat lightly in a diamond pattern, not piercing through to the meat.
Rub salt, pepper and garlic on the fat.
Cover lightly with tin foil and roast for 3 hours, this gets the fat melting.
Remove tin foil and reduce oven to 225.
Continue roasting for 4 hours.
Remove from oven and drain drippings if desired.
Turn oven up to 450-500.
Place pork back in oven until fat is crispy and browned, about 5-10mins.
Remove from oven, lightly tent with tin foil and wait till cool enought to handle.
Remove meat and tear apart with 2 forks.
Toss with favorite BBQ sauce and serve on buns.
*note* I've made this a 1000 times. Sometimes with aromatic herbs such as rosemary, thyme and sage. Sometimes with a wet rub. Sometimes with fruit such as apples,peaches, or pineapple. I've never had one not turn out. I posted this recipe today because that's what in my oven. (big game on!).
Enjoy!
Reviews
Great way to make a pork roast or shredded pork for BBQ or to season and use in Mexican type of dishes!! We had to do things a little different, as we can't buy a smoked shoulder. We used a boneless Boston Butt Roast, then we put it on our charcoal grill, with wood chips to get the smoke flavor, for the first 4 hours. Then DH put it in our oven at the set temp. for the remainder 3 hours, or less, as it wasn't the 6 lbs. I set DH up with the printed recipe and he made up the seasoning as written (even took a photo!!!), scored the top and then did the grilling and set it in the oven. After DS and I got back from car shopping, I finished up the roast and made gravy from the drippings and served with mashed taters and corn, yummy!!! Thanks for sharing your recipe. Made for Spring PAC 2013.

 

I followed this recipe closely - my smoked shoulder was 7 lbs instead of 6, and I decreased the salt by half, and it still came out almost unbearably salty. Also, the meat texture came out different than I expected - it did not shred - but it sliced nice and tender. I am not sure what I did differently - there is not much to this recipe!! <br/><br/>I think this would be a fabulous way to prepare an un-smoked plain picnic - it would literally fall apart - an an unsmoked shoulder has less salt - but it did not work out for a smoked cut.

 
RECIPE SUBMITTED BY
<p>I post what I cook. It's an eclectic, and hopefully simple collection of recipes. I'd love to post most of what I cook, but frankly I'm not good at the measurements and I tend to be a 'add a dash of this and that' kinda cook.&nbsp;As a&nbsp;result, I can be a little lazy in posting recipes.&nbsp;I strive to make large meals that don't cost a lot, I've got 4 kids. Yes they eat what I post :)&nbsp; My main goal these days is to get the most out of what we pay for groceries...with 5 large eaters &nbsp;me, we're&nbsp;on a 'below low income level' budget, it's important to buy cheap and cook around the ingredients. Some recipes come from&nbsp;splurges ;)&nbsp; Use the recipes as a guidline and modify to suit your tastes.</p>
View Full Profile