Slow Cooker Dulce De Leche
photo by KerfuffleUponWincle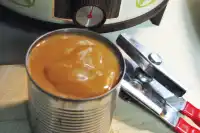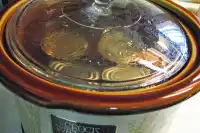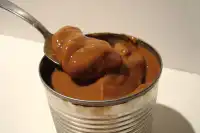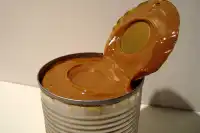 Ready In:

8hrs 5mins

Ingredients:

2

Serves:

12
directions
Wash and remove the labels from your cans of sweetened condensed milk. Make sure the cans are undented and unopened.
Stand your cans up in the slow cooker and pour water in to cover cans fully.
Cook on low for at least 8 hours (I've gone up to 12 hours once when I forgot about the cans, results were still good). You could probably do this on high for 4-5 hours but I haven't tried it.
Allow to cool fully before opening the can. Store in refrigerator.
If you open the can and find that it's not golden enough (highly unlikely), scoop out contents into a saucepan and simmer on low until desired color.
Reviews
I have made this recipe as written, until I found out it is unsafe. Making this recipe as written left me with rust rings on the bottom of my crock pot, and after doing more research, I would never feed the finished product to my family again. It is unsafe to make dulce de leche in the can. Heating the can for long periods of time releases chemicals. (it clearly is labeled on any sweetened condensed milk can "Do not heat in can" for this reason) This recipe should not be done as written. I made this a second time in the crock pot by using two stoneware oven safe mugs, poured a can of sweetened condensed milk into each mug, covered mugs with foil to make sure water did not drip back into the mug from condensation, placed mugs into crock pot, poured in enough water to get to about 1 inch from the top of the mugs, cooked on low for 8 hours. THAT turned out well. Do not do this recipe as written.

 

I've never tasted dulce de leche because I haven't been able to find it in the stores here, so I really don't know how to compare this slow cooker version with the bought kind! I slow cooked four cans on LOW for 10 hours, let it cool, opened it and thought it wasn't thick enough! The taste was almost the same as sweetened condensed milk straight from the can, so I put the remaining three cans back into the slow cooker and cooked it for four additional hours on HIGH! (SEE PHOTOS for the difference in color) The taste changed and the end result is much thicker ~ it tastes good, but not really like caramel as I had hoped. In a few days I'll use the slow cooker dulce de leche to swirl into brownie batter, then bake! Made for Spring PAC 2011 ~

 

I bought two cans of sweetened condensed milk as soon as I read this recipe and gave it a try. I forgot about them and they ended up cooking for nearly 13 hours instead of the recommended 8 and it turned out great anyway! It's really think but a good stir loosens it right up and I've been enjoying some decadent caramel apple slices for a couple of days now. I told all my friends about it and now they're going to try it too! Thank you

 

this is a great way to make it. Wish I knew this method before....<br/>I put condensed milk in the pot, forgot about it and went to bed... I woke up with big bang... No kidding. Water boiled out and condensed milk can projected itself to the ceiling, leaving half moon mark in my ceiling... then it exploded all over the kitchen, ceiling, walls, cupboards... everything... Yap... sweet dreams... at least I was not there when it exploded. And I just started to date my husband who witness my great cooking abilities...It took few days to wash it all out........<br/>When I write that I put can in the pot, I mean that I used stove top and not a slow cooker. Slow cooker is safe way to make this.

 
Tweaks
this is dangerous>>>>>use this method instead...?2 14 ounce cans and 3 half pint jars Open cans of sweetened condensed milk and pour into three half pint jars, dividing evenly. Put on lids and rings. Place jars in crock pot and add water to just reach the bands of the jars. Cook on low heat for 6-8 hours (for caramel sauce consistency) or 10 hours (for a consistency more like pudding)

 
RECIPE SUBMITTED BY
i'm 25 years old and have had a passion for baking ever since i was 9 and baked my first mini whipped cream and fruit filled mini tarts. i am a dessert person all the way and a white chocolate lover. my biggest problem is that i like to bake so much that people around me can't eat fast enough to keep up. i have a baking blog at http://BUTTERCREAMBARBIE.blogspot.com
View Full Profile