Simple White Bread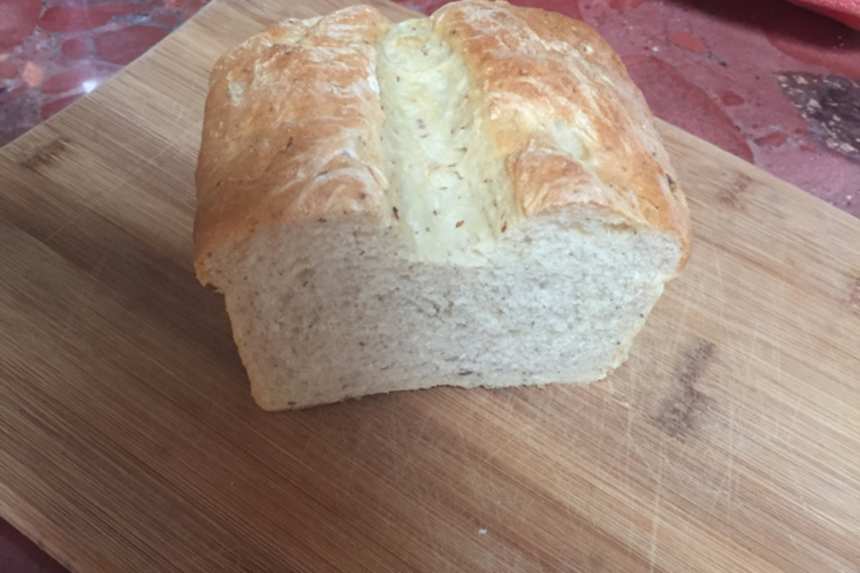 photo by Dr. Paul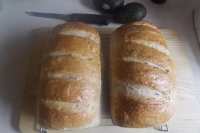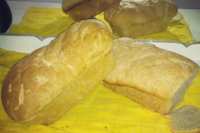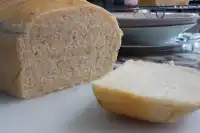 Ready In:

1hr 45mins

Ingredients:

6
directions
Mix the water, yeast, and sugar together in a small bowl.
Add the salt to 5 1/2 cups of the flour in a large bowl.
Set the other cup of flour aside. Mix the liquid and the dry together and then add the oil.
Mix until it comes away from the sides of the bowl, sprinkle some of the last cup of flour on a wooden surface, and knead until the dough gets sticky again.
Keep adding more flour and keep kneading.
Push forward, fold over, push forward, fold over.
I do this one handed because I have to, but it works.
Put a little oil in the large bowl, that has been scraped clean, add the kneaded dough and roll it over a few times to coat. Cover, let stand for about one hour in a warm place. Punch down, cut the dough in half and roll it out to about a 9 inch by 18 inch rectangle. Roll it up, tuck in the ends and place in a very well lubricated ( I use crisco) glass baking dish.
Repeat with the other half, and then cover with a cloth and let it rise again for about 45 minutes.
Use a sharp knife to put a few slashes in the top, brush with a little beaten egg or milk, and put into a pre-heated 375 (f) oven for 30 minutes.
The bread is done when an instant read thermometer reads 190 (f).
Questions & Replies

Got a question?
Share it with the community!
Reviews
Beautiful loaves everytime. I love that you can add flavors and still get the same results. In one batch I added shome shredded onions and sprinkled the tops with sliced onions and a little cheddar, Talk about yummy. I added some chopped rosemary and used olive oil in another loaf and it was also terrific. This recipe is definitely a keeper.

 

This is really a simple recipe and easy to make. My main quibble is that mine came out a little too dense in texture. I think that may be because my rapid rise yeast was a little past it's expiration date. The bread still rose just fine so it must have been OK. Based on ease of preparation I'd give it a four star but from a flavor perspective it's only a three. I'm still game to experiment with this basic recipe though. I'm going to try to up the sugar a bit and maybe try raisin and cinnamon in it. And definitely get unexpired yeast.

 
RECIPE SUBMITTED BY
Some of you know me as Brother William. No, I am not really a Monk, but I have grown to enjoy my simple and solo lifestyle. My love for humanity is based on fellowship rather than sensuality. I PROMISE that I will never share a recipe unless I have tasted the food. Most of the recipes are mine, but I have included a few classics, and some recipes that were written by very creative people, that are just so good that I had to share. From time to time I have found recipes with my name on them in print magazines, but they are always altered in some way by the publisher. So there is no reason why you should not add your own personal touch. If you leave this page with just one thought, I hope that it would be that Cooking is a Creative Sport. I grew up in Glenview Illinois, just north of Chicago. My Mother loved those little exotic cookbooks, that were sold as a weekly series in grocery stores in the 1950's. I was taught to eat whatever was put on my plate so I ate food from a different culture every week. If I had to pick a favorite, it would be Mediterranean. After leaving my Mother's table, I have lived and enjoyed eating in Colorado, Missouri, Montana and Nebraska, before settling in Saint Cloud, Minnesota in 1975. After a 30 year marriage with mixed reviews, I am now pleasantly single again, and plan to stay that way. Up until recently, I had occupied my evenings just talking with people and sometimes sharing recipes, while soliciting donations for Non-Profit Organizations. Yes .. that's right, for over 20 years, I was a Telemarketer. The perfect job for a Taurus. I enjoy reading cook books the same way most people read novels,and I am still improving my skills in the art of Solo Cooking. However; my true passion will always be sharing my favorite recipes with all of you.
View Full Profile