Shredded Beef Enchiladas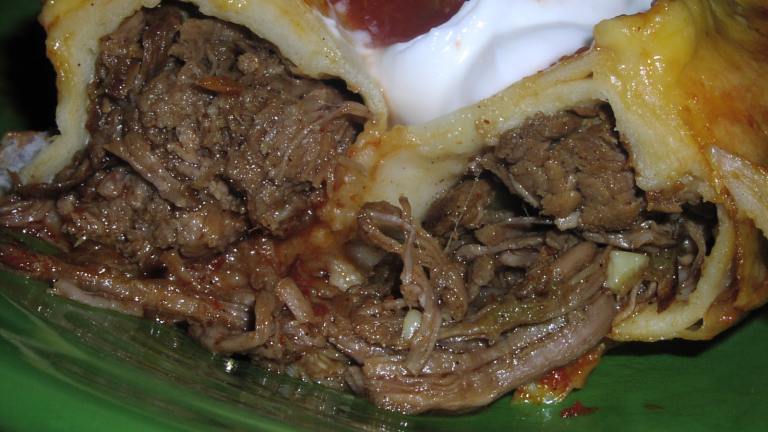 your time is well rewarded with this easy recipe.
Ready In:

2hrs 20mins

Serves:

Units:
directions
Grill or sear the steak, then braise it with the liquid and spices at 300 degrees until it falls apart, about two hours. (If using smoked beef brisket, since it is pre-cooked, shred the meat then add liquid, spices and other sautéed ingredients, mixing well, then heat in 300 degree oven till heated through and liquid is absorbed. About 2 hours).
Sauté the onions and garlic, add the meat and chiles, mix well. Heat the oil over medium heat, heat the tortillas in the oil, about 5 seconds on each side, but not until they are crisp.
Roll some of the filling in each tortilla. Place in a greased pan, seam side down. Top with sauce and cheese, and bake at 375 degress until bubbly.

Enchilada Sauce:

5 Tbs. white flour.
5 Tbs. cold water.
1/3 teaspoons sugar.
1 pinch ground cinnamon (less than 1/16 tsp.).
3/4 teaspoons salt.
2 heaping teaspoons garlic powder (with no salt added).
1 teaspoons ground cumin.
4 Tbs Chili Powder.
2 cups chicken broth.
makes about 2 cups.
In a 2 quart sauce pan add the chicken broth, chili powder, cumin, garlic powder, salt, cinnamon and sugar (the sugar is a little secret to eliminate.
any bitter taste from the chili powder).
Use a whisk to mix everything well. Heat to a boil, reduce heat to a low boil and cook for 3 minutes. Whisk frequently to make sure all spices dissolve. This is important for flavor and a nice smooth sauce.
While the sauce is on a slow simmer/boil, add 5 tablespoons of cold water in a small bowl.
With another whisk mix 1 tablespoon at a time of flour. Whisk vigorously to avoid lumps. If you have lumps here, you will definitely have lumps in your sauce.
After 3 minutes of cooking sauce, turn the heat up to high. Very slowly, pour the flour mixture into the boiling sauce. Here you must whisk the sauce vigorously while adding the flour to avoid lumps.
After all the flour is added, continue to whisk for one minute. You can turn the heat down to medium during this time. Just make sure the sauce is boiling.
Turn off the heat, this enchilada sauce recipe is done.
If you do not use the sauce right away, you will notice that as this sauce sits it will form a "skin" on the surface. This is normal and in fact the longer the sauce sits the thicker this skin becomes. All you have to do is peel the skin off and throw it away.
Submit a Recipe Correction
RECIPE MADE WITH LOVE BY
"your time is well rewarded with this easy recipe."
This is getting 4 stars only because it took like 4 hours for my flank steak to get even close to shredding...the meat mixture was delicious...not sure about the sauce...but my picking son-in-law ate about 3 of them and took lots home for leftovers...that says a lot...I served them with sour cream and salsa...the directions are a bit confusing...I'm use to following the ingredients along with the directions..this was all over the place...but we did enjoy it...Made for Spring 2014 PAC...=)