Shortbread Sugar Cookies With Icing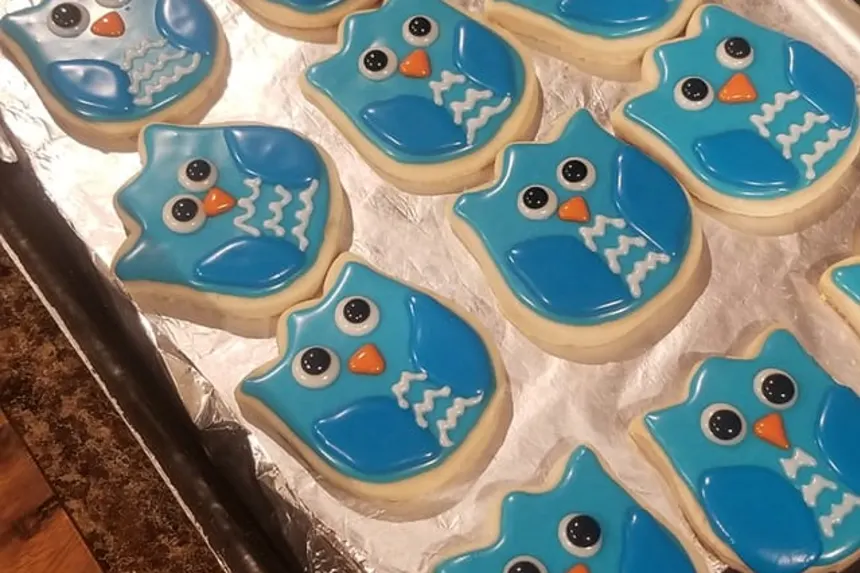 photo by Melinda W.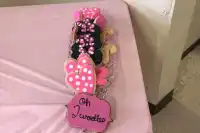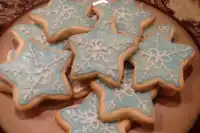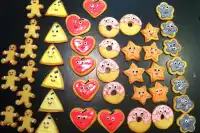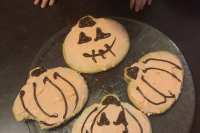 Ready In:

50mins

Ingredients:

9

Serves:

48-60
directions
Line cookie sheets with parchment paper or generously spray with non stick spray.
Using a hand mixer or stand mixer, mix butter and sugar until fluffy. Add vanilla and beat until combined.
In a separate bowl, combine flour and baking powder. Add slowly to butter mixture on low speed. Do not overbeat! Only mix until flour is incorporated.
Form dough into big ball and place in plastic wrap. Refrigerate for 30 minutes.
Preheat your oven to 350 degrees. Roll out chilled dough to 1/4 inch thickness. Cut with cookie cutter or you can use a pizza cutter and make squares or rectangles. Another option is to roll into a log and cut 1/4 inch thick slices.
Using a spatula, transfer to cookie sheets leaving about 1/2 inch between cookies.
Bake 10-12 minutes or until lightly browned around the edges. Cool 10 minutes on cookie sheet and then transfer to cooling rack.
When cookies are cool, whisk together the icing ingredients and either dip the cookies or spread on cookies. You can smooth the icing with the back of a spoon.
These are so good -- you should really double the recipe!
Questions & Replies

I'm about to start making these for a baby shower. I have star wars themed cut-outs with stamping feature as well. The cookies need to be quite thick like the owls in the photo but I want them to hold their star wars shape. Any tips for getting this right? Is there a recommended flour or butter I should use?

 
Reviews
Much better tasting than traditional sugar cookies. They can be a little fragile so be sure to only roll to the full 1/4 thickness. The kids loved that they could eat the cookie dough (no eggs)! I had a very moist dough so it was no problem - don't know why others have drier result - but to the person who had a real issue perhaps they used granulated sugar, or packed the powdered sugar or packed the flour? I halved the batch and had a little trouble rolling out the second because it was too cold (in the fridge too long). I deviated and used salted butter because it is what I had available.

 

I absolutely love this cookie recipe! I did not change the cookie recipe at all. The cookies turn out firm like a shortbread and sweet like a sugar cookie. Which makes this recipe the perfect go-to for decorated cookies. For the icing, I doubled the powdered sugar, substituted water for the milk, doubled the vanilla, and added 2 tablespoons of meringue powder. This recipe tweak allows for a great foundation for cookie icing for highly decorated cookies. Just add water gradually to thin out your icing to your desired consistency.

 

Great recipe! Really easy! Grandchildren loved making these! We rolled out dough between sheets of parchment paper! Worked beautifully....no flower needed....so no mess at all. Kids enjoyed rolling. Roll out small amounts at a time....keeping dough refrigerated until needed. Liked frosting recipe WITHOUT corn syrup. Worked for us!