Shish Taouk Toum - Grilled / BBQ Chicken With Garlic Sauce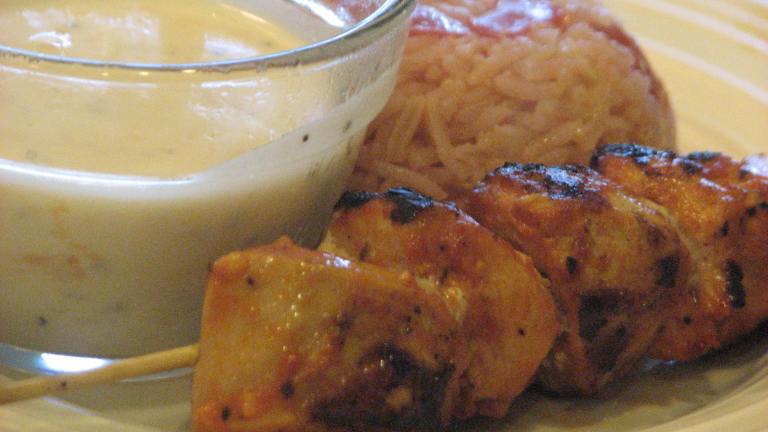 This is a chicken on a skewers recipe with Lebanese flavours. The whole family enjoyed this dish, even three year old Little Miss (DD). The only change I would make is I would make less of the Toum (Garlic Sauce) as it was way too much for our family and I don't know how to divided the quantity as it's impossible to half an egg. (Any suggestions)? I used Chicken thighs instead of breast, Egg Replacer to substitute the egg and I would recommend to marinate overnight. We served it with Recipe #218542 . This recipe comes from a book called 'The Lebanese Cookbook' by Hussien Dekmak - Passive work time does not include marinated time
Ready In:

45mins

Serves:

Units:
Nutrition Information
ingredients
1

kg chicken breast

skewer

Chicken Marinate

1

tablespoon olive oil

1

tablespoon tomato puree

1

tablespoon garlic, crushed

1

tablespoon garlic sauce, Toum see below

salt, to taste
pepper, to taste

2

lemons, juice of

Toum (Garlic Sauce)

1

garlic clove, peeled
1⁄2 teaspoon salt

1

egg white

250

ml vegetable oil

1

lemon, juice of, to taste
directions
Cut the chicken breasts into 2 cms pieces and place in a bowl. Add the olive oil, tomato puree, garlic 1 tablespoon Toum (garlic sauce - see below recipe), salt, pepper and lemon juice. Mix well to coat the chicken and leave to marinate in the fridge for at least 1 hour or overnight.
Tread the chicken pieces on to skewers and grill for about 10 minutes on the barbecue or under a preheated grill. Turning from time to time.
Serve with Toum (garlic sauce) for dipping and a salad.
Toum (Garlic Sauce) - Put the garlic clove and salt in a blender or food-processor and whiz to a smooth puree. Add the egg white and whiz again until smooth. Very slowly pour in the vegetable oil in a constant, steady stream until all the oil is used up and the sauce is the consistency and colour of mayonnaise. Add the lemon juice and keep whizzing until smooth. Taste and add more lemon if necessary.
Submit a Recipe Correction
RECIPE MADE WITH LOVE BY
"This is a chicken on a skewers recipe with Lebanese flavours. The whole family enjoyed this dish, even three year old Little Miss (DD). The only change I would make is I would make less of the Toum (Garlic Sauce) as it was way too much for our family and I don't know how to divided the quantity as it's impossible to half an egg. (Any suggestions)? I used Chicken thighs instead of breast, Egg Replacer to substitute the egg and I would recommend to marinate overnight. We served it with Recipe #218542 . This recipe comes from a book called 'The Lebanese Cookbook' by Hussien Dekmak - Passive work time does not include marinated time"
Join The Conversation
I had saved thise recipe long ago after promising DH I'd make this as it's one of his favorites - specially served along side of toum. Finally pulled it out to make (and wouldn't you know it, DH is not even home) but it's wonderful and was enjoyed by me, my DIL and DGD for a quick, easy and delicious meal. Great blend of flavors that reminded me of some of the better resturants I've tried it in in the Middle East. I did have trouble with the toum as the small amount didn't mix well in my processer (should have heeded the other reviewer and used an immersion blender) and in the end mixed about a tablespoon of mayonaise with it for texture, then cooled in the fridge and it came out fine. Now I need to make this for DH when he returns.

Chicken 5 stars. Twice making the garlic sauce and it just did not turn out although I incorporated it runny into a yogurt based garlic sauce to eat with these delicious shish taouk. The sauce makes a huge amount but it is easy to half. I had tried both a real egg white and egg replacer as Chef floWer does and for the vegetable oil I used a blend of mostly grape seed oil (has a neutral taste) and extra virgin olive oil one time and another time I used canola oil. The blender I used was a tiny one. I tried adding boiled potato which helped somewhat but it still did not turn out great that time. The second time I found the sauce got thick in my pestle and mortar plus it really blended in the garlic well but YOU MUST add the oil in a thin stream gradually, that is the tricky part and by the end I had not added the oil all properly and it was thin again without the possibility of getting thick. I may make the Shish Taouk again not usre if I will try the garlic sauce again.

Mmmm, garlic! This was a really wonderful, quick and delicious recipe. I made half the quantity of garlic sauce and halved the white by removing the yolk and pulling out about half of the white with a spoon. The food processor I have doesn't do a great job with small amounts so I just whisked by hand using crushed garlic until it was just how I liked it, just a fraction thicker than mayonnaise.