Shepherd's Pie (Gordon Ramsay)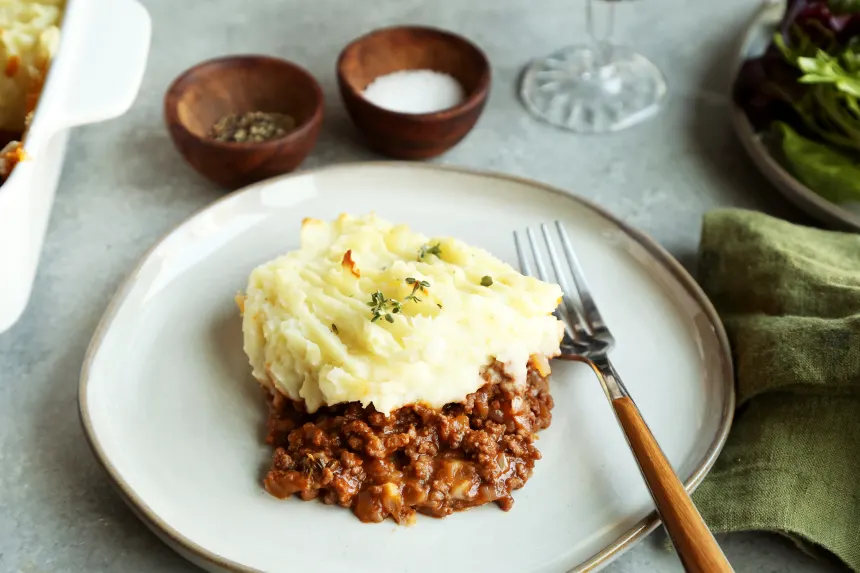 photo by Jonathan Melendez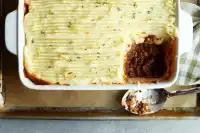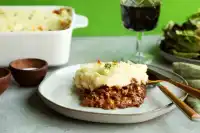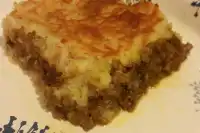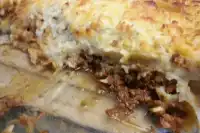 Ready In:

1hr 20mins

Ingredients:

18
directions
In a large frying pan, heat the oil until hot, add half the mince (ground lamb), season with pepper and fry until well browned. With a slotted spoon, remove the meat from the pan and place in a metal colander to allow the excess fat to drain. Repeat with the second batch of mince and place in the colander.
Add the onion to the pan with the thyme and garlic and a knob of butter,and cook until soft and translucent. Add the meat and tomato purée, then sprinkle over the flour. Cook stirring constantly for 2-3 minutes to cook the flour.
Add the red wine and Worcestershire sauce and cook until the liquid has reduced to half the original volume. Add the chicken stock, bring back to the boil, then simmer for 30-40 minutes. The mixture should be thick and glossy. Allow to cool, then check the seasoning.
Mash the potato until creamy and smooth or pass through a Mouli or potato-ricer. Put into a medium-sized mixing bowl. Place the milk and butter into a small pan and heat until the butter is melted and the milk is about to boil. Pour over the potatoes and beat well, adding the egg yolks and seasoning with salt and white pepper.
Put the mince into a large baking dish, then top with the creamed potato. Use a fork to rough up the top.
Place in a preheated oven at 400°F for 30 minutes or until bubbling and golden brown in color.
Questions & Replies

Got a question?
Share it with the community!
Reviews
As good as this recipe is, it is missing a few of Chef Ramsay's key ingredients. His also calls for -1 large carrot, finely grated (cooked same time as onions) -handful of thyme sprigs, leaves picked, -sprig of rosemary, needles chopped (herbs added with the tomato puree) Lastly, his recipe calls for 2 TB grated Parmesan to be mixed in with the potatoes and more sprinkled on top before baking. These few extra ingredients really make the difference.

 

Nothing special, personally I think you're using too much of some ingredients and omitting others.<br/><br/>Note: Can't believe what I'm reading up there, "adaptation to vegetarian... really doesn't change the recipe", unbelievable, meat pie without meat.. As Gordon would say fu**ing hell, what are you playing at?

 

This is an excellent recipe!! I did add a grated carrot, a sprig of chopped rosemary, reduced stock to 2 cups and reduced red wine to 6 ounces. I followed everything else exactly in the mince. I did in fact simmer the mince after adding the liquids for approximately 40 minutes to get a thick and glossy texture. (Make sure you following directions and drain the lamb after cooking!) Prior to reducing the liquids, the mince was way too juicy for a pie. I am aware of the utube clip showing Ramsay simmering for no more than 3-4 minutes however that's not how things worked out for me even after reducing the stock in half (perhaps he used less stock than this recipe calls for? ). I did keep an eye on the mince and constantly stirred the mince during the simmer so it would not burn. Use your best judgement while creating this masterpiece! I did add more Parmesan to the potatoes based on my family's taste. The potatoes browned very nicely. The dish was SO delicious!!! Even my 16 year old son who claims he hates lamb loved it!! He actually texted me 2 hours later asking me to teach him how to make the dish and asked me to make it again soon. That's a huge win for me!! (He is an aspiring teen chef who plans to attend culinary school as well after high school.) My husband raved about it all night and asked me to make it again next week : D He said there was no way he could finish the portion I served him..... his dish was empty by the time we all finished!!! Yes!! Based on my 'boys' requests, I may add peas the next time I make it since mt family ove peas. Anytime I can sneak in more veggies I do! Thank you so much for posting this exquisite recipe!! My husband and I had the Shepherds Pie at Gordon Ramsay Pub and Grill in Vegas last month. It was to die for!!!!!!!!! Absolutely worth going back there just to eat the Shepherds Pie!! (Lamb chops were amazing as well!!). My husband loved the Pie so much I had to try to recreate it at home. I hope u enjoy this recipe as much as my family did!! Thanks again for posting this awesome recipe!!

 

Haven't made this yet, but did just watch a youtube video of Ramsay himself making this very dish. There is definitely something wrong with the instructions here. After adding the chicken stock, Chef Ramsay clearly says, "I cook it out for 3 to 4 minutes, no more than that". The recipe above says to simmer 30 - 40 minutes. So, something is definitely off here. The link to his youtube video is: https://www.youtube.com/watch?v=OJB3_asB2rc While he doesn't give you amounts of the ingredients, I think it would be fairly easy to figure out if you do enough cooking. Might not be exact, but I'm gonna give it a go tonight.

 
Tweaks
How could you forget the rosemary. You can't get much more Irish than ROSE-MARY. As the guy above says, and substitute lamb broth for chicken broth. Most large grocery stores sell lamb bullion. If you can't find that, use a beef broth, especially if you do the red wine reduction. Don't mix red and white meats. I also like to add mushrooms. Ireland is damp, right?

 

I tried this recipe tonight, I prepaired it for my wife and son, I added 1 large carrot, grated with a cheese grater, and instead of red wine I used a white merlot, Also instead of Ground beef I used a London broil, and pulled it apart rather then cut it. It gave it a great texture and it was literally one of the best meals I have ever eaten, No exaggeration. Absolutely delicious. Thank you CamKayNic, and Gordon Ramsey.....

 
RECIPE SUBMITTED BY
I live In Stansbury Park Utah and am a mechanic in Salt Lake. I try to make different meals all the time, I hate to get stuck eating the same things over and over. I wish I had more time to cook but the time I do get is always fun for me.
View Full Profile