Severed Fingers Halloween Cookies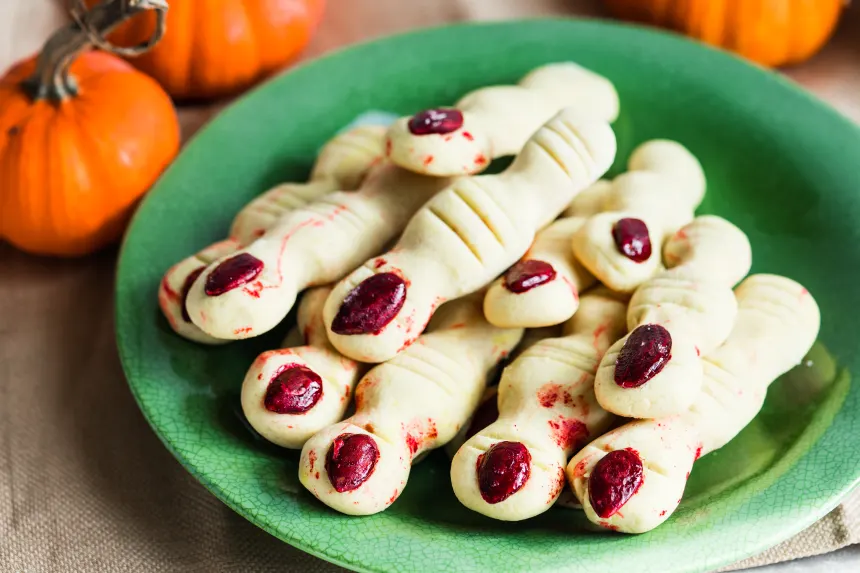 photo by alenafoodphoto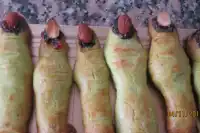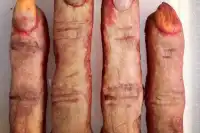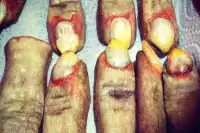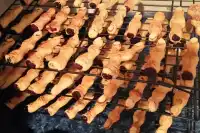 Ready In:

1hr 12mins

Ingredients:

9

Serves:

15
directions
Heat oven to 350°. Line two baking sheets with Silpats (French nonstick baking mats) or parchment paper, and set aside.
Place food coloring in a shallow bowl. crack each whole almond into halves. and toss them into the bowl with the food coloring and stir them until the color is evenly distributed. leave them in the bowl and stir them every so often until the color is as dark as you like.
Separate 1 egg. Set aside the white. In a small bowl, whisk together yolk, remaining egg, and vanilla. Set aside.
In the bowl of an electric mixer fitted with the paddle attachment, combine butter, confectioners' sugar, granulated sugar, and salt. Beat on medium speed until well combined. Add egg mixture, and beat until smooth, about 2 minutes. Add the flour, and mix on low speed just until incorporated. Wrap the dough in plastic, and chill until firm, 20 to 30 minutes.
Divide the dough in half. Work with one piece at a time, keeping remaining dough covered with plastic wrap and chilled. Divide the first half into fifteen pieces. On a lightly floured surface, roll each piece back and forth with palms into finger shapes, 3 to 4 inches long. Pinch dough in two places to form knuckles. Score each knuckle lightly with the back of a small knife. Transfer fingers to prepared baking sheets. Repeat with remaining dough.
When all fingers are formed, brush lightly with egg white. Position almond nails; push into dough to attach.
Bake until lightly browned, about 12 minutes. Cool completely.
note: To make the knuckles more creepy just shape them big and uneven. To keep them from puffing out too much roll the fingers extra skinny (skinnier than you want them to look if that makes sense). I also try to get them out of the oven before they brown. I sometimes add a bit of almond extract to dough.
Questions & Replies

Got a question?
Share it with the community!
Reviews
These were super easy to do - As soon as the dough was made, I used my smalles scooper and was able to scoop 33 balls. Covered these and put in fridge for an hour or so. It was then the simplest thing ever to roll and shape them right on the silpat - didn't use any flour at all! I used whole almonds, because if there is an easy way to split those guys in half I don't know what it is! But the whole ones were perfect. Used a green tinted egg wash and they baked perfectly in 12 minutes. I was worried about the nails falling off but there was no fear of that - they were firmly attached. Great recipe!

 

Try this! Take the cookies out of the oven 1 minute early. Use kitchen tongs, or your fingers, just be careful-HOT-to pinch the dough together. This is when you can really create the shape of the knuckles and create a really cool wrinkled effect! Just pop them back in the oven for one more minute and voila!

 

My boyfriend wanted to make these to take to work so we made a double batch to split. I wasn't sure after reading other reviews, as I'm usually not a fan of labor-intensive recipes, but I would definitely make these cookies again. We made the dough the evening before, split it into scant-tablespoon-size balls on waxed paper, covered with plastic wrap, and left them in the refrigerator until the next day when we were ready to work with them. We took out 10-15 balls at a time to keep the dough well-chilled and had NO problem working with them. After only a little bit of trial and error we figured out a method that led to great results. Per earlier reviews we used half vanilla and half almond for the extract and were pleased with the taste. We did not use any food coloring or the egg wash. We used sliced almonds for fingernails and really liked the effect of some jagged edges and often seeing brown around the edges from the almond skin. My boyfriend also had the fantastic idea to press a dried cranberry in the "severed" end to make it look additionally gruesome. After shaping and before baking, we brushed cinnamon over the fingers to give a bit of "dirt" look and skin tone. We found that the fingers swelled a little bit during baking, but not as much as I feared they would. I did add a picture to show the "unpainted" almonds and the cranberry ends. They taste very good and are quite a hit at work!

 
Tweaks
I made these for our neighborhood Halloween Party. They looked so awesome. I used dyed peanuts instead of almonds. Next time I am going to dye the batter green to make them more goblin like. When I platted them I then drizzled red frosting over the plates to make it look like blood splatter. Easy, but looks so awesome.

 

These sure caused quite a commotion at the Halloween party! Everyone loved the looks and flavor of these cookies. I made a few adaptations like substituting sliced almonds for nails and adding slivered almonds for a bone sticking out of the other end of the finger. I also omitted the egg wash and food coloring, but added red gel icing for an erie "garnish". These are fun for kids to help with; keep in mind to roll them thin, as they will spread and flatten a little while baking. Thanks for a great party recipe!