Sesame Chicken
photo by Ivansocal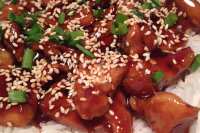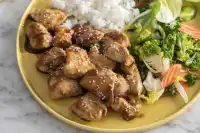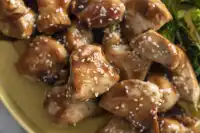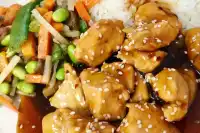 Ready In:

25mins

Ingredients:

8
directions
Cut chicken breast into 1 inch strips or bite size pieces.
Heat a large non-stick skillet that has been sprayed with Pam, over medium-high heat.
Cook chicken for about 6 minutes or until no longer pink.
Mix together honey, soy sauce, water, corn starch, ginger and red pepper flakes.
Whisk until no corn starch lumps appear.
Pour sauce mixture into skillet with chicken.
Cook until sauce thickens slightly.
You can add more water if sauce is too thick.
Sprinkle with sesame seeds.
Cover and simmer for 10 minutes or until chicken starts to soak up the sauce.
Note: Since originally posting this recipe, I have tried some of the suggestions others have made. I do like it with a bit of sesame oil (be careful not to get too much, just a few drops at the end of cooking is good enough for me, but you might like more), fresh ginger is also good if you have it on hand. I have tried it with garlic and it is good that way also. I have also found that it is good with shrimp and pork. Basically what I am trying to say is, the original recipe is just a simple, quick and healthy meal I came up with when I was craving Chinese food. I thought it turned out really great and wanted to share it. I'm happy that so many of you have enjoyed it. For those of you that didn't care for it, I hope you can find one that suits your fancy some where else.
Reviews
Tried this recipe for dinner tonight over jasmine rice and it was wonderful! I scaled it down for just one serving though. I did modify a few things. The first thing I changed was the amount of soy sauce. When I scaled my recipe for 1 serving the recipe calls for 1/8 a cup (Two Tablespoons) soy sauce. That is over 100% of the recommended daily sodium intake, so i cut that in half. My other modifications were adding a splash of cider vinegar and a splash of rice vinegar. I felt the sauce needed a tinge of tang and I think that adding these to my sauce really payed off in my final product. The spice level with the ginger and crushed red pepper were in my opinion perfection! It had just a small bit of spice in the aftertaste which is what I like in my Chinese food. This was easy and delicious! Using a 4oz chicken breast and putting this all over rice I calculated was only 430 calories, not to mention free of processed sugars or any nasty food additives. Cook this recipe up, you wont regret it!!

 

This is my second time making this recipe this month-- it is fantastic!! Quick, simple, and delicious. I added some broccoli and onions and served it with steamed rice. One recommendation I have is if your sesame seeds are not toasted, place them in a dry, non-stick skillet and toast them just until they are golden (it only takes a few minutes). I never realized that you actually need to toast sesame seeds to release the oils and flavor.

 
Tweaks
tried this recipe today at lunch. My mom and brother surprisingly loved it! Knowing that my little brother is a fastfood addict. It's easy to cook! At first I thought it was a failure since the sauce was so liquid. I kept stirring and the sauce started to thicken. I used garlic powder instead of ginger! This recipe is great for movie nights partnered with white or brown rice. Cheers!

 

Pretty good. Not my favorite. My husband liked it, but didn't compliment it without me asking his opinion; however, he did eat the three remaining pieces off my plate. I was generous with the hot peppers & seems I didn't need to be--my lips are still feeling the heat--30 minutes later. Should have been more generous with the sesame seeds & also the idea of adding orange flavoring to it (suggested by k8t) by using orange juice instead of water sounds like it gives me just what I was looking for.

 

I read a few reviews, so I did add the garlic and ginger to the chicken as it cooked. I also replaced some of the water with freshly squeezed orange juice. All in all-the family loved it, all though next time I will add less red pepper flakes. This was very delicious!! Next time I will add some veggies!