Seafood (Crab, Shrimp and Lobster) Boil and How to Open and Eat
photo by Rita1652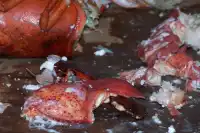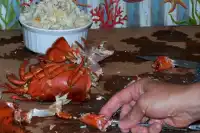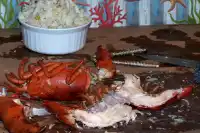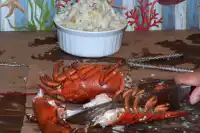 Ready In:

1hr

Ingredients:

17
directions
In a very large outdoor boiler/fryer or in a very large pot heat first 9 ingredients. Using half the water and adding as you need it so food is completely submerged with an extra 2-4 inches to cover.
When it comes to a boil lower heat to medium high and add sausages cook 3 minutes add potatoes cook for 8 minutes add corn and Dungeness crabs cook for 4 minutes and follow with rest of the crabs cooking for 7 minutes. There should be enough water so that the crab is completely submerged.
Strain into a large pot or bowl set aside and cover.
If needed add more beer or water into the cooking liquid.
Add lobster into pot and cook for 5 minutes.
Add clams for 1 minute add shrimp for 3-4 minutes, toss.
Dump and Serve on table covered with brown paper with melted butter, lemon, salt, and cocktail sauce.
Open a lobster-- To open a boiled or steamed lobster.
Break off large claws; separate tail from body; take body from shell, leaving "lady" or stomach on shell.
Put aside green fat and coral; remove small claws; remove woolly gills from body, break later through middle and pick out meat joints.
Cut with very sharp scissors through length of underside of tail, draw meat from shell,yum.
Draw back flesh on upper end and pull off intestinal cord.
Break edge of large claws and remove meat.
Enjoy!
For the Crab--.
Twist off the legs and claws, take the mallet, and have fun gigging out the meat with forks or picks.
Pry off the crabs "apron," the small flap on the underside, and discard it.
Next, with the crab upside down, press down on one side of the top shell and pull up on the center and leg sections with the other hand until they come apart, discard top shell. Also, discard the intestine, which runs down the center of the back.
Remove the gills (NOT EDIBLE) from each side and discard.
The greenish yellow "mustard." Of course, it's not really mustard (it is the crustacean's equivalent of a liver). Many do eat it, but probably as many just toss it.
The "crab butter" (the yellow, mushy stuff in the cavity. Is consider a delicacy and there are recipes that call for them. So, set them aside if you like. If not discard.
Snap crab body in half.
The edges where the two halves have broken open are where you'll find the biggest chunks of crabmeat. Pull it out with your fingers. As you dig deeper into the body closer to the leg openings, a knife or pick comes in handy. There are smaller cavities here, which should not be overlooked.
To Crack claws either use a mallet or a nutcracker. A mallet is fairly self-explanatory but look out for flying bits of shell and juice.
Before you roll up the mess in the paper, carefully check that no utensils or, even worse, a stray uneaten claw gets thrown away by accident.
Be sure to put the garbage bags in tightly sealed cans to keep animals out. Even if you wash your hands thoroughly with soap the smell of crabs and Old Bay may linger for a day. Rubbing lemon juice mixed with baking soda on your hands will remove this odor.
Reviews
This was excellent! I had to improvise and use Zatarain's Creole seasoning, but it wasn't a disappointment. I added both lemon and limes. We used lobster tails, shrimp, and crab legs. I used fresh Andouille sausage, so I browned it to further season the pot. I used Samuel Adams light beer, and imagine one can adjust many of the ingredients to suit their own individual taste. As previously stated, one need not be shy about using the amount of seasonings indicated in the recipe.

 

This really delicious! Much more flavorful than the stuff you buy at restaurants. Don't be shy on using the seasonings. It seems like a lot as you're dumping it into the water, but it takes a lot to season the water enough the it flavors at the stuff inside. This meal is especially great when served with a cold beer!

 

Everyone loved the flavor of this boil! We used mussels, crab, shrimp, Crawfish, and a bag of mixed seafood from costco. Used both the smoked sausage and Andouille as per the recipe. Added both corn and multi colored baby potatoes. There's already an agreement to make this a summer tradition. Thanks for sharing.