Scrambled Tofu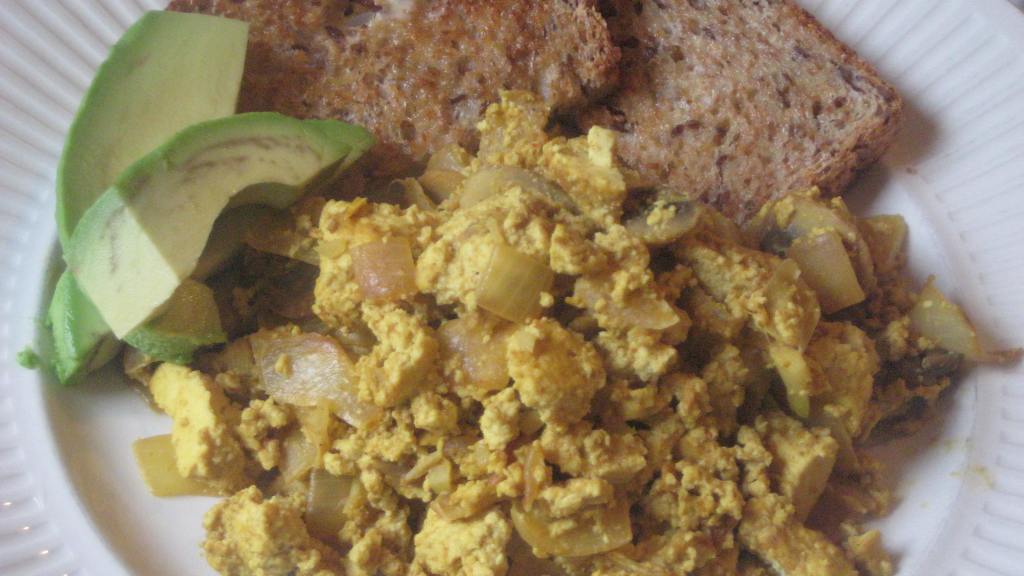 Ready In:

35mins

Ingredients:

13
directions
Combine ingredients for SPICE BLEND and set aside until needed.
In skillet over medium-high heat, heat oil. Saute onions for 3 minutes, until softened; add the mushrooms, saute for 5 minutes; add the garlic, saute for 2 minutes.
Add the SPICE BLEND and mix it up for 15 seconds or so. Add 1/4 cup water to deglaze the pan, scraping the bottom to get all the garlic and spices.
Crumble in the tofu in big chunks and mix well, being careful not to crush it; use a lifting motion when stirring it around; you want it to remain chunky. Allow to cook for 15 minutes, stirring occasionally and adding splashes of water if necessary to keep it from sticking too much. Lower the heat a bit if you find that the tofu is sticking.
Add the lemon juice.
Add the nutritional yeast and mix it up.
If the mixture is sticking to the pan, add spashes of water. The moistness really depends on how much water the tofu was retaining before you added it.
Grate the carrot into the tofu mixture and fold.
Serve with guacamole and salsa and potatoes and toast and tempeh bacon.

VARIATIONS:

Tofu Rancheros: Add 1 cup of salsa at the end, cook for 1 minute extra.
Asian-Style Scrambled Tofu: Add 2 tablespoons of minced ginger with the garlic, use peanut oil instead of olive oil, substitute shiitake mushrooms, and omit the thyme and nutritional yeast. Mix in 1 cup of thinly sliced scallions at the very end.
Join The Conversation
This was my first time making this at home - have always enjoyed it out. I don't know why I thought it would be harder - cuz it's not! And these are pretty much staples so I can see whipping it up when you've got little time to cook. I thought the spice mix was bang on. Great idea making this with flavoured tofu - will try that next time. Made for Veg Swap 16 - nov09. Just wanted to add an update - I've tried 2 other versions of scrambled tofu since this, and neither lived up....this is my go-to recipe now. :)