Schlotzsky's Deli Bread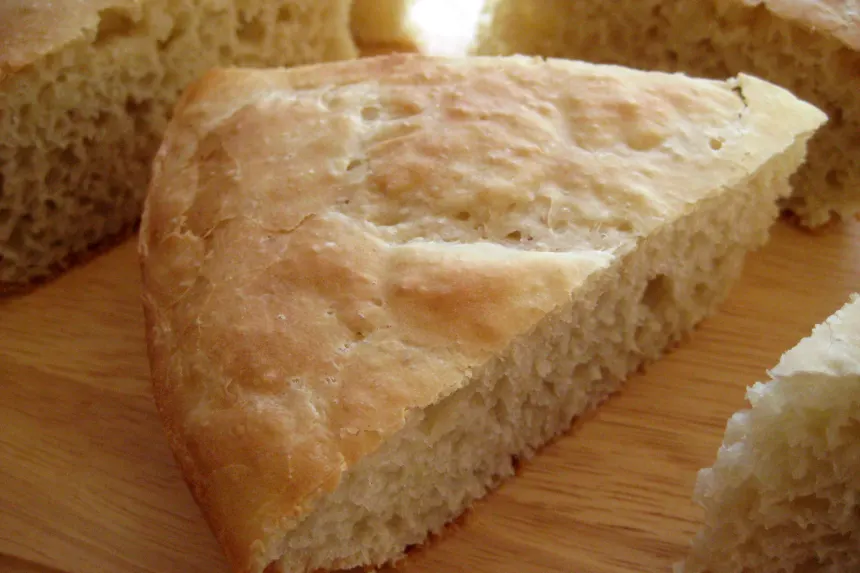 photo by gailanng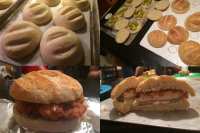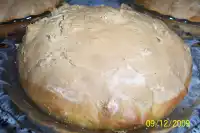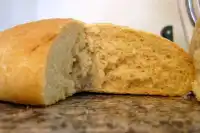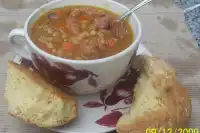 Ready In:

1hr 30mins

Ingredients:

8
directions
Stir water, sugar and yeast together and set aside.
Dissolve baking soda in 1/2 tablespoon warm water in medium bowl.
Add warm milk, salt and 1 cup flour; beat till smooth.
Beat in yeast mixture and remaining flour (batter will be thick and sticky, but not as thick as normal bread batter).
Spray two pie pans with cooking spray and dust with cornmeal.
Divide dough and place in pie pans, cover and let rise for 1 hour.
Preheat oven to 375ºF and bake for 20 minutes till golden.
Cool 1 hour and cut in fourths.
Questions & Replies

Got a question?
Share it with the community!
Reviews
I am a baker at Schlotzsky's and this isn't how we make it. I'm not sure as far as the actual ingredients go in the dough because we just get it pre-mixed but this is not the process. First of all, the yeast is not mixed with sugar. The yeast goes straight into 110 degree Fahrenheit water. You might as well have the other dry ingredients mixed up because they go straight in as well and you don't want the dough to cool off. After it's mixed, it needs to go into a warm, moist place. We have a special piece of equipment called a proofer where the dough sits and starts to rise. The proofer maintains a temperature between 110 and 120 degrees by heating a water reservoir to humidify the air inside. The dough doesn't have to sit there for long. After that, it's squeezed into individual pans that are sprayed with cooking spray, sprinkled with sesame seeds, and then placed back into the proofer. No cornmeal is used. I'm not sure where that idea came from. From there, we let it rise until we can start to see a fair amount of tiny air bubbles (not just the big ones) at the top. If there are too many, it's likely to fall when being placed into the oven. Our ovens are preheated to 475 degrees and after the bread program starts, the oven steams the bread for 45 seconds. After that point, the oven is set to 350 degrees (it's usually at around that temperature after the steaming) and it bakes for 20 minutes. Keep in mind that these are convection ovens so your conventional oven, even assuming it can be used to steam, will probably not bake the bread in 20 minutes. The steam is extremely important. It keeps the bread from drying out during baking and also gives the yeast one last boost before it dies, causing the bread to puff up nicely. After baking, the bread should be removed from the pans as soon as you can stand to touch it to keep the bottoms from getting soggy and then placed on a rack to cool to room temperature. At that point, it should either be eaten or bagged in a plastic bag immediately or it will dry out. If you don't have a proofer or an oven that you can use to steam the bread, your bread is not even going to be close to what you get from Schlotzsky's. The tiny air bubbles and softness on the top are directly the result of proofing and steaming respectively.

 

This was my first job in CA at a Shlotzsky's a zillion years ago! I searched to see if I could find a copy cat recipe and landed here. I remember it was a pretty basic recipe, no secret ingredients. The first thing I thought of when I saw this recipe is that it seemed like there was more milk. When I saw the pics they didn't have the large nooks and crannies that I remember. I believe the Shlotzsky's baker that it is all in the proofing with steam, and mostly, beginning at the higher temperature would make it rise better. That is just like the copycat Jordan Marsh blueberry recipe out here in the Northeast. You start the muffins at a high temp then bring it down and they rise dramatically. Oh how I crave the Shlotzsky's Ham n Cheese and the Roast Beef with peppers and onions!