Savoury Red Wine Cookies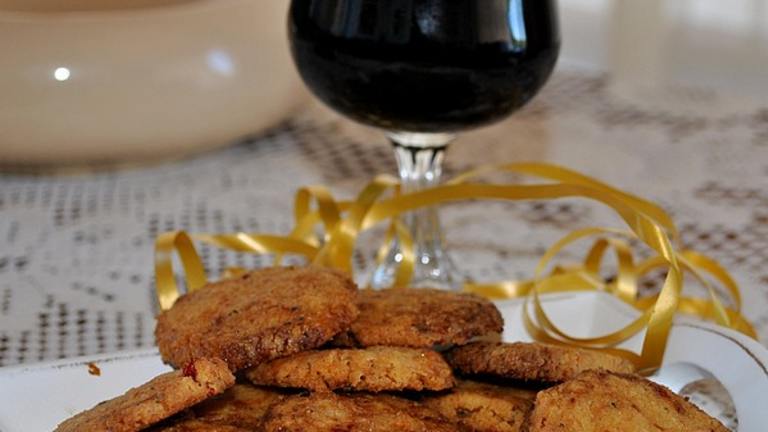 A flavorful "cookie" to enjoy with that special glass of Wine. Recipe came from the magazine distributed at the liquor store. Great for making up a batch and giving to holiday hosts with a bottle of red. (recipe calls for 2 kinds of paprika, I only used regular paprika, old white cheddar cheese, hard margarine in place of butter, and an all-purpose gluten free flour blend) Dough and baked cookies both freeze well
Ready In:

1hr

Serves:

Yields:

Units:
directions
use hands, mixer or food processor to combine all ingredients except the tomatoes.
Mix to blend and form into a supple dough.
Remove the dough to counter and knead in tomatoes.
Shape into a log and wrap tightly in foil or plastic wrap and chill at least 30 minutes.
Preheat oven to 400°F
Use a sharp, thin knife to slice the dough into 1/4' rounds.
Arrange on greased cookie sheet and bake 10-15 minutes or until golden.
Cool and store in an airtight container.
Submit a Recipe Correction
RECIPE MADE WITH LOVE BY
"A flavorful "cookie" to enjoy with that special glass of Wine. Recipe came from the magazine distributed at the liquor store. Great for making up a batch and giving to holiday hosts with a bottle of red. (recipe calls for 2 kinds of paprika, I only used regular paprika, old white cheddar cheese, hard margarine in place of butter, and an all-purpose gluten free flour blend) Dough and baked cookies both freeze well"
I can't understand why this cookie has not been reviewed before! Maybe it's the slightly misleading "red wine" in the title! I made this today (Dec 13, 2010) and I will do a 2nd batch soon. This very crisp, fragile cookie is simply ideal to serve with a glass of wine, that's for sure! I did find them a little too brittle ("short"), and will have to alter the recipe ever so slightly so they don't break so easily. But I did use leftover, finely grated bits of Parmesan and Grana Padano cheese, and only a little cheddar, so maybe that was too dry. Another way around the "shortness" problem might be to use less butter and a tiny bit of milk (if that will work). I used fresh, chopped rosemary, ordinary paprika because I could not find my own smoked paprika, a pinch of red pepper flakes instead of cayenne pepper, and instead of the minced sundried tomatoes I used our own South African minced pickled peppadews -- very tangy and nice. It's also such an easy recipe: I made it in my processor, and it all came together nicely as a dough. Although the cookies are fragile, it is worth it for me to experiment a little until I can get them to hold together better, as this is a most delicious savoury snack! Much, much better than anything to be found in shops! Thanks for posting the recipe!

I can't understand why this cookie has not been reviewed before! Maybe it's the slightly misleading "red wine" in the title! I made this today (Dec 13, 2010) and I will do a 2nd batch soon. This very crisp, fragile cookie is simply ideal to serve with a glass of wine, that's for sure! I did find them a little too brittle ("short"), and will have to alter the recipe ever so slightly so they don't break so easily. But I did use leftover, finely grated bits of Parmesan and Grana Padano cheese, and only a little cheddar, so maybe that was too dry. Another way around the "shortness" problem might be to use less butter and a tiny bit of milk (if that will work). I used fresh, chopped rosemary, ordinary paprika because I could not find my own smoked paprika, a pinch of red pepper flakes instead of cayenne pepper, and instead of the minced sundried tomatoes I used our own South African minced pickled peppadews -- very tangy and nice. It's also such an easy recipe: I made it in my processor, and it all came together nicely as a dough. Although the cookies are fragile, it is worth it for me to experiment a little until I can get them to hold together better, as this is a most delicious savoury snack! Much, much better than anything to be found in shops! Thanks for posting the recipe!

A flavorful "cookie" to enjoy with that special glass of Wine. Recipe came from the magazine distributed at the liquor store. Great for making up a batch and giving to holiday hosts with a bottle of red. (recipe calls for 2 kinds of paprika, I only used regular paprika, old white cheddar cheese, hard margarine in place of butter, and an all-purpose gluten free flour blend) Dough and baked cookies both freeze well