Savory Cheese and Herb Biscuits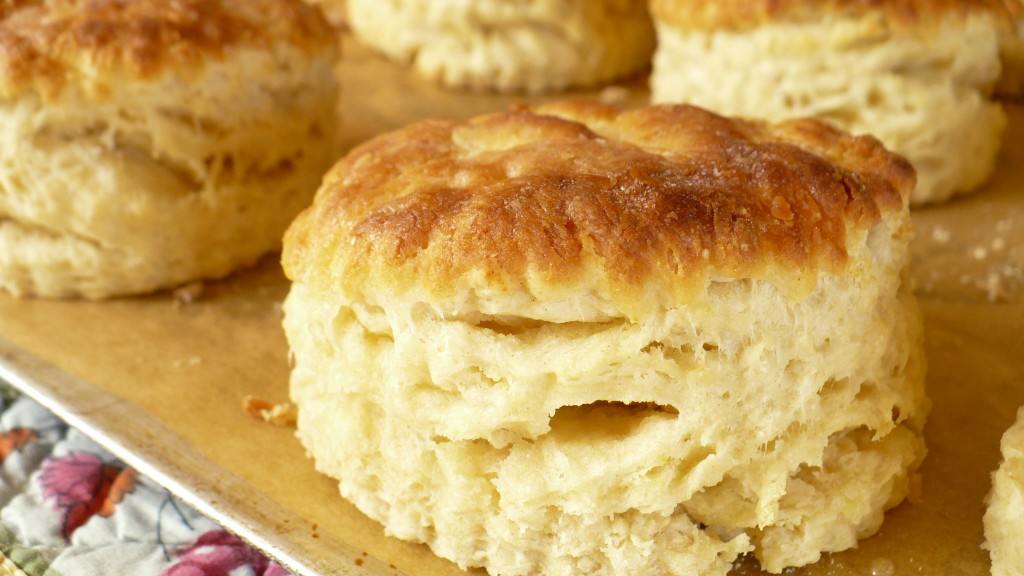 Ready In:

44mins

Yields:

Units:
Nutrition Information
directions
Notes on how to make STELLAR biscuits:.
1) Spoon flour into a dry measuring cup and level off with the straight edge of a metal knife. DON'T use a liquid measuring cup or you'll end up with too much flour and rock hard biscuits!
2) I find it easier to incorporate room-temperature butter into my dry ingredients but then put the bowl with flour/butter back into the refrigerator for 10-15 minutes to chill the mixture. The colder your butter is, the higher your biscuits will end up. If you want to work with cold butter, this step is NOT necessary.
3) Shake the carton of buttermilk before measuring and make sure the buttermilk is COLD! It keeps the butter cold, and you have a lighter, fluffier biscuit.
4) Dust the work surface with All-Purpose flour when rolling and shaping the dough. (Leavening in Self-Rising flour leaves a bitter taste on the outside of the biscuit.).
5) Cut STRAIGHT DOWN with a sharp biscuit cutter! Do NOT twist the cutter or you'll be sealing the edges of the biscuits and reduce the rise of them. Ditto on using a glass to cut out biscuits: both sides of the cutter need to be open to allow air to exit as you press down. The glass ends up sealing the edges of the biscuit.
Directions:.
Preheat oven to 450-degrees F.
In a very large bowl combine all the dry ingredients: Flour, Baking Powder, Baking Soda, Sugar, Salt, Black Pepper and Cayenne Pepper. Stir well to evenly distribute the ingredients.
Drop the cut tablespoons of butter all around the flour mixture. Cut in butter using a pastry cutter until mixture is about the size of peas or very crumbly. Cover and chill in the refrigerator for 10-15 minutes to allow the butter to become hard; this will aid in having a very flaky biscuit.
Add the cheese chunks and chives to the chilled butter/flour mixture. Stir to coat them well with the flour.
Stir in buttermilk only until dough holds together very slightly, about 30 seconds. DO NOT OVER STIR! THIS IS THE SECRET TO INCREDIBLY FLUFFY AND LIGHT BISCUITS! The dough should "hold together" but still be very lofty and NOT packed down!
Turn dough out onto a floured board, kneading dough a few times (about 3-4 times) and then pat into a 5-inch x 9-inch rectangle; Sprinkle top of dough with a small amount of additional flour and fold into thirds like a letter. Repeat entire process 2 more times, beginning with pressing into a 3/4" inch-thick dough rectangle again.
Press or pat dough into a 1/2 inch thickness on a lightly floured surface; Dip edges of 2.5-inch biscuit cutter into flour and cut out a biscuit.DO NOT TWIST THE CUTTER! JUST PRESS FIRMLY DOWN, ONCE. Transfer to a parchment-lined baking sheet, placing biscuits side by side so they touch. Continue with existing dough. With the scraps, very lightly press dough together to form another rectangle and continue cutting out the biscuits. Caution! The MORE you work the dough and manhandle it, the tougher your biscuits will become so work with a very light hand when pushing the dough back together.
Brush tops of biscuits lightly with cream.
Bake for 14-16 minutes or until biscuits are lightly browned. Take out of oven by sliding the parchment paper with biscuits attached, onto table or counter top. Allow to sit for ONLY 1 minute, and transfer to a wire rack to cool for only a couple of minutes before serving. Caution! Moisture really builds up on the bottom of these biscuits, which is why they only sit on the parchment paper for 1 minute. Cooling on the rack for 2-3 minutes allows the cheese to set enough that it does NOT burn a person's mouth when eating it!
VARIATIONS ON BISCUITS:.
1) Feta-Oregano or Marjoram: Stir 4-8 ounces of crumbled feta cheese and 1 teaspoon of either oregano or marjoram into the chilled butter/flour mixture before adding the buttermilk. Proceed with recipe as directed.
2) Bacon-Cheddar: Stir 6 cooked, drained, cooled and crumbled slices of bacon into the chilled butter/flour mixture along with 1/2 a cup of cubed Cheddar Cheese. Omit chives. Proceed with recipe as directed.
3) Gruyere-Rosemary: Stir in 1 cup of cubed Gruyere cheese and 1/2 tablespoon of fresh, snipped rosemary into the chilled butter/flour mixture. Use 1/4 cup of snipped chives and 1/2 tablespoon of freshly ground black peper. Proceed with recipe as directed.
4) Havarti-Dill: Stir in 1 cup of cubed Havarti cheese with 1 tablespoon of freshly snipped dill into the chilled butter/flour mixture. Omit chives. Proceed with recipe as directed.
5) Pimento Cheese: Stir in 1 cup cubed Sharp Cheddar Cheese with 1-4 ounce jar of DRAINED and patted dry Pimento into the chilled butter/flour mixture. Omit chives. Proceed with recipe as directed.
6) The ONE failure that I had was with Pepperjack Cheese. The actual cheese is too mild to taste in the end results and the remaining hot peppers were too much for the biscuit. Avoid this combination!
Submit a Recipe Correction