Sashimi Donburi - Japanese Rice Bowl, Topped With Salad and Raw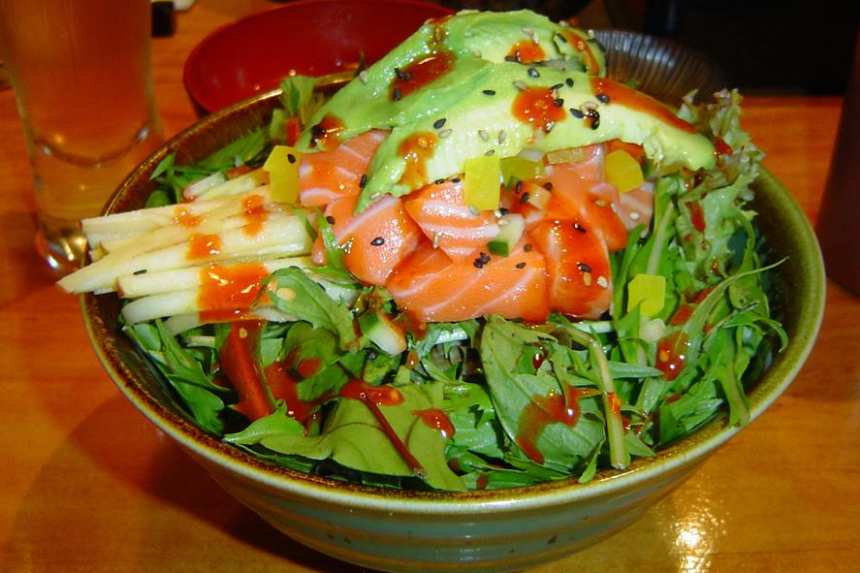 photo by A Good Thing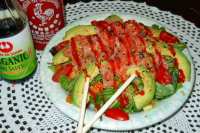 Ready In:

45mins

Ingredients:

16

Serves:

2
ingredients
1

cup sushi rice

2

cups water

1

teaspoon vinegar, white will do fine

4

tablespoons japanese style panko breadcrumbs

1

tablespoon sesame oil

1⁄4

teaspoon garlic salt

1⁄2 cup cucumber, chopped into small cubes, I use telegraph cucumbers
1⁄2 cup orange bell pepper, chopped into small cubes (or a mixture of red yellow, and orange)

2

cups fresh salad greens, I use a mixture of organic Spring Mix and also baby spinach

1 -2

teaspoon black sesame seed

6 -8

cherry tomatoes, cut in half
1⁄2 ripe avocado, I use the large Haas, sliced 1/4 inch wide, longways
1⁄2 lb raw salmon, very fresh, cubed, white fish works well also as does a mixture of fishes

1 -2

tablespoon lemon juice, fresh squeezed

4

tablespoons soy sauce, good quality organic is what I use

4

tablespoons chili sauce, Sriracha is what I use, it's hot
directions
First of all, this looks hard -- but it's not. After you make it once, you will be a pro. Second of all, please get the freshest fish you can. It's key! Do use raw fish. Smoked or otherwise cooked fish will not do. Be brave! Leave your fish in the fridge until the last part because you want it nice and cold and it goes on last.
I use a rice cooker to make this recipe super easy. While the rice is cooking (20 minutes), I prepare the remainder of the dish.
Get a good quality sushi rice if you can. If not, use a short grain white rice. It won't be quite as good but will suffice. Rinse your rice well before placing in rice cooker. If you don't have a rice cooker, cook according to package directions. A good rule of thumb is 1 cup rice, 2 cups water. Simple! Once rice is in cooker, I pour in water and give it a stir. Turn rice cooker on and let it go.
Next I place sesame oil in a small skillet over a medium low heat. When it's hot I add the panko bread crumbs and stir with a sprinkle of garlic salt. You want to warm the crumbs and make them crunchy but you don't want to burn them or turn them dark brown. This process only takes about 3 minutes. Once you have pinched a few to taste (yes, that burn your fingers a bit) and added more salt if needed, remove the pan from the burner, pour the crumbs onto a paper towel or napkin to cool. That's done!
Once the rice is cooking and the crumbs are crunchy, start on your vegetables. I chop the cucumber and bell peppers so that they are quite small and fairly uniform in size. A variety of colors is key. This is a gorgeous dish and one you will be proud to serve to others. Slice your tomatoes longways. Save the avocado til last thing as they turn brown quickly. I have been known to prepare the chopped vegetables up to a few hours in advance and just have them ready in the fridge.
Your salad greens should be nice and leafy. Iceberg lettuce just doesn't cut it for this particular dish. Go with a Spring Mix or Baby Spinach or a mixture of both for the best texture, flavor, and nutritional content. You'll thank me. Make sure it's washed and well-drained. Salad spinners are great for this!
Now, your rice should be just about done. As soon as it is done, remove the inner pan from the cooker and let it start cooling. No need to rinse. Remember, you did that before cooking and you don't want soggy rice. If you used a pot on the stove, remove rice to a bowl to cool. After allowing it to cool for about 5 minutes, stir vinegar into rice. It does not take much but it give the rice a sheen and makes it sticky. This is part of the genius to this dish. It helps the greens and vegetables stick to the rice (and that's good if you are going to be extra brave and use chop sticks).
Now place about a cup of rice (or a little less) in the bottom of a big, pretty single serving bowl. A deep bowl is an excellent choice.
On top of rice sprinkle a half teaspoon of black sesame seeds. Now add salad greens. A good handful, about a cup, is good.
Now sprinkle your greens with your chopped bell pepper, cucumber cubes.
Alright. Now it's time to cut up your fish. Did I mention how perfect salmon is for this dish?.
Take your Salmon filet and wash it good. Pat it dry with a paper towel. Now place on a cutting board and remove any skin. Once you have a good clean piece of fish start slicing with a sharp knife. Now cut each slice into little pieces or cubes. If you haven't tried raw Salmon before, go with quite small pieces as it's easier to acclimate to raw fish that way. If you are a seasoned connoisseur, go with whatever size you like.
Place fish in a bowl and squeeze some fresh lemon juice over it. Not too much -- about a tablespoon or so.
Wash your hands good at this point and grab your avocado. With a medium sized butcher knife, start cutting around the avocado lengthways (to the pip in the middle) and go all the way around it. Twist the avocado so that the two sides come apart easily. Take the half that still has the pip and wrap it up and place back in the fridge for later (unless you are like me -- and I give each person half of an avocado to themselves). Cut the remaining half longways so that you have quarters. Now peel each quarter, starting at the skinny end. You should have a beautiful wedge. Now sprinkle a bit of lemon over those wedges and slice them, longways for visual effect or crossways for ease of eating, I've done both. It really is a masterpiece and one that is super fun to build because of all the textures and colors.
Place avocado slices around the top of each bowl in a sunburst display. Between slices place cherry tomato halves. The visuals on this are gorgeous!
Back to that beautiful fish -- In the middle of the salad place a pile of salmon. I like to sprinkle a few more black sesame seeds on top. They have a tiny bit of bite. Here I add a sprinkle of the cooled Panko crumbs. You will be utterly amazed at the burst of textures when this hits your lips!
Serve your Sashimi Donburi with a nice drizzle of soy sauce and sri racha sauce. Use the sri racha sauce sparingly if you don't like hot sauces -- but I love it and just keep adding more and more soy and sri racha, all the way through the eating event!
Now once you start eating and clear off some of the top bits, dig down in the bottom and bring up some of the rice to mix in with the fish and salad. And yes, add more soy sauce and hot sauce. It's an eating extravaganza! Best shared with a friend.
Enjoy!
Questions & Replies

Got a question?
Share it with the community!
Reviews
Have any thoughts about this recipe?
Share it with the community!