Rye Bread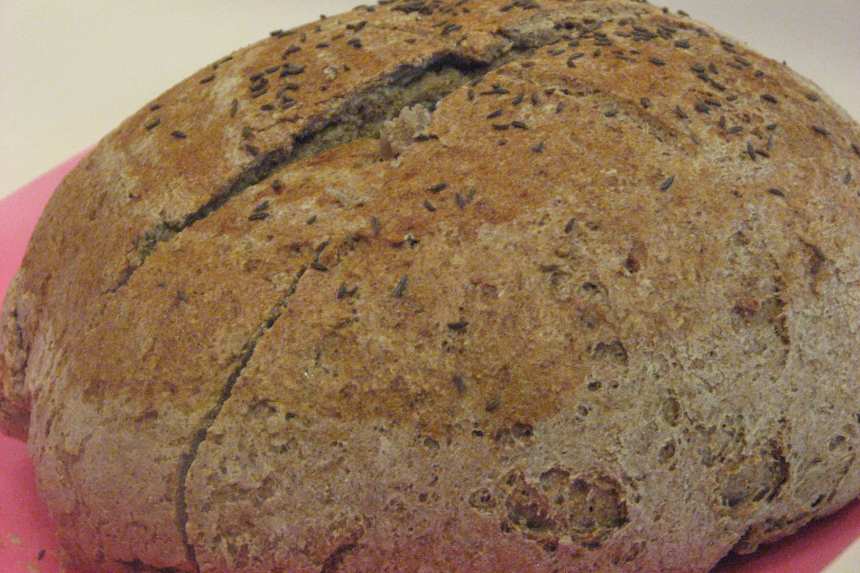 photo by Bonnie G 2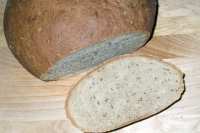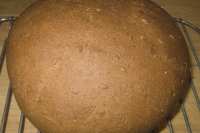 Ready In:

49hrs

Ingredients:

11
directions
Mix 1/4 cup of rye flour with 2 to 3 Tbs. of water, enough to make a stiff paste, in a 1 quart saucepan.
Cover tightly and leave 24 hours in a warm quiet corner of the kitchen. It will be sour and fermented when you uncover it.
Add 2 to 3 Tbs. of water and 1/4 cup of rye flour. Stir until smooth.
Cover pan and let stand another 24 hours.
Prepare yeast mixture: Dissolve the yeast in water.
Stir in sugar and flour until smooth.
Cover and let rise until bubbly and doubled in volume.
Combine the remaining 4 cups of rye flour, the white flour and salt in a large bowl.
Add sourdough & yeast mixture and work into a stiff dough.
Add 1 1/2 cups water & honey.
Turn out onto board & knead thoroughly.
Cover & let raise about 1/2 hour.
Punch down and knead into smooth ball.
Cut in half and knead each half into a smooth round loaf.
Set on greased baking sheet and let raise until doubled.
Brush with beaten egg white and bake at 350º F for about 1 hour.
Questions & Replies

Got a question?
Share it with the community!
Reviews
But it also brought back so many memories of days spend at grandmother's farm. The baking aroma alone is worth the effort. I have already started a second batch, since this will be staple at my house; however, I will add osme caraway seeds with this batch. I doubled the starter batch and will refrigerate some, just to see if I can eliminate the 2 day waiting period.

 

This recipe makes a bread that tastes like rye should taste like and has the proper texture. I have made ryes before and have never never been happy with the taste or texture. I cut the recipe in half as I can only use one loaf at a time. I added a tablespoon of caraway seeds. I also added a tablespoon of vital wheat gluten. I did not use the egg white but the crust came out just fine. I baked it for 55 minutes on a baking stone and parchment paper. An instant read thermometer registered 210 f which appears to be just right for this bread. The recipe doesn't state what kind of white flour to use; I used bread flour. This recipe is a keeper, I will be making it often.

 

This bread was excellent. I made two loaf, and they were delicious. I also made 32 little round breads for snacks with the same recipe, and they came out of the oven perfectly! I also added boiling water in the oven to get some steam and help to get a soft crust. Thanks so much for posting! It was the best rye bread!

 

I'm not rating this at this time because I'm sure I made some major mistakes that were all mine! First, forgot to sift the flour (major mistake) then when following the recipe I got confused on the amounts of flour to add. For some reason had to add a LOT more water and then it didn't rise much at all and came out dense and heavy. That said the taste was rye bread heaven. I'm going to try again and will come back and update this review once I figure out just WHAT I did wrong.